I've been anticipating the arrival of dual-screen laptops since Microsoft revealed the Surface Neo prototype in 2019. Microsoft has delayed the dual-screen Surface Neo indefinitely, making the wait longer than expected. Fortunately, Lenovo has surpassed everyone's expectations by introducing the Lenovo Yoga Book 9i (2023), the world's first dual-screen OLED laptop.
The Yoga Book 9i does away with the integrated keyboard in favour of two touchscreens connected by a hinge. This comes with an external Bluetooth keyboard and stand, giving you a lot of options. It's also a clever compromise on the dream of foldable laptops, in my opinion. I've used both the Lenovo ThinkPad X1 Fold and the Asus ZenBook 17 Fold OLED, and while they provided a fantastically versatile experience, they also had a number of drawbacks, including high prices, software issues, and scratch vulnerability, to name a few.
The Yoga Book 9i is able to reap the benefits of a foldable laptop while also seemingly eliminating the medium's main flaws by using two touchscreens connected by a hinge. I was able to get my hands on the new device at CES 2023, so here are my initial thoughts.
Price
The Lenovo Yoga Book 9i will be available for $2099.99. Lenovo plans to release the dual-screen laptop in June 2023, though this date may vary depending on location.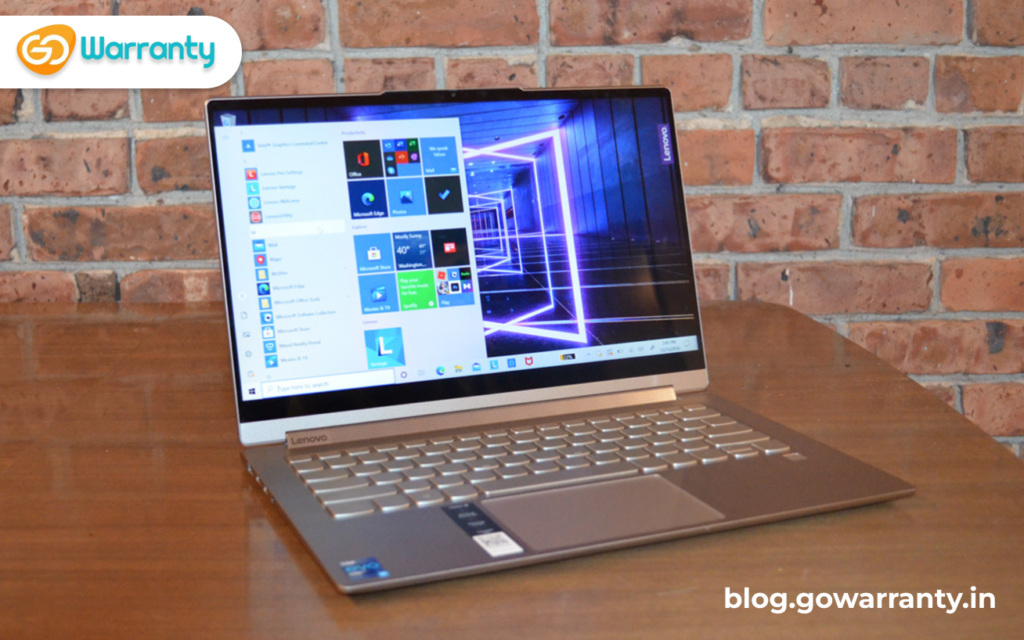 Design
When I first saw the Lenovo Yoga Book 9i, I couldn't help but be impressed. The laptop was vertically positioned, supported by a stand, with the two screens stacked on top of one another. An external Bluetooth keyboard sat on the desk in front of the monitor, allowing you to use it as a dual-monitor workstation. Each screen functions similarly to a standard laptop display. I was able to open a spreadsheet on the display underneath by dragging a Google Chrome browser to the top screen. Or perhaps you'd like to watch a YouTube video while you work? That is possible with the Lenovo Yoga Book 9i.
This is just one of the many forms that the Yoga Book 9i can take. I could remove the laptop from its stand and use it as a standard clamshell laptop, with the keyboard resting on the bottom screen. I could even hold the device like a book and turn the pages of a book. The number of applications for this device is mind-boggling.
Display
Lenovo also informed us that you can use both screens to display one web browser at the same time. When you open Twitter, your timeline will appear in a vertical alignment on the second screen. With the screen bezel segmenting the portrait view, the hinge makes this use case slightly awkward. The OLED screens are also stunning, with bold, vibrant colours that make this a fantastic device for watching videos. On that note, the device can be folded up like a tablet or positioned in tent mode for optimal viewing.
It's worth noting that Microsoft avoided releasing a dual-screen laptop because Windows wasn't quite ready for such a form factor. I did notice that the Lenovo Yoga Book 9i would sometimes take just a few seconds to recognise that I had flipped into a horizontal or vertical alignment, which I'm hoping will be addressed before launch.
Keyboard and other accessories
What I was most impressed with was how the software responded to the Bluetooth keyboard. When you place the keyboard on the bottom screen, the Yoga laptop immediately recognises it and creates a virtual trackpad below, eliminating the need for a mouse. When you remove the keyboard, the screen returns to the Windows desktop.
The Lenovo Yoga Book 9i also includes a slew of clever gesture controls. When you place all eight fingers on the touchscreen, a virtual keyboard will appear. Personally, I didn't think the haptic feedback was strong enough to create a similar quality experience as a traditional keyboard, but it's still a great option to have if you just want to browse the web and don't want to take your keyboard accessory out of your bag.
In terms of accessories, the Yoga Book 9i comes standard with a Bluetooth keyboard, stylus, and stand. I can see many people using the stylus a lot because it allows you to quickly jot down notes on the bottom screen, it feels a lot more natural than scribbling on the top screen, though that is also possible. The stand is also very cleverly designed, as it can hold the device in both horizontal and vertical positions.
Specifications and Performance
Since the Lenovo Yoga Book 9i is a productivity device, it is powered by the new 13th Generation Intel Core U-Series processors, ranging from i3 to i7. As a result, don't expect this device to compete with the performance power of a MacBook Pro or any other content creation laptop. It doesn't even have a discrete GPU option.
It has up to 16GB LPDDR5X memory and a storage capacity of up to 1TB. Wi-Fi 6E is supported, ensuring the fastest home network speeds available – at least until Wi-Fi 7 is released. These are all good specs, but nothing particularly noteworthy. That means you're paying a premium for a laptop with this much processing power, but it's justified by the benefits.
Initial Impression
So far in 2023, the Lenovo Yoga Book 9i is the most exciting laptop I've seen. Its dual-screen design allows for a variety of use cases, such as simulating a dual-monitor setup, using the device as a book/tablet, or even going back to a classic clamshell form. This appears to be a more viable option than a foldable laptop because it is less expensive to design and does not have as many software issues. Given the specs, it's still likely too expensive for the average person, but this could be a glimpse into an exciting future for laptops in 2023 and beyond.