Have you ever wanted to express your frustrations on your computer screen? I mean, really, stand up and throttle that thing like it's a wild bear? Corsair Xeneon Flex has the monitor for you, and as strange as it may sound, it may be the future of PC gaming monitors.
Design
A 45-inch OLED ultrawide monitor with a 21:9 aspect ratio, the Corsair Xeneon Flex 45WQHD240. The flexible OLED panel is its most unusual feature. It can used flat or flexed into an 800R radius curve, which is one of the most aggressive curves available on any monitor today.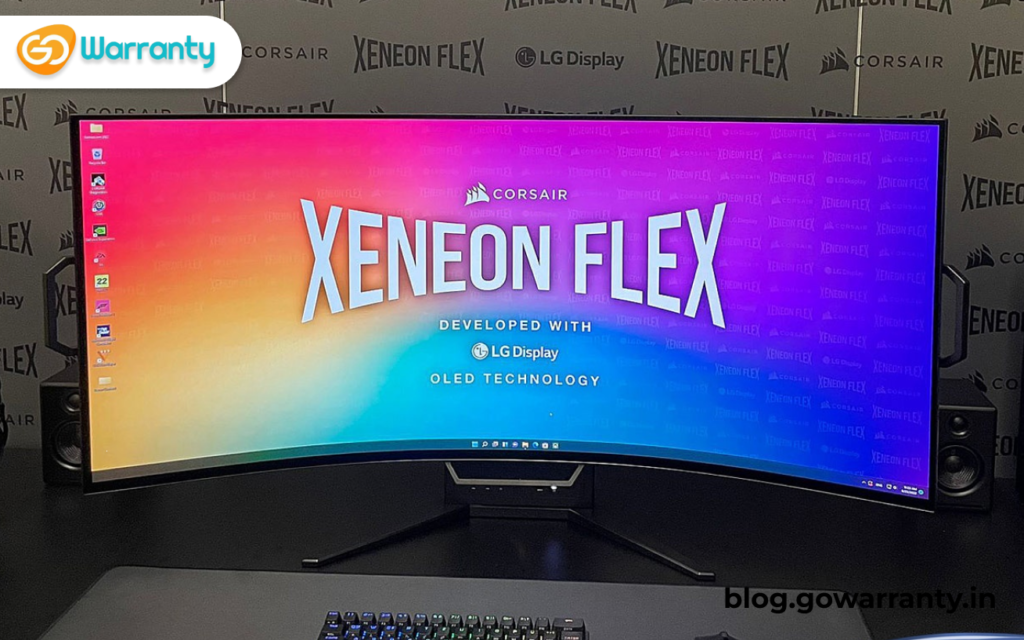 I see the logic behind this madness. My primary display is a flat ultrawide. Since a curved monitor can cause distortion in productivity apps, I prefer it when writing, editing photos, or viewing multiple windows. Unfortunately, most games are less immersive on a flat display. I bought a flat ultrawide knowing that my in-game experience would be slightly compromised, but now that I have the Xeneon Flex, I am no longer concerned.
Connectivity and Features
As previously stated, the Xeneon Flex's connectivity is located on the stand rather than the back panel. This is mostly a good thing because the ports are very accessible. However, because they are rear-facing, you'll need a couple inches of free space behind the stand to accommodate the cables.
Two HDMI 2.1 ports and one DisplayPort 1.4 port are provided for video connectivity. A USB-C port with DisplayPort 1.4 is also included, for a total of four video inputs. All of these ports can support the monitor's native resolution of 3,440 x 1,440 at 240Hz refresh rate. This is beneficial because many high-refresh-rate PC gaming monitors include one or two video ports that are incapable of supporting the monitor's maximum refresh rate. A 3.5mm audio output on the front of the stand completes the connectivity. There are no speakers on the monitor.
Gaming Image Quality
PC gamers want a display with a large, beautiful canvas for a variety of games, and the Corsair Xeneon Flex 45WQHD240 provides just that. The LG Display-built OLED panel on the monitor offers all of the benefits that have made OLED popular among critics and gamers.
Contrast is excellent due to the panel's per-pixel local dimming, which allows for near-perfect black levels without causing image quality issues such as blooming (bright halos around bright objects on darker backgrounds). This is a significant benefit in games with a lot of high-contrast scenes.
HDR Image Quality
The Xeneon Flex 45WQHD240 does not have VESA DisplayHDR certification, but it does have a maximum peak brightness of up to 1000 nits, according to Corsair. That sounds impressive, but the overall brightness of the display is lower than the numbers suggest.
When displaying a full, bright window in HDR mode, the monitor's maximum brightness did not increase. In fact, the highest brightness I measured was 209 nits. This is typical for an OLED monitor: when displaying a full, bright white window, the Alienware AW3423DW can reach 325 nits. Meanwhile, the LG 48GQ900-B has a maximum brightness of around 220 nits. This is significantly lower than that of a Mini-LED monitor, and it means that the Xeneon Flex may appear dim when used in a bright room.
In the Windows 11 desktop environment, the Corsair Xeneon Flex 45WQHD240 has issues with SDR content. Turning on HDR mode brightens the screen but reduces perceived contrast and the colour gamut displayed.
Motion Performance
The Alienware AW3423DW as well as its sibling, the AW3423DWF, are excellent OLED displays, but they are only capable of 165Hz. For many people, including myself, that is more than enough, but the Corsair Xeneon Flex 45WQHD240 goes a step further with a maximum refresh rate of 240Hz. The end result was outstanding.
At the monitor's maximum refresh rate of 240Hz, fast motion appears incredibly clear. Fine fonts, such as character names in a MOBA or MMORPG, remain readable even when moving quickly or panning the camera. When AMD FreeSync Premium Pro or Nvidia G-Sync is enabled, game play feels buttery-smooth.
Daily Usage
The Corsair Xeneon Flex 45WQHD240 is excellent for gaming, but it is far less practical as a daily driver. What is the major issue? Sharpness. A native resolution of 3,440 x 1,440 on a 45-inch widescreen equates to 83 pixels per inch, which is only slightly better than a 27-inch 1080p monitor. Fine fonts and interface details can appear rough. Of course, the monitor is not ideal for 4K video editing or high-resolution photo editing.
This issue is made worse by the monitor's display panel, which does not use the RGB pixel layout that is most commonly found on monitors. Instead, it employs LG's RWBG Stripe pixel layout. When using programmes on the Windows desktop, this can cause image quality issues around text and small interface elements.
Competition
The Xeneon Flex is market by Corsair as an alternative to both 49-inch super-ultrawide monitors as well as 42 to 48-inch widescreen monitors. It competes with displays such as the Samsung Odyssey G9 Neo and LG Ultragear 48GQ900-B, as well as LG's similar Ultragear 45GR95QE. The Xeneon Flex outperforms the Odyssey G9 Neo in terms of overall image quality, though it lacks sharpness. The Odyssey G9 Neo, on the other hand, costs $500 less and is better suited to simulation games due to its extreme immersion.
Verdict
The Corsair Xeneon Flex 45WQHD240 is a futuristic PC gaming monitor. LG's stunning 240Hz OLED offers an unmatched combination of contrast and motion performance through 2023. However, cutting-edge technology frequently comes with a catch, and the Xeneon Flex is no exception. The operation of the flexible display could be (much) smoother, and it is permanently attached to a mediocre monitor stand.
In terms of overall image quality, the Xeneon Flex outperforms the Odyssey G9 Neo, though it lacks sharpness. The Odyssey G9 Neo, costs $500 less and, due to its extreme immersion, is better suited to simulation games.