It's 2023, and you're looking for a smartphone that can take amazing photos. The Samsung Galaxy S23 Ultra and Google Pixel 7 Pro are two of the best options available. They both provide two of the most capable camera systems available today, complete with powerful imaging hardware and sophisticated software. Which of these phones, however, has the best camera performance? The Galaxy S23 Ultra has a cutting-edge 200-megapixel camera that promises to be a game changer, but the Pixel 7 Pro is a long-standing camera champion that's difficult to beat. To see what would happen, we put the two phones in a camera shootout.
Camera Specs
As with any good camera comparison, we'll begin by examining each phone's camera specifications. The Samsung Galaxy S23 Ultra is powered by a 200MP camera. You can take full 200MP photos if you want, but the real draw is how it uses pixel binning to deliver 12MP images that are detailed, have great colours, and can capture a lot of light in low-light situations.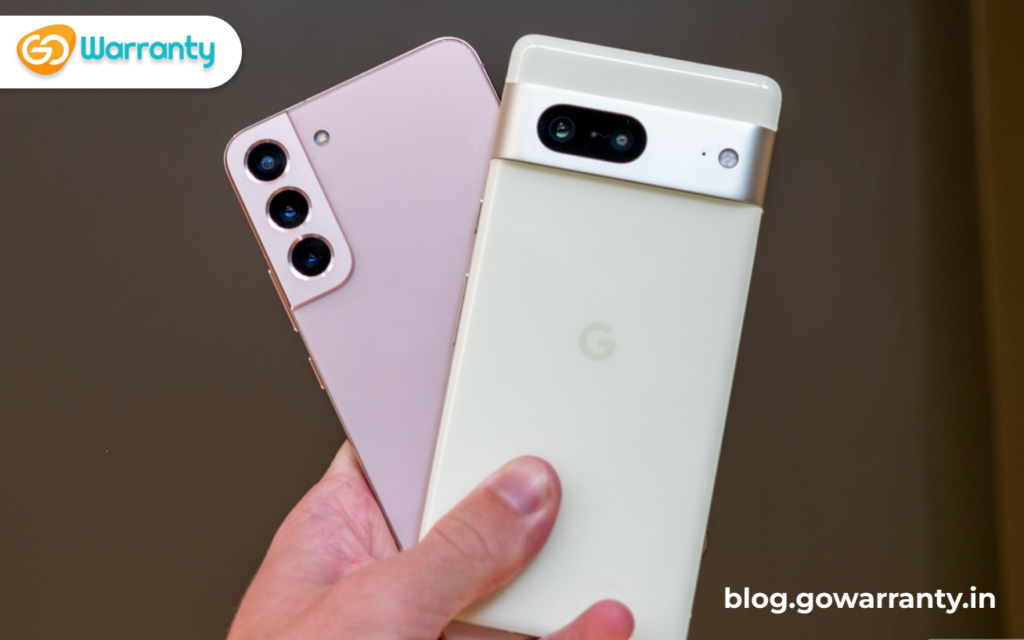 It is accompanied by two 10MP telephoto cameras, one with 3x optical zoom and the other with 10x optical zoom via a periscope zoom system. A 12MP wide-angle camera with a 120-degree field of view is also included, as is a 12MP selfie camera. The Google Pixel 7 Pro has a 50 MP main camera that also uses pixel binning to produce excellent 12MP images. A single 48MP telephoto camera with 5x optical zoom, a 12MP ultra-wide camera having a 126-degree field of view, and a 10.8MP selfie camera supplement the main camera.
Main Camera
The main camera is the one you'll most likely use, so let's start there. Both the Galaxy S23 Ultra and the Pixel 7 Pro, as previously stated, use pixel binning by default to produce 12MP images from their cameras. The S23 Ultra can be forced to take full 200MP photos, but for the purposes of this comparison, we kept both phones at 12MP.
Scanning through the dozens and dozens of photos I've taken with both phones, I frequently see Galaxy S23 Ultra photos I prefer, followed by Pixel 7 Pro photos I prefer. Google's HDR processing is still a champ when it comes to bringing out great detail in darker areas, while Samsung's vivid colours can do a great job of boosting photos once they really need it. Both phones trade punches fairly evenly with their significant benefits, which is why I'm calling this one a tie.
Wide Camera
The Galaxy S23 Ultra and Pixel 7 Pro both have 12MP wide-angle cameras, but the Pixel 7 Pro's sensor has a slightly wider field of view (126 degrees instead of the 120 degrees you get on the S23 Ultra).
The Galaxy S23 Ultra's strengths are visible in some of the photos I took. Samsung's photo has a bluer sky, better colour description, and appears to have more life than the Pixel 7 Pro's shot. Despite its larger camera, the Pixel 7 Pro is defeated by the Galaxy S23 Ultra in this round.
Telephoto
The Galaxy S23 Ultra's camera system has a lot of impressive features, but the star of the show is its telephoto performance. The two telephoto cameras offer 3x and 10x optical zoom, with the option of going up to 100x zoom. The Pixel 7 Pro has a single 5x optical zoom range and a total zoom range of up to 30x.
Let's start with a simple 3x zoom shot. The S23 Ultra has a much brighter sky (almost to the point of being blinding), whereas the Pixel 7 Pro is more grounded in reality. Both images are very good, but zoom in close and the S23 Ultra's zooming advantage is obvious. The Galaxy S23 Ultra retains more information. The Galaxy S23 Ultra wins the telephoto camera category, which should go without saying.
Portrait Mode
A good portrait mode is essential for any modern smartphone, so how do the Galaxy S23 Ultra and Pixel 7 Pro perform in this mode? Both phones perform admirably with the bokeh effect, though the S23 Ultra excels in a couple of areas. I also prefer the S23 Ultra's more intense blur effect.
Selfie Cam
Let's take a look at the selfie camera quickly. Both phones produce excellent selfies when taken in front of a window on a cloudy afternoon. The detail on either of them isn't great, but they get the job done. The Galaxy S23 Ultra retains slightly more detail in my shirt, but I much prefer how well the Pixel 7 Pro handles my skin. I'm fair, but the Galaxy S23 Ultra makes me appear lifeless. In addition, I believe the Pixel 7 Pro has slightly better edge detection than the Samsung phone. The Pixel 7 Pro edges out the competition in the selfie category.
Verdict
The Galaxy S23 Ultra won four rounds, the Pixel 7 Pro won one, and the phones tied in one. Hence, Samsung comes out on top, handily defeating Google. It's worth noting that the Pixel 7 Pro is still an excellent camera smartphone. However, when compared to the Galaxy S23 Ultra, Samsung provides a more capable photography suite. The main camera ultimately comes down to your personal preference for colour reproduction, but Samsung comes out swinging with wins for the ultrawide camera, telephoto camera, portrait mode, and night mode performance.
If you want a great point-and-shoot camera experience, the Pixel 7 Pro is still a great choice, but the Galaxy S23 Ultra is the new camera champ. It doesn't just beat the Pixel 7 Pro: we recently pitted the Galaxy S23 Ultra against the iPhone 14 in a camera test similar to this one, and so it came out on top in four of the five tests. There's a reason it's the best Android phone available right now.