Lenovo ThinkBook 16p Gen 3 (starting at $1,438; tested at $1,802) is a bit of a mystery. This AMD Ryzen-based business laptop is marketed as a visually appealing device for small-to-medium businesses looking for high performance and security features, a laptop capable of performing business tasks as well as content creation. Lenovo certainly delivers on most of those fronts, however its laptop's limited colour-gamut coverage and lacklustre performance in most of our tests make it difficult to recommend as a top pick for content creation. However, the ThinkBook 16p Gen 3 would be adequate for most basic office productivity and light content creation tasks, especially if your company can get a bulk discount on this model.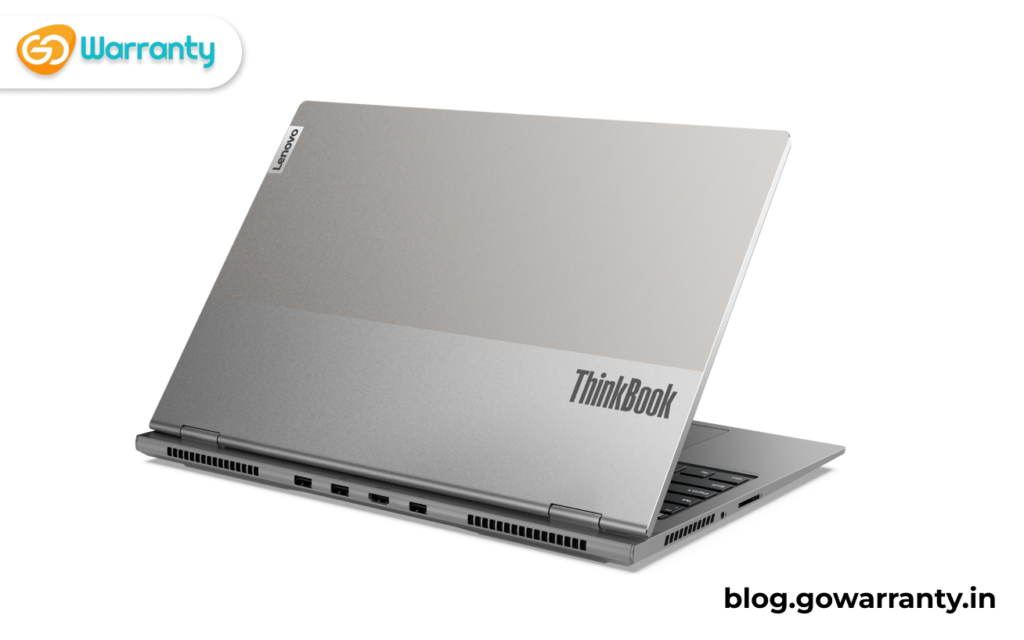 A Business Laptop Can't Find Its Home
With its AMD Ryzen 9 6900HX 3.3GHz CPU as well as Nvidia GeForce RTX 3060 graphics processor, one of the Lenovo ThinkBook 16p's main goals is content creation. The screen was even colour calibrated to X-Rite Pantone standards. However, while our Datacolor Spyder tests show 99% accuracy for Adobe sRGB colour space, it only shows 76% accuracy for Adobe RGB and 77% accuracy for DCI-P3 not bad, but hardly professional content creation material.
Display and Keyboard
This ThinkBook has a bright 16-inch screen, a slim design, and a Mineral Gray aluminium case with a low-reflection surface. It's a bit on the large side, measuring 0.73 inches by 13.95 inches by 9.92 inches (HWD) and weighing 4.18 pounds. Lenovo's ThinkBook keyboard, like many others these days, has a shallow stroke and a small spring at the bottom. It's simple to type on, even at high speeds. However, I continue to yearn for the deeper press and even more forceful feedback available with Lenovo's standard-setting keyboards.
Since this device has a 16-inch display, there is space to the right of the main keyboard layout for a number pad. This is advantageous for those who frequently use spreadsheets, though the narrower caps on the number keys can sometimes prevent fast data entry. Also, because of the separate numeric keypad, the touchpad is shifted to the left. This is not a problem if you intend to use the letter keys for the majority of your input. The arrow keys are separated from the other keys in an ideal inverted T, which is a welcome design element. They do, however, double duty as Function keys, with Home, Page Up, Page Down, and End.
Performance of Small Speakers
The speakers on the ThinkBook, like those on all laptops, face the challenge of being small. The dual 2-watt (W) speakers are angled downward, which slightly muffles the volume. The audio, on the other hand, benefits from Dolby Atmos, the system that powers most movie theatre audio.
Dolby Atmos supports 7.1 surround sound, as well as two additional overhead speakers as well as software to locate the sound "object" within a three-dimensional audio space. (Of course, nine speakers are not possible on a laptop.) Dolby Atmos, as implemented on the ThinkBook, gives the audio a distinct dimensional quality, allowing you to almost hear the raindrops changing location as the demo clip's leaves sway in the breeze.
Ports and Connectivity
Wi-Fi 6 and Bluetooth 5.0 are available for connectivity. The 71-watt-hour, 230W battery supports Rapid Charge Pro, which can charge the battery to 50% in 30 minutes from zero. Lenovo ThinkBook 16p Gen 3 comes with four ports along the back edge: USB 3.2 Gen 2, USB 3.2 (this one always-on), HDMI 2.1, and a 230W power connector. This rear positioning proves to be very useful, particularly for the power connector.
A 3.5mm headphone/microphone jack and an SD card reader are located on the left edge, while a 40 Gbps USB4 port, a USB-C 3.2 Gen 2 port, as well as a Kensington Nano security cable lock notch are located on the right side. To be honest, it would have been preferable if Lenovo had managed to squeeze in an extra USB port on the left side for maximum accessibility. However, the port locations and quantity are both sufficient.
Productivity Tests
UL's PCMark 10 serves as our primary performance benchmark, simulating a variety of real-world productivity and content-creation workflows to assess overall performance for office-centric tasks like word processing, spreadsheet work, web browsing, and videoconferencing. We also run a Full System Drive test to evaluate the storage load time and throughput of a laptop.
Three additional benchmarks assess a PC's suitability for processor-intensive workloads by focusing on the CPU and utilising all available cores and threads. Maxon's Cinebench R23 renders a complex scene using the company's Cinema 4D engine, whereas Primate Labs' Geekbench 5.4 Pro simulates popular apps ranging from PDF rendering to speech recognition to machine learning. Finally, we convert a 12-minute video clip from 4K to 1080p using the open-source video transcoder HandBrake 1.4.
Graphics Tests
We put Windows PC graphics to the test using two DirectX 12 gaming simulations from UL's 3DMark benchmarking suite: Night Raid (which is more modest and suitable for laptops with integrated graphics) as well as Time Spy (more demanding, suitable for gaming rigs with discrete GPUs).
We also run tests from the cross-platform GPU benchmark GFXBench 5, which emphasises both low-level routines such as texturing and high-level, game-like image rendering. The 1440p Aztec Ruins and 1080p Car Chase tests, which are rendered offscreen to accommodate different display resolutions, put graphics and compute shaders to the test, respectively, using the OpenGL programming interface and hardware tessellation. The higher the frame rate (fps), the better.
Verdict
Lenovo ThinkBook 16p Gen 3 is a visually appealing laptop in a sturdy aluminium case with thin bezels and a bright display. Unfortunately, this system's limited colour coverage, combined with mediocre performance, limits its ability to create professional-grade content.Of course, this laptop is powerful enough for standard business applications like word processing, spreadsheets, web browsing, and videoconferencing. Knowing this, there is definitely room to reduce the specifications for a lower price. Without sacrificing Windows 11 Pro or the bright 165Hz display, the ThinkBook 16p is a good midrange business laptop.