The Yaber Ace K1 is an ambitious home projector with a single-LCD design, a fully sealed dust-protected optical package, automatic focus as well as keystone correction, above-average brightness of 650 ANSI lumens, and a powerful 15-watt speaker. Yaber believes it is the best home projector under $800. Even better, it costs much less than that, with an MSRP of $500 and usually much less than that due to frequent promotions and discounts.
Hardware
The Yaber Ace K1 is a 3.9kg unit with dimensions of 299x256x136mm. Not exactly portable, but certainly transportable from room to room. The Ace K1 has two HDMI 1.4 ports for input at resolutions up to 4K and two USB 2.0 ports for attaching storage or powering something like a streaming stick. There is also one AV 3.5mm combo jack and one standard 3.5mm audio jack.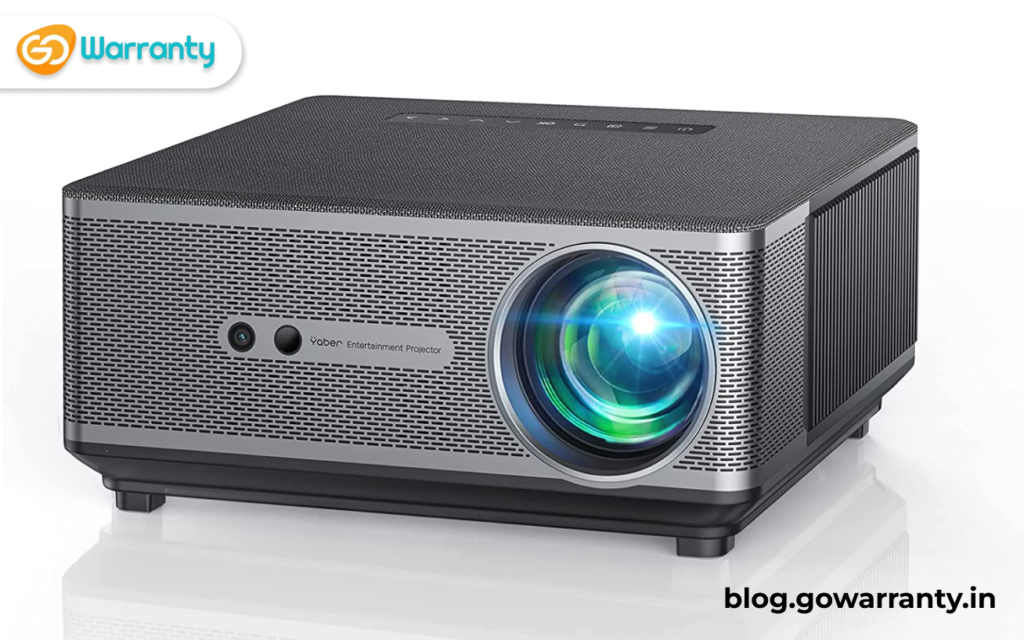 The unit contains two fans. One blows air out the back, while the other is on the left side, opposite the sealed optical engine. The power input is also located on the left side of the unit. The Ace K1's power conversion is done internally, so it accepts mains power without the need for a bulky power brick, which we like. The single 15W speaker is also located around the back, right under the projector inputs.
With a throw ratio of 1.54:1, the lens dominates the front of the unit. According to official specifications, the Yaber Ace K1 can display images with diagonals ranging from 40 to 150 inches. Yaber rates the projector's maximum brightness at 650 ANSI Lumens, and it's LED light source should last up to 25,000 hours.
A camera and some sort of time of flight sensor are also found on the front of the unit, providing the necessary input for the projector's automatic focus as well as keystone adjustments. In the performance section, we'll go over how these behave. The Ace K1's overall design and exterior are very understated. With its grey mesh on top, it looks rather industrial and should blend in.
Performance and Experience
Let's begin with a look inside the box and the setup procedure. The Yaber Ace K1 comes with a good set of accessories. You also get a remote control, a lens cover, a power cord, a male 3.5mm to male triple RCA AV cable, a male-to-male HDMI cable, a cleaning cloth, a quick start guide, and a warranty card in addition to the main unit.
Once plugged in, the Yaber Ace K1 boots up in no time since it has a very lean and minimal proprietary OS of its own. It appears to be based on Android or Android TV based on some of its menus, but there is no option to install apps. The home screen menu is well-organised. The settings menu is well laid out. There aren't many options to experiment with, but the essentials are covered. You can control the projection mode (front or back), the automatic keystone, the focus, and the two processes manually. The Ace K1 can also be configured to boot directly to an input source rather than the main menu. There is a planned shutdown as well as a few language options.
Fans
The fans on the Yaber Ace K1 are extremely loud, to the point of annoyance. It's most likely the projector's biggest flaw. The powerful 15W speaker can easily drown out the noise, but when silence falls, it is very noticeable. When you first turn on the Ace K1, you'll want to position it properly for a clear image. We noticed right away that the Ace K1 projects straight out rather than at a slight upward angle, which is not ideal.
Automatic Focus and Keystone
With any reasonable arrangement, automatic focus and keystone promise to produce a straight and sharp image on a wall/screen. And our review unit performed admirably in terms of autofocus. Its automatic keystone adjustment, on the other hand, was a little wonky. It never managed to straighten the image and yet reacted quite dramatically to even the slightest angle adjustment we made to the projector. To get a usable image alignment, we had to disable the feature entirely. According to our research, you can calibrate the auto keystone, but it's a complicated process.
Brightness and Colours
The Yaber Ace K1 has a lot of brightness to play with. Since it does not require complete darkness, it can be used in a room with full light control, unlike many cheaper projectors. The contrast on the Ace K1 is excellent. You may want to increase the image brightness to improve shadows, but it is very usable in Standard or Game mode right out of the box.
Colours are accurate in our opinion, though there is a slight blue tint out of the box that is easily corrected. We ended up just giving the Game profile a slight brightness boost and colour correction and leaving it at that.
Built-in Manager and Video Player
The Ace K1 includes a file manager/player. We couldn't figure out which apps Yaber is using, but what it can do is quite limited. There are no search options, and no file operations such as copy, move, or delete are available. There aren't even file thumbnails, which is annoying. The absence of any kind of list view is also disappointing. You only get an icon view with a very short portion of the file name beneath each item, which scrolls very slowly. As previously stated, it is a basic file manager that leaves us wanting more. The built-in video player is the same way. It only includes playback controls as well as a shuffle/repeat switch. Even subtitle support is not included.\
Verdict
At around $350, the Yaber Ace K1 is an extremely capable projector. It performs admirably enough to warrant a strong recommendation for casual multimedia viewing, gaming, as well as business use. The promise of a maintenance-free, fully sealed optical engine is also appealing, and the native resolution of 1080p is adequate for most applications. While only mono, its audio output is quite powerful and clean. We also liked the built-in Bluetooth connectivity and the ease with which we could connect an external speaker or soundbar.