The Onyx Boox Note Air 2 Plus is a tablet as well as an e-reader in one, and it comes with a Boox Pine Green stylus for doodles and taking notes while reading. The model under review here is the Note Air 2 Plus, which has an E-Ink display and a focus on productivity over pure content consumption, similar to the Amazon Kindle range. Note Air 2 Plus manages its own execution better, with fewer latency issues as well as improved overall performance.
Design
The Note Air 2 Plus has the appearance of an e-reader, with a thicker bezel on the left side of the display that makes it easier to hold, similar to the Kindle Oasis. The Note Air 2 Plus is a hefty device, weighing 445g, but I found it comfortable to hold in one hand. Its weight makes it feel solid, and the Carta glass screen, which is resistant to scratches and smudges, meant I could toss the device into my bag with confidence.
The case was useful for keeping the e-reader safe on long journeys, but I preferred to leave it at home, primarily to admire the device's deep pine green colour. The appealing green colour is complemented by orange accents on the device's back and on the front logo. Overall, the Onyx Boox Note Air 2 Plus is a stylish e-reader. The Note Air 2 Plus has one port, one USB-C charging port, and one power button. Despite the tablet format, there are no volume controls, though you can adjust the audio from within the device.
Despite the presence of an E-Ink display, I never used this device to watch video content, despite the fact that an app was available for download. However, I found the audio quality to be satisfactory. Bluetooth support is present, but I only used it sparingly because I was mostly using the Note Air 2 Plus for reading and browsing. Nonetheless, I appreciated its inclusion.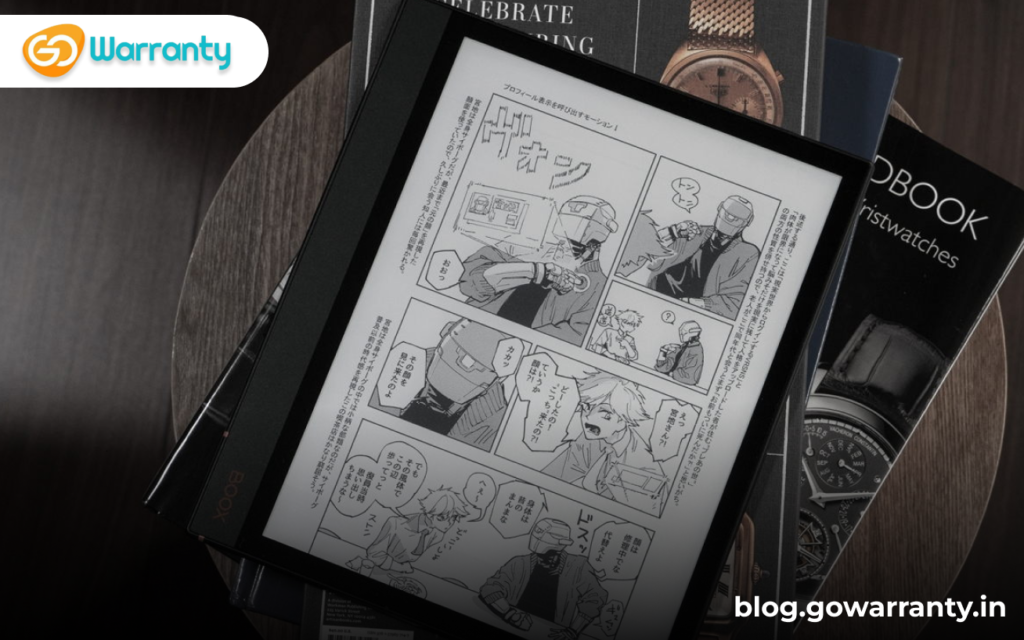 Display
The E-Ink display on the Note Air 2 Plus has a 1404 x 1872 resolution and 227 DPI, making it easier on the eyes than an OLED panel. As someone who has difficulty looking at screens for extended periods of time, it was never glaring and was ideal for use in darker environments. The monochrome display, on the other hand, limits the device slightly, making images in books and articles more difficult to distinguish. I did download YouTube, but the refresh rate of the Note Air 2 Plus wasn't fast enough to run fast-paced video content, so I wondered why it was supported at all.
Nonetheless, the Note Air 2 Plus is an excellent e-reader and basic tablet, though those looking for a device to watch media should consider a tablet with a more vibrant display, such as an iPad. There are no LEDs here, but you can adjust screen brightness via a pull-down menu, selecting between yellow or blue light and dimming options, which I found to be effective in most situations. Personally, I prefer a yellow-toned display, but the colder tones were useful for reading outside or in other brightly lit areas. However, I was always able to see the content displayed on the screen.
The screen of the Note Air 2 Plus has a slight texture to it, which creates resistance when used with the included stylus. The MatePad Paper, like the MatePad Paper, has the feel of writing on actual paper. However, some users reported hearing an annoying noise when writing with the stylus, which sounded like a dry felt tip on paper. Personally, I had no objections to it.
Performance
The Note Air 2 Plus runs Android 11, which means you have access to both the Google Play Store and the Kindle app, which was ideal for me because that's where I do all of my reading. I was able to download the Gmail app and email my notes, as well as any other apps I'd like to use on a daily basis, such as news or weather apps. While I'm not an Android user, the app system was simple to use and had the Play Store pre-installed. It was a breeze to use, reminding me very much of using my Kindle, and most people will have no trouble quickly becoming acquainted with the format.
In use, I experienced very few glitches or stutters – there were no issues moving around in apps or loading my books – which made the Note Air 2 Plus feel more premium. The reader is Wi-Fi capable, and I was able to connect it to both my work and home internet networks without difficulty. Because there is no 4G/5G option, make sure all of your books are download before embarking on your journey. As previously stated, the Note Air 2 Plus has Bluetooth support, and connecting my AirPods 2 was a breeze.
Battery Life
The battery life on the Note Air 2 Plus was excellent, lasting approximately a week before needing to be charged. Depending on the lighting configurations, reading for 30 minutes used about 5-8% of the battery. Furthermore, charging the tablet for 20 minutes increased battery life by approximately 17%. This meant that I didn't have to spend a long time charging the device before boarding a long train ride where charging ports were scarce. There's no fast-charging or wireless charging here, but since the device charges so quickly and USB-C chargers are so widely available, this wasn't a problem.
Verdict
The Onyx Boox Note Air 2 Plus is an excellent e-reader that can also function as a tablet due to its support for the Google Play Store. The included stylus is precise and ideal for taking notes and doodling, and the cover protects the device from damage. I like the Note Air 2 Plus, which is ideal for anyone looking for a good e-reader that can also be used for basic browsing.