For the past few months, gaming laptop manufacturers have been aggressively releasing new and refreshed models. Intel, AMD, and Nvidia have all recently released brand-new high-end hardware, beginning with the CES trade show in January of this year. Laptops with all of these new CPUs and GPUs are now hitting the market, and we've gotten our hands on a few of them. Today, we'll discuss our first impressions of AMD's latest high-performance laptop CPUs, the Ryzen 6000 series. The company provided me with an Asus demo unit based on the top-end Ryzen 9 6900HX CPU, and we'll see how it compares to Intel's high-end 12th-generation processor. The device I'm reviewing today is known as the Asus ROG Strix G15 (G513RW).
Price
Asus sells a variety of models and variants, each with slightly different specifications. The device I'm reviewing today is known as the Asus ROG Strix G15 (G513RW). It is available in India at a price of around Rs. 1,90,000. While this unit has a 1440p 165Hz display, certain configurations will include a 300Hz panel option. The rest of the components are top-tier, including an AMD Ryzen 9 6900HX CPU, an Nvidia GeForce RTX 3070 Ti GPU, 16GB of DDR5 RAM, and a 1TB NVMe SSD.
The ROG Strix G15 (G513RW) will be available through Asus-authorized retailers and partners, including Flipkart. The G15RC with a Ryzen 7 6800H CPU and Nvidia GeForce RTX 3050 cost Rs. 1,12,990, while the G15RM with a GeForce RTX 3060 costs Rs. 1,53,990.
Design
For its 2022 ROG Strix models, Asus has not chosen a subtle aesthetic. We recently got our first look at the ROG Strix Scar 17 SE, so the ROG Strix G15 appears to be a carbon copy. The pattern on the lid is simpler on this model, but it has the same RGB LED light strip throughout the lower front and sides, the same lifted hinge design with just an angular half-cutout below the screen, and the same narrow screen borders. The ROG logo on the lid has white border lighting rather than RGB, which looks great as well.
Given its 15.6-inch screen, the ROG Strix G15 is relatively small. It has a maximum thickness of 27.2mm and weighs 2.3kg. Asus calls the design "sporty," but there's a lot going on here, from a grid of triangles as well as squares on half the lid & keyboard deck to a random paint-speckle pattern as well as rubbery texture on part of the raised lip behind the hinge to a bright neon rubber patch on the bottom.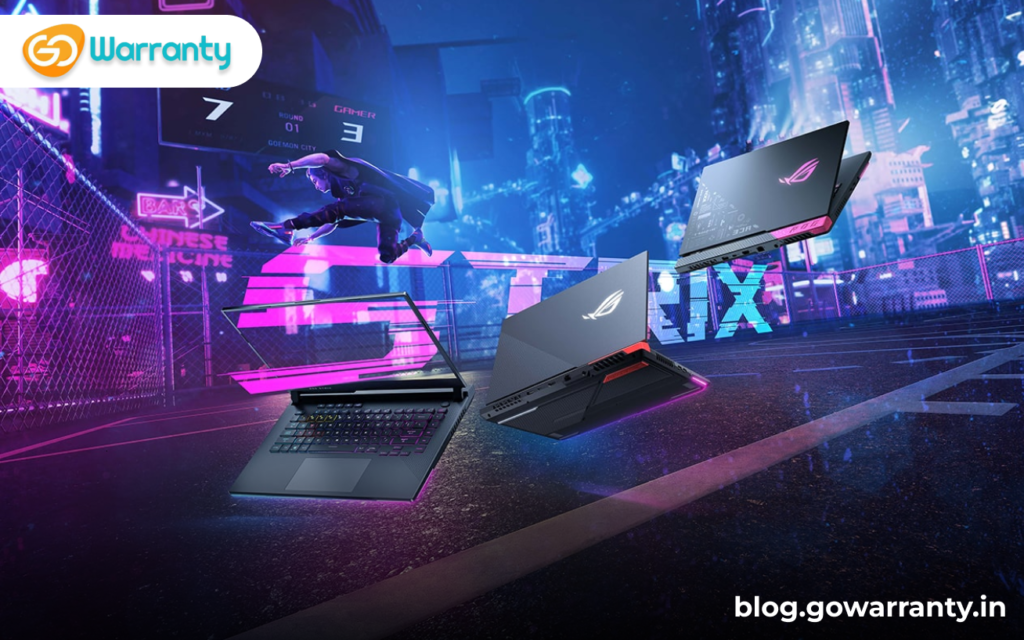 Software
AMD has steadily gained ground against Intel in recent years, effectively ending Intel's monopoly on high-end consumer CPUs. Both companies are currently at the pinnacle of their respective industries. AMD's Ryzen 9 6900HX is an 8-core, 16-thread CPU with a 45W base TDP (which OEMs can tweak based on the thermal design of their laptop chassis) and a 4.9GHz peak boost speed. It is based on the Zen 3+ core architecture and the core chipsets are manufactured on a 6nm node. When compared to the Ryzen 5000 series, AMD claims significant performance and power efficiency gains with this generation. This chip also includes an integrated Radeon 680M GPU based on the RDNA2 architecture.
DDR5 RAM support is new for AMD this generation, as is PCIe 4.0 connectivity for SSDs. Asus has chosen 16GB of fully socketed and replaceable DDR5-4800 RAM, a 1TB PCIe 4.0 SSD, and an empty M.2 slot for a second module.
Performance
In terms of everyday performance, the ROG Strix G15 is a pleasure to use. The 2560×1440 display resolution made a significant difference in my work and gaming, particularly after I reduced Windows' default 150 percent scaling to 125 percent. The density is excellent for reading and productivity at this screen size. While the screen isn't the most vibrant for watching videos, it's perfectly adequate in terms of viewing angles, brightness, sharpness, and color reproduction.
The speakers are surprisingly good, producing a deep, rich, and spacious sound across a wide range of media formats. When fan noise wasn't interfering with the sound effects in fast-paced games, they were fantastic. In terms of fans, the ROG Strix G15 was relatively quiet. I didn't notice the fans spinning up unless there was a game or a heavy test running. They did produce a dull whoosh when under heavy load, but they also spun down quickly after returning to the Windows desktop. With normal use, the keyboard and space around it can get a little warm, and I did notice the WASD key area getting a little hot while gaming, though it wasn't too uncomfortable. When this laptop is stressed, you'll notice hot air shooting out the sides and back.
Battery
In terms of battery life, I was pleasantly surprised that I could get through a full day's work without the ROG Strix G15 shutting down automatically. This is unusual for a gaming laptop, and you should get around 6-8 hours of casual use per charge. The graphically intensive Battery Eater Pro test took 2 hours and 33 minutes, which was also longer than expected.
Verdict
The latest generation of ROG Strix G15 laptops, particularly the G513RW, aren't aiming to be the absolute best gaming laptops available, but rather to strike a balance between price, features, and performance. This device has an efficient processor and a high-resolution display, as well as current-generation standards for everything from RAM to storage to communications. As long as users don't want ray-traced effects turned up to the highest quality, gaming performance at 2560×1440 is quite good. There's enough power here to keep you happy for a few years if you have the budget for it.