The NexiGo PJ20 does not neatly fit into any of the typical projector categories that we test. It competes head-to-head with smaller, lighter mini projectors with similar designs in most ways, from its low price of $249.99 to its low brightness, rated at 350 ANSI lumens. ) On the other hand, it's small enough to move around easily, and its audio is strong enough that you might not need an external sound system, a distinguishing feature of brighter, more expensive room-to-room portables. Whatever you call it, the PJ20 is designed for home entertainment, with a large picture for movies and video and a short lag time for casual gaming.
No Rainbow Artefacts
The NexiGo PJ20, like the Leisure 995W and other Vankyo mini projectors we've seen, is built around a single LCD but avoids the red/green/blue flashes, also known as rainbow artefacts, that most single-chip projectors are prone to. The artefacts are caused by rotating through the primary colours in order rather than showing them all at once. Each of the primary colours in a small, bright area can fall on a different spot on your retina when you move your eye or something moves on the screen. Some people are unaffected by this, but others will notice each individual colour.
Instead of cycling through red, green, and blue LEDs in sequence, the PJ20 employs a white LED light source and a 5,760-by-1,080 LCD. Individual cells in the LCD matrix have red, green, and blue filters that deliver the red, green, and blue elements for each pixel in the 1,920-by-1,080 image to the screen at the same time. With all three primary colours visible at the same time, it's impossible to see the individual components of each pixel unless you're far enough away to see the entire image. The white LED is rated at 30,000 hours and is designed to last the life of the projector.
Measurements
The PJ20 is larger than its obvious rival, measuring 4.25 by 12.6 by 9.1 inches (HWD) and weighing 5.5 pounds, but setup is similar to that of any mini projector. Simply connect the power cord as well as a video source, point the lens at the screen, reposition the projector to change image size (there is no zoom), and then focus.
In this case, the focus is powered, and it is adjusted via buttons on the remote, that is more convenient than using a manual focus ring or thumbwheel. It is, however, difficult to control precisely. I eventually got a reasonably well-focused image after overshooting several times, but it wasn't as crisp or detailed as I expected for the resolution at the 90-inch-diagonal image size I started with.
When I reduced the size to about 55 inches, primarily to improve image brightness and contrast, the focus appeared much better, both because smaller images that have the same resolution simply look sharper, and also because better contrast also increases perceived resolution. (More on image quality and brightness later.)
Connectivity
The rear panel connectors include two HDMI 1.4 ports as well as two USB Type-A ports for reading files from a USB memory key or powering a streaming dongle plugged into one of the HDMI ports. The projector can also mirror Android and iOS phones and tablets and supports wireless connections such as DLNA and Windows Cast.
The PJ20 supports Dolby and Dolby Plus audio formats. The audio quality from the onboard 5-watt mono speaker was clearly good enough to fill a midsize family room at a high enough volume. If you require stereo, higher quality, or more volume, you can connect to an external sound system via the 3.5mm audio-out port or Bluetooth.
One potential issue with the PJ20's design is that dust specks can enter the projector and land on the LCD. NexiGo addresses this problem by including a cleaning kit (you supply the rubbing alcohol) and instructions for cleaning the LCD as needed. I went through the motions and found it fairly simple to clean, but if you're not comfortable tinkering with your projector's internals, you might find the process intimidating.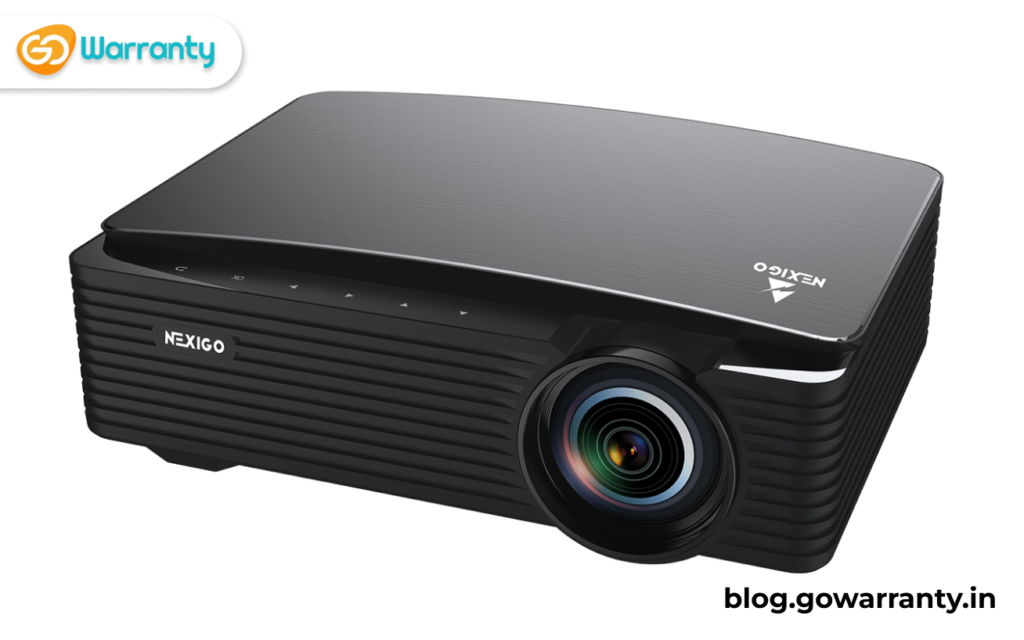 Good Image Quality & Brightness
The PJ20's menus include three predefined colour modes with no adjustment options and one User mode with adjustments for Contrast, Brightness, Colour Saturation, as well as Sharpness. Having multiple picture modes is almost pointless, as it is with far too many other low-cost projectors. Opening the menus takes up the entire screen, and the modes are so similar that it's impossible to tell what, if anything, has changed by the time you get to the right submenu, change the mode, and close the menu. For my viewing tests, I went with NexiGo's default setting and used Standard mode.
Even at the smaller size, I noticed a slight tendency for some bright scenes with light colours to appear slightly overexposed. However, most colours were nicely saturated, contrast was greatly improved, bright scenes appeared much more three-dimensional, and, as previously stated, the smaller size and higher contrast provided a crisper image. The hues at both sizes were off, but not by much more than is typical for projectors in this class. On the plus side, I didn't notice any obvious colour bias. The PJ20, on the other hand, struggled with shadow detail. Even with the smaller screen size, I couldn't make out what was going on in our test suite's dark scenes.
Verdict
If you're thinking about getting the NexiGo PJ20, make sure to look at some of its competitors as well, if only to get a better context for judging it. Among low-cost models with 1,920 by 1,080 native resolution, the Vankyo Leisure 495W, Leisure 470 Pro, and Leisure E30, as well as the AAXA P400, all have a smaller size and lighter weight than the PJ20. The P400 also has a short throw, which allows you to position it closer to whatever screen you're using for any given image size, a useful feature in small spaces. It is, however, the only one in the group that can display rainbow artefacts.