The Dell UltraSharp 43 4K USB-C Monitor (U4320Q) is a $969.99 productivity monitor with a more traditional design than some of its contemporaries. Unlike many large-screen monitors (those larger than 40 inches) for business or gaming, the U4320Q's screen is flat and has an ordinary 16:9 widescreen aspect ratio. This enables you to show more of a document vertically or more spreadsheet rows than on screens with a wider format. Its design is traditional, but its abundance of ports, including a USB-C connection that can charge a laptop and support for displaying multiple video sources in separate windows onscreen at the same time, are anything but. It's an excellent large-screen option for business power users.
Design
The 42.5-inch (diagonal) screen of the U4320Q employs in-plane switching (IPS) technology and comes with a UHD (aka 4K) native resolution of 3,840 by 2,160 pixels. Its pixel density of 103 pixels per inch (ppi) is adequate for most office applications. While that type of measurement is adequate for casual photo or video editing, you will need a display with a higher pixel density for modifying detailed graphics or photos.
To hold the U4320Q, you'll need a large desk or table. It measures 25.8 by 38.1 by 9.8 inches (HWD) and weighs 38.8 pounds with its stand. The stand has some basic ergonomic features, such as the ability to raise the screen to 2.4 inches, swivel 40 degrees in either direction, as well as tilt 5 degrees toward you or 10 degrees away. If you want to wall-mount the Dell U4320Q, holes in the back can accommodate a VESA bracket (not included).
Connectivity
The U4320Q, like many of today's midrange and upper-tier business monitors, has plenty of ports. We'll begin with USB: It has one upstream USB-C port for data and video transfer in DisplayPort over USB-C alternate mode, and it can deliver up to 90 watts of USB power, allowing you to power and/or charge a laptop connected to it. A downstream USB Type-C port and USB Type-A ports are also available for connecting a mouse, keyboard, external hard drive, or other peripherals.
Since the stand lacks a pivot mount, most of the ports downward-facing in the back are difficult to reach, though one USB-C and one USB-A port are located on the monitor's side for easy access. Attaching HDMI or DisplayPort cables before moving the U4320Q into position is recommended; it will be much more difficult to plug them in once the monitor is upright and in place.
HDMI 2.0 and DisplayPort 1.4 inputs (two of each) round out the connectivity options, as does a 3.5mm headphone jack. An RJ-45 Ethernet jack is about the only port commonly found on what have become known as docking-station or USB-hub monitors. Unless your connected laptop has an Ethernet port, you'll have to rely on Wi-Fi for connectivity. This monitor will not assist you in this regard, though some other models will.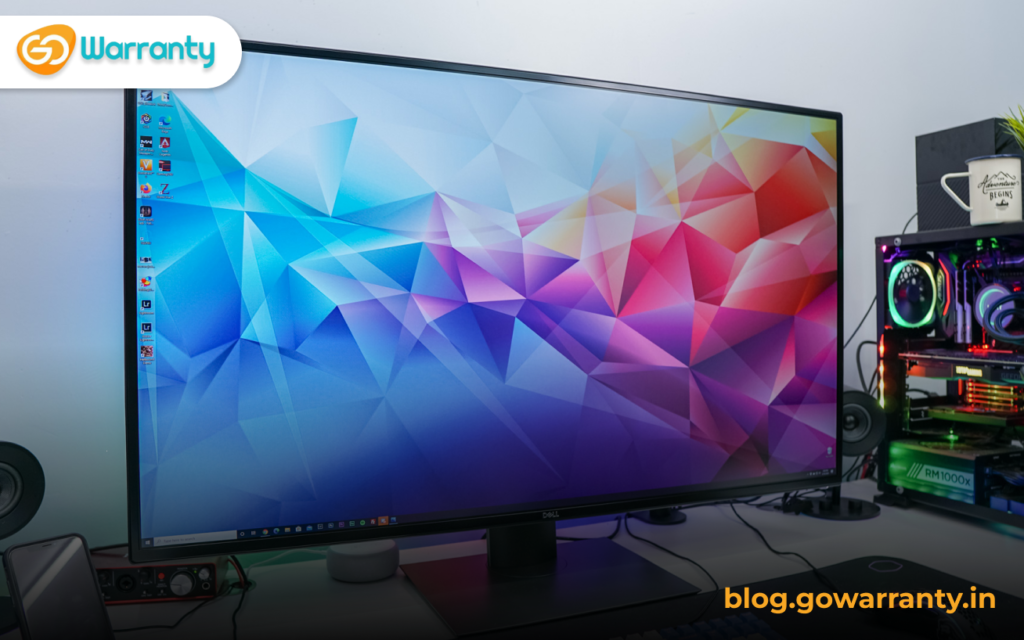 Dell Display Manager Software
You can tile and view programmes in both preset and custom layouts with Dell Display Manager software (a free download), allowing you to multitask to your heart's content. The software supports input from up to four different PCs on the various display inputs, so you could, for example, monitor a render task on another PC while working on one or more other computers without having to switch screens. Alternatively, while working on your desktop PC, you could mirror your laptop's screen in a window on the U4320Q. When compared to an ultra-wide monitor, the extra vertical space makes it simple to arrange windows both horizontally and vertically.
Dell U4320Q Testing
I used our standard test equipment to assess the U4320Q's brightness, contrast ratio, and colour accuracy: a Klein K-10A colorimeter, a Murideo SIX-G pattern generator, and Portrait Displays' CalMAN 5 calibration software.
The monitor's luminance is rated at 350 nits (candelas per square metre), but it fell just short of that 297 nits in my testing. That's bright enough for most business applications, including photo and video editing, as well as gaming, provided you're not using the U4320Q in a room with a lot of natural light. With a measured score of 1,187:1, the display outperformed its rated 1,000:1 contrast ratio.
Dell claims that the U4320Q covers 96% of the sRGB colour space. It outperformed that in my tests using the default standard mode, essentially covering the entire space. The panel also covered 82.7% of DCI-P3, a colour space designed for digital video, as well as 82% of the larger Adobe RGB gamut, which is commonly used to prepare photos for printing. These figures are sufficient for the panel's purpose, but they cement it as a productivity model rather than a colour expert one for creative professionals.
We view a select group of test-standard videos and images clips during the subjective, ad-hoc portion of our testing. Stills were clear, with accurate colours and detail in both light and dark areas.
Verdict
The U4320Q is the largest-screen productivity monitor we've reviewed in a long time. We had reviewed several high-quality 49-inch business monitors prior to the pandemic, including the Dell UltraSharp 49 Curved Monitor (U4919DW), the LG 49WL95C-W, as well as the Philips Brilliance 499P9H, the latter two are PCMag Editors' Choice picks, and then all three are ultra-wide, curved panels. They are useful for quickly viewing documents such as multi-column spreadsheets, or for parking tool palettes off to the side of your main working window.
However, the Dell UltraSharp 43 4K USB-C Monitor (U4320Q) provides a traditional, wide-screen alternative in XXL size. It is largely a matter of business necessity and personal preference whether you choose it or one of the ultra-wide models. However, if you have the desk and the workload to justify the large screen, the U4320Q provides a TV-size IPS panel with full sRGB colour coverage and a plethora of ports.