The Vankyo Leisure 495W Dolby Audio Projector stands out because it is inexpensive. When a projector lists for $299 and sells for $180 on the manufacturer's website, you can assume it's not suitable for a serious home theatre setup. It also cannot compete with the Anker Nebula Solar Portable, our top pick for mini projectors, in terms of image quality and brightness. However, when compared to most comparably priced competitors, that's an impressive option for casual viewing, as its sound quality is actually better than that of the Anker, as the "Dolby Audio" part of the name implies.
A 1080p LCD Chip is included in the box
The 495W is built around a single imaging chip, like other Vankyo projectors we've reviewed, but unlike many single-chip DLP projectors, it avoids the red, green, as well as blue flashes known as rainbow artefacts. This is accomplished by combining a white LED light source with a 5,760-by-1,080-pixel LCD chip and applying red, green, and blue filters to individual cells in the LCD matrix. This translates to a full HD, 1,920-by-1,080-pixel image from the chip. Having all three primary colours on screen at the same time, rather than rotating through them one at a time, eliminates the possibility of annoying rainbow-like flashes.
Setup is simple, thanks in part to the projector's small size and low weight, which make it easy to move into position. The 495W is 3.4 by 7 by 4.8 inches in size, weighs 3.1 pounds, and is powered by a simple power cord rather than an external power brick. Only position the projector, connect power as well as a video source, point the lens at whatever you're using as a screen, and focus are required. There is no optical zoom, as is typical for portable models, but the light weight makes it simple to adjust image size by moving the projector. There's a mechanical horizontal keystone adjustment, but I found that using it made it impossible to keep the entire image in focus.
Connectivity
There are numerous image source options available with the projector. The back panel includes an HDMI 1.4 port as well as two USB Type-A ports for charging streaming dongles and reading files from external drives. There's also an AV input that works with a bundled adapter for stereo audio as well as composite video inputs, allowing you to use legacy video sources with RCA phono-plug connectors.
Wireless connectivity options include screen mirroring for Android and iOS devices, as well as DLNA and Windows Cast support. In my tests, Android mirroring worked flawlessly when connected to a Samsung Galaxy S20 FE phone, including Netflix. You can also mirror the device through a wired connection for those mobile devices that support it.
As previously stated, the Dolby sound system provides impressively robust audio for the price and the 3-watt maximum power rating of the onboard speakers. In my tests, the volume was easily enough to fill a medium-sized family room, and the quality was good enough that most people would not need an external sound system. However, if you require even higher quality or volume, a 3.5mm stereo audio-out port is available.
Excellent image quality and brightness
The 495W's menus include four colour modes. Three of them are stuck in their predefined settings. The fourth option is a User mode, which includes controls for contrast, brightness, sharpness, and colour saturation (but not colour hue). Because calling up the menu greys out the image and it takes too long to return to it to make the comparison, it's impossible to judge which mode is best or see the results of any adjustments. For my official tests, I used the default setting of Standard mode.
Colours in my tests met the saturation and brightness requirements of a hue-saturation-brightness colour model. Hues were slightly off in some of our test images, but not by enough to notice if you don't already know what the colours should look like. Skin tones and blue skies, in particular, were extremely realistic. Even when they were off, they were still within a range that most people would consider tolerable. In my tests, the 495W also performed admirably in terms of contrast in brightly lit scenes. Darker scenes lost shadow detail, but I could still make out what was going on. It should be noted that there is no 3D support.
Brightness
The brightness level is also good for this class of projector, though nowhere near bright enough for the 220-inch diagonal image size claimed by Vankyo. I began in a dark room with a 90-inch, 16:9 image on a 1.0-gain screen that was watchable and had a nicely saturated colour, but was also dim enough to be tiring on the eyes. After experimenting with various sizes, I settled on a 70-inch diagonal as being the most comfortable for a long session, that is also what the Society of Motion Picture and Television Engineers (SMPTE) recommends for the rated 220 ANSI lumens. The same size was watchable at night with the lights on in a family room, but a little washed out.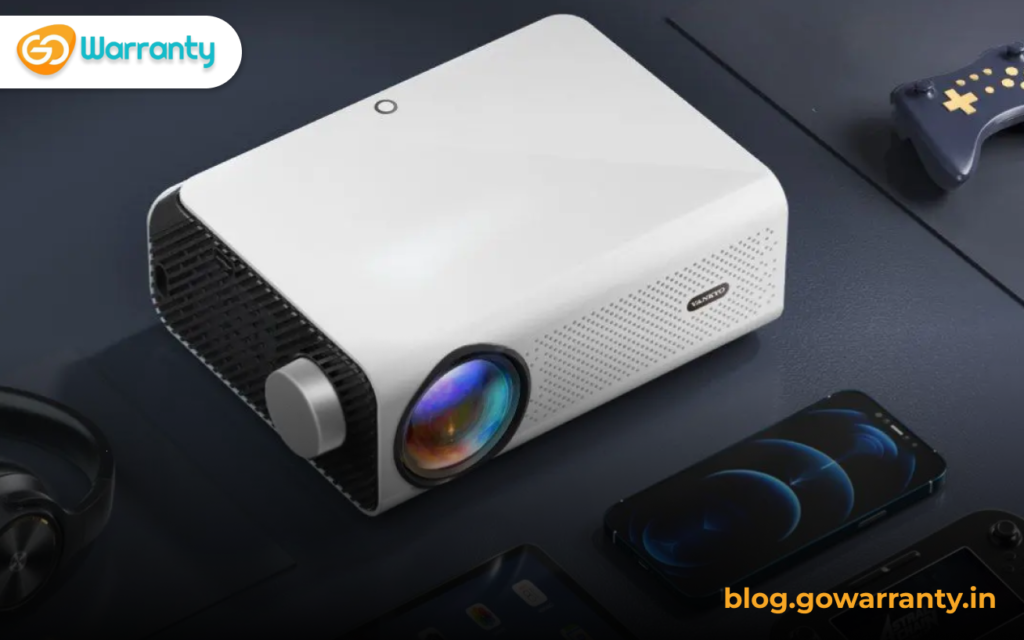 The good news for gamers is that I measured the input lag with a Bodnar metre at 26 milliseconds for 1080p, 60Hz input, which is a short enough lag for all but the most serious gamers.
There is no need for external speakers
Cut corners are often associated with low cost, which means that when shopping for a projector in the Vankyo Leisure 495W's price range, it's even more important to focus on which features you value the most. The Vankyo Leisure 470 Pro, for example, is slightly less expensive and has two HDMI ports, but it lacks the 495W's audio quality and brightness. Similarly, the Vankyo E30 has a 100-inch screen but lacks the image and audio quality of the 495W.
Aside from those impressive speakers, the 495W's main selling points are its good image quality and short input lag. If you have two of those three priorities in this price range, the 495W should be on your short list. If all three of these features are essential, this is most likely the model you want.
Verdict
The Vankyo Leisure 495W provides excellent audio quality for its low price of under $300. When you combine this with acceptable image quality and brightness, you have a solid choice for a low-cost mini projector.