In today's world, there are all kinds of models, brands and designs available for mobile phones. Yet, some phones break the market with their prices. We are introducing you to these phones with this article.
If you think the iPhone 12 is expensive, then this list will leave you speechless!
Falcon Supernova iPhone 6 Pink Diamond
Cost: $48.5 Million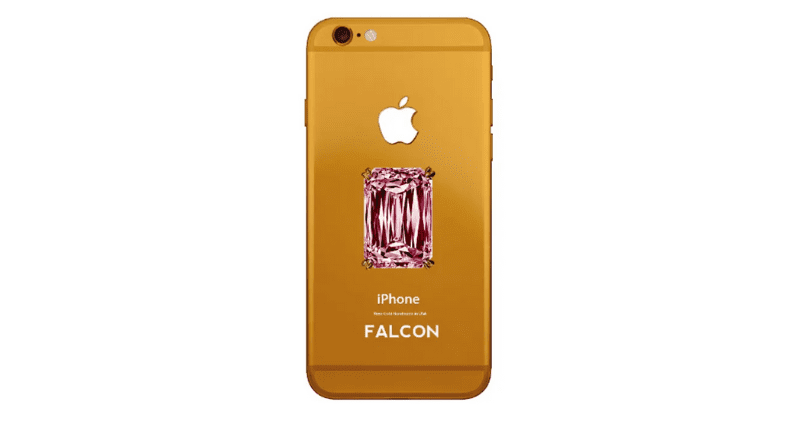 Of course, looking at the price tag, Falcon Supernova iPhone 6 Pink Diamond Edition is the world's most expensive phone! The price is unbelievable.
Introduced in 2004, The Falcon Supernova is a customised iPhone 6 which is engulfed in twenty-four-carat gold. It is accessorised with one massive pink diamond on the rear. Additionally, the phone is coated in platinum. Plus, equipped with hack prevention technology for keeping the owner's personal information safe from evil hands.
Anil Ambani's glamorous wife Nita Ambani owns this phone too!
Definitely, not the best looking smartphone in the market. Though, it does get attention for being the most expensive.
Caviar iPhone 12 Pro Pure Gold
Cost: $122,000
This phone is one of the most expensive phones in the world. However, it will cost you more due to the taxes and duties levied if you purchase it in India.
Also, the price is justifiable as the phone is covered in 18-carat pure gold with diamond embellishments. This premium product is perfect for iPhone users that want a luxurious edge. The inner workings or internal hardware is the same as a normal iPhone 12 Pro. Nevertheless, selling all the 7 will not be easy due to the price tag.
Diamond Crypto Smartphones
Cost: $1.3 Million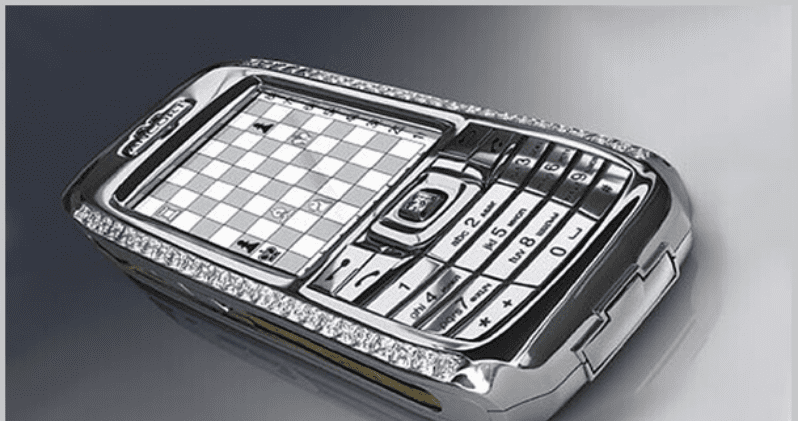 At such a whopping price tag, The Diamond Crypto Smartphone was once the most expensive phone in the world. The beautiful design was curated by Alisson and manufactured by JSC Ancort. The logo and home button of this smartphone are made from rose gold. At the same time, the entire phone is covered with solid platinum.
Additionally, the phone is studded with 50 diamonds including 10 unique blue diamonds. The small amount of wood on the sides of the phone is made from Macassar Ebony. Besides, there is a special encryption technology for keeping the user's private information safe.
Goldvish Le Million Phones
Cost: $1 Million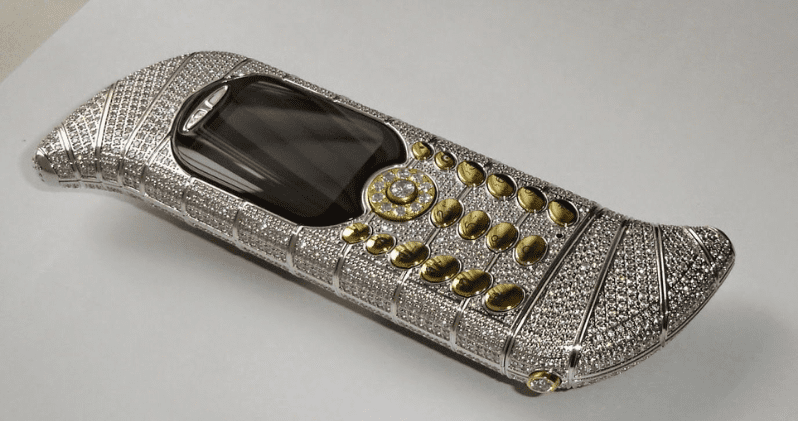 Renowned brand Goldvish created an amazing phone called LeMillion. Indeed, named on the price.
At the time of release, The Guinness Book of Records placed LeMillion as the most exclusive and most expensive phone in the world. A famous jewellery and watch designer named Emmanuel Gueit designed LeMillion. The phone has 120 carats of VVS-1 grade diamonds studded into it with a Sapphire Glass display case. Furthermore, it is made with 18-karat white gold.
Lastly, there are only 3 of these phones available under a limited collection series by the company. Getting your hands on it might be a little tough!
Gresso Luxor Las Vegas Jackpot Phones
Cost: $1 Million
Gresso, a world-famous accessory designer designed the Las Vegas Jackpot. This is a limited-series phone with only three mobiles available. Also, there is a unique number engraved on the back of each unit. Believe it or not, this luxury product is designed with 108 grams of gold and black diamonds, each at least 45.5 carats.
At the same time, every key on this amazing phone has 32 carats, manually polished gem sapphires. Moreover, there are unique texture options. There is an option of the back panel made from precious wood of a 200 years old African tree.
Virtu Signature Cobra Phones
Cost: $310,000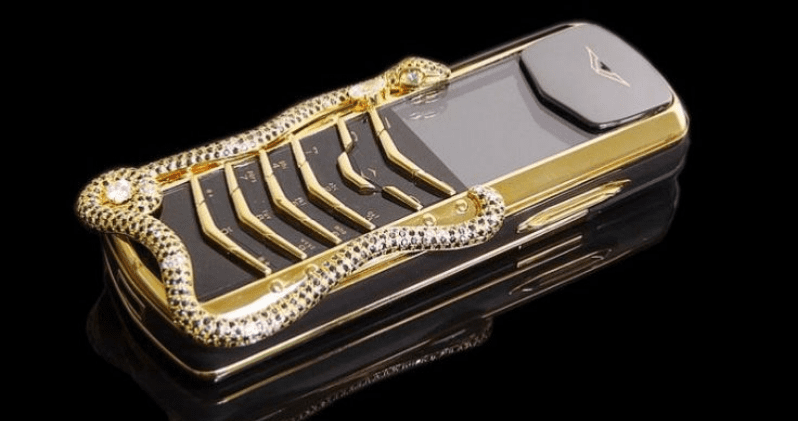 The Signature Cobra was designed by a French jewellery company called Boucheron Vertu. Many of us are familiar with Vertu phones. Likewise, when we think of smartphone luxury, the first name that comes to our mind is Virtu. They have a reputation for creating some of the best luxury phones in the world.
This exquisite phone was assembled by hand in the United Kingdom. It is a part of an 8 phone limited series. The most striking feature of this product is the Cobra which wraps around the handset. It is made of solid gold and has 439 rubies with 2 emeralds. Additionally, the entire phone is gold plated.
To conclude, maybe, someday, we might be able to afford these grand phones. Till then, we can only dream!