The Meta Quest Pro is not the Meta Quest 2's successor. While Meta's latest VR headset shares many features with its predecessor, it is aimed at a completely different audience. If you're a designer, engineer, scientist, or frequently collaborate with colleagues online, the Meta Quest Pro could be useful.
Though it is quite expensive at $1,499, it has the potential to be one of the best VR headsets. At a recent press event in New York City, I had extensive hands-on (or heads-on) time with the Meta Quest Pro. While I've always been sceptical of VR gaming, I've always believed the technology has enormous potential outside of that field. The Meta Quest Pro showed me what VR is capable of, specifically how it can be used to have more natural interactions with those I communicate with online. As it stands, Meta's new VR headset establishes a solid foundation on which future devices can build.
Price and Availability
The Meta Quest Pro will be available for $1,499 on October 25. You can pre-order it from the Meta Quest online store right now. In North America, retailers such as Best Buy and Amazon will sell the device. The headset, Meta Quest Touch Pro controllers, stylus tips, partial light blockers, and a charging dock are all included. At launch, a variety of accessories will also be available. The Meta Quest Pro Compact Charging Dock ($79), Meta Quest Pro VR Earphones ($49), and the Incase Meta Quest Pro Carry Case ($119) are all included. The Meta Quest Pro Full Light Blocker ($49) will be available on November 22nd.
Design
The Quest Pro is designed in the same sleek and elegant manner as the Quest 2. It has "pancake lenses" in the front and a curved-cell battery on the back of the headset, according to the company. These two parts make direct contact with your head, and I'm glad neither felt uncomfortable when pressed against mine.
The Quest Pro measures 10.3 x 7.1 x 5.0 inches and weighs 1.59 pounds. It was almost as if I wasn't wearing a headset at all. That is a huge victory in and of itself, because every VR headset I've ever used never let me forget I had such a big plastic device strapped to my head. I can't speak to how comfortable the headset is after long sessions (I only wore the Quest Pro for about ten minutes per demo), but it should be comfortable to wear for extended periods of time.
The front lens and the battery pack both have dials. The former adjusts the distance between your eyes as well as the screen between 2.16 and 2.95 inches, while the latter tightens and loosens the device around your head. The dials on the headsets I used were difficult to turn, particularly the front dial. I'm not sure if this will be changed before the launch, but frequent use may loosen them up.
Virtual Office Experience
Over the last two years, virtual office meetings have become increasingly important. While communicating via programmes such as Google Meets and Zoom is adequate, the experience can be impersonal. The technology in the Quest Pro allows it to better recreate the office environment and make meetings feel more genuine.
In one demonstration, I sat at a desk in a large office. A public relations representative sat across from me, while another attended the meeting via a floating virtual screen. In fact, you can bring up multiple windows within the VR space for you and everyone else to see and interact with. Participants in the meeting can also use the attachable stylus on their controller to write on surfaces such as a virtual whiteboard.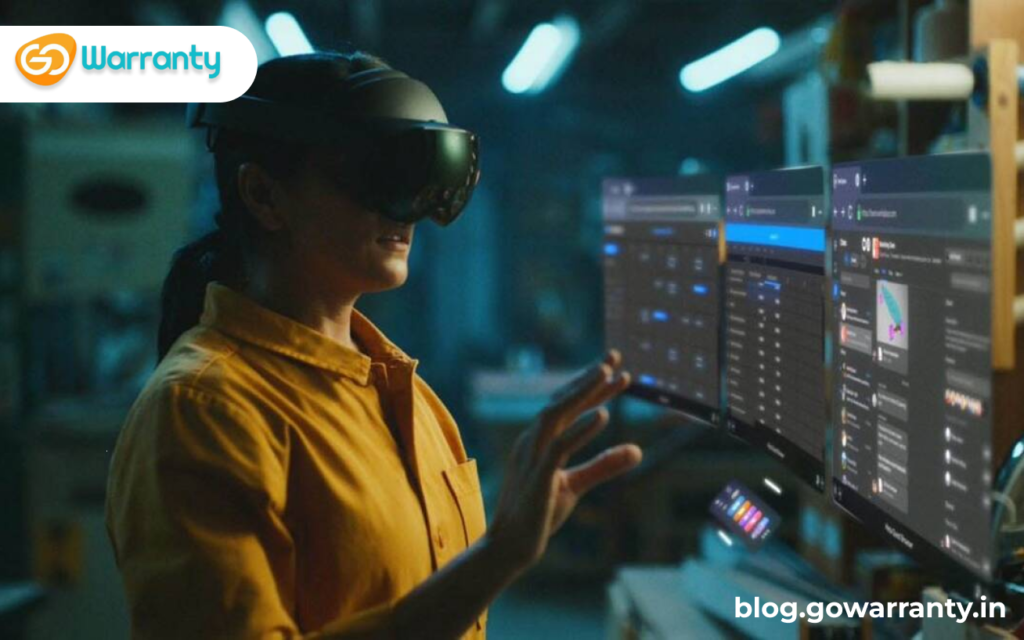 Controllers
The Meta Quest Pro controllers are the first self-tracking controllers from the company. Because the controllers do not rely on the headset for tracking, they have a full 360-degree range of motion. Even if you put your hands behind your back, the controllers will be tracked.
The controllers also have TruTouch Haptics, which allow for finer motor control, according to the company. You can, for example, pinch objects and feel resistance on the controller's buttons while doing so. This was evident during a demonstration in which I squeezed a rubber ball. It was almost as if you were performing the action in real life, thanks to the haptics and rumble.
Performance
The Meta Quest Pro is powered by the Snapdragon XR2+ platform, which Meta claims is 50% faster than the Quest 2. It also has 256GB of storage and 12GB of RAM. All of the demos I tested were quick and responsive. Whether I was spinning a record, throwing darts, painting on a canvas, or swinging a tennis racket, the VR headset and controllers tracked all of my movements and gestures flawlessly. Granted, these were curated demos that were most likely designed to run as smoothly as possible, but I was still impressed.
Audio
In VR, audio is just as important as visuals. To that end, the Quest Pro features spatial audio processing designed to provide an authentic sound experience. One of the more impressive demos I tried involved me sitting in the previously mentioned virtual office meeting room with two avatar public relations representatives. One representative stood up and walked to the opposite side of the room, their voice lowering as they got further apart. When they sat down beside me, the exact opposite happened. This, combined with the avatar's realistic facial and hand gestures, made for an excellent office simulation.
Battery Life
According to Meta, depending on the type of content, you can expect one to two hours of battery life. You can check the battery status in the Meta Quest App settings or in VR via the Home menu at any time. Although it defeats the purpose of a wireless headset, you can charge the device while using it by connecting the included 6.5-foot cable. According to Meta, charging the headset takes two hours.
Verdict
The Meta Quest Pro is a unique creature. Yes, it can play games and perform similar functions, but it is specifically designed for a different audience, namely professionals. As a result, if all you care about is gaming, you may want to stick with your current VR headset or opt for a more affordable option. While the Quest Pro isn't for the average consumer, it demonstrates Meta's desire to make VR viable in fields other than gaming.