The LG S95QR Dolby Atmos soundbar is a full-fledged surround solution that includes a soundbar, wireless subwoofer, and surround speakers in a single (and some would argue rather large) box. It is the company's flagship soundbar solution, and it is packed with immersive tech to handle the latest surround audio formats, as well as plenty of power to boost movie soundtracks.
It's a significant departure from the budget soundbars that are currently making headlines, with models like the Sonos Ray (possibly paired with a Sonos Sub Mini) providing a significant boost to TV sound for a very reasonable outlay.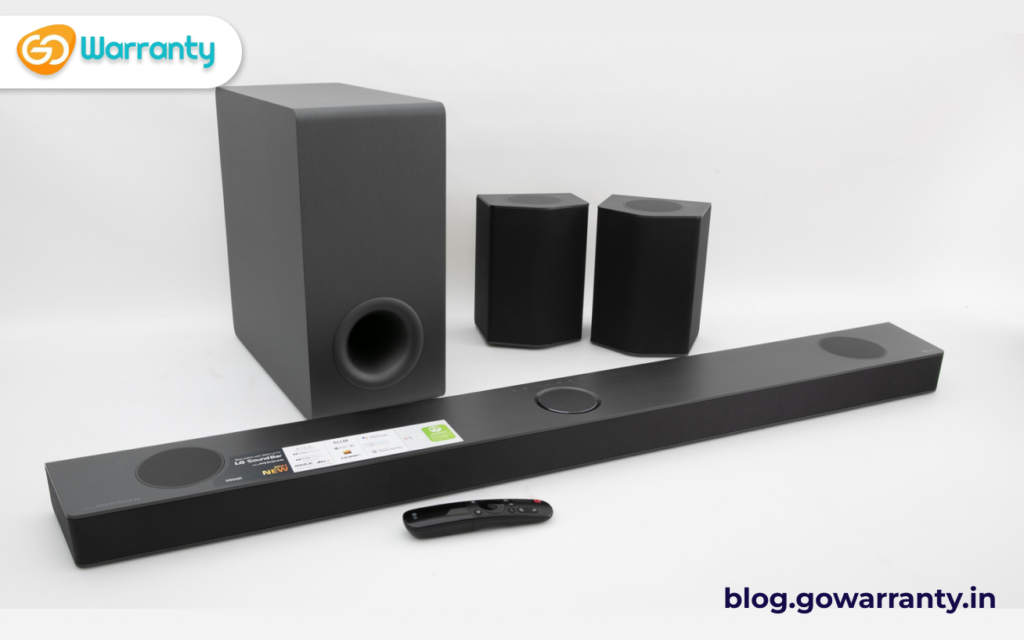 Price and Availabaility
The LG S95QR is available in grey and priced at $1,799 / £1,699 / AU$2,049, but we've seen it discounted to $1,499 on LG's website and through also several online retailers, but these offers were no longer available at the time of publishing. Keep an eye on our best Amazon deals page for the most current prices.
Design and Soundbar
The main soundbar speaker's low-profile design is slim and elegant, measuring 47.2 x 2.5 x 5.3 inches (L x H x D). Its height is doubtful to foul the bottom of a TV screen, and LG claims that it is best matched with TVs ranging in size from 55 to 65 inches. The powered subwoofer is 7.9 x 15.9 x 15.9 inches in size, while the surround speakers are 6.3 x 8.8 x 5.6 inches in size.
There is no other finish option for the components; they are all finished in grey. The build quality is satisfactory but not exceptional, and the S95QR package lacks the kind of opulent finish and styling that typically befits a model at the top of the line.
Connectivity
There is a recess on the underside of the soundbar for hardwired connectivity, as well as two HDMI 2.1 input ports and one eARC/HDMI output capable of handling 4K @60Hz with Dolby Vision and HDR10 signals. A digital optical port and a USB port are also included. Wireless connectivity options include Wi-Fi and Bluetooth, as well as AirPlay 2 and Chromecast, along with Spotify Connect. Hi-res streaming is possible via Tidal over Wi-Fi, or directly from a networked HDD music library or a USB port. Despite its high-resolution handling capabilities, Bluetooth codec support is limited to SBC and AAC, with no aptX Adaptive or LDAC support to achieve higher-quality audio streams though this may be addressed in the future.
Configuration
The flagship LG is believed to use 17 speakers throughout the speaker package including dedicated wireless rear surrounds as well as a wireless subwoofer, in a 9.1.5-channel configuration. The main soundbar features three up-firing height speakers (one of which is a brand new up-firing centre driver), as well as two additional up-firing drivers on the top surface of the wireless rears. The S95QR's woofers have been upgraded from previous flagship designs to larger models that are said to deliver deeper bass notes for a movie theatre experience at home.
Two full-range speaker drivers fire rear effects out at approximately 30 degree angles from the wireless rear surrounds, while a single up-firing speaker controls the height elements in appropriate soundtracks. It's an improved configuration over previous designs that is said to distribute sound evenly across a larger area (approximately 135 degrees) and allows for flexible speaker placement for a more immersive sound experience regardless of room size.
Extra Features
The LG comes with a slew of setup features, including AI to automatically optimise sound output levels to your specific room and surroundings, which can be accessed via the LG SoundBar control app.
Meridian Audio has tuned the audio output of LG's 2022 soundbar lineup, as it has done with several of its most recent soundbars. The Meridian Horizon technology, which converts two-channel stereo sound into a multi-channel audio experience for surround sound speaker setups, has also been contributed by the British audio specialist. Auto low latency mode (ALLM) is also available for gamers who value in-sync onscreen action and audio, as well as Amazon Alexa and Google Assistant voice assistants are supported.
Controls
The LG SoundBar control app will most likely be used to adjust speaker levels and select sound presets to match whatever content is playing. Once I got the app to see my home network and connect to the wireless soundbar, it was fairly simple to use, but it took some time and the lack of clear instructions didn't help. Touch-capacitive control buttons are also located in the centre of the soundbar. A small display on the front provides visual confirmation that the soundbar is decoding an audio signal.
Sound Quality
LG claims a total power output of 810W for the S95QR, which should be more than enough to power most mid- to large-sized rooms. The power output claim appears reasonable on the surface, given that it is divided between soundbar, subwoofer, and surround speaker channels. It's important not to confuse power claims with sound quality, as the S95QR isn't the all-around powerhouse entertainment system I hoped for in terms of overall sonic performance.
As a multiple speaker home theatre system, it's reassuring to know that the LG's strengths lie in delivering 5.1 movie soundtracks from services like Netflix and Amazon (or hooked up to a Blu-Ray disc player), which is where it shines. The bad news continues with the surround speakers, which sound 'thin' due to the sub's lack of bass support integration. Finally, because the subwoofer takes so long to kick in, it is very easy to hear the frequency deficiencies from the LG soundbar. It appears to recognise the presence of an audio signal ten seconds or more after the soundbar begins to play.
Verdict
On the one hand, the LG S95QR appears to be a low-cost Dolby Atmos soundbar package. It is packed with the most recent surround sound format handling capabilities for what appears to be a reasonable price when you consider the WiFi connectivity technology between active speakers and the significant power output claims. It almost works, too, especially if you stick to 5.1 movies. Finally, the lack of sonic integration between the main soundbar, subwoofer, and surround speakers results in an unsettling sound balance that adds little to a regular viewing experience beyond the built-in speakers of a television.