New Alienware 500 Hz Gaming Monitor AW2524H aspires to be the ultimate esports gaming monitor. Dell claims that this display has "the world's fastest refresh rate." Given the existence of the Asus ROG Swift 500Hz, announced in 2022, that claim may not be entirely accurate. Even if the upcoming Alienware monitor isn't the only 500 Hz gaming monitor on the market, it's still an incredible refresh rate.
I saw the Alienware AW2524H briefly at a Dell event in New York City. Though I wasn't able to fully explore what the monitor has to offer, I'm intrigued by its potential as an esports monitor. If it lives up to its promises, the Alienware A2524H could end up on our list of the best gaming monitors; it's certainly one of the Best of CES 2023 Award winners.
Overview
At this year's CES 2023, Alienware introduced the AW2524H, a new high-speed 500 Hz gaming monitor. This small gaming monitor was one of the first to feature a 500 Hz refresh rate, making it one of the best esports panels on the market. It will compete with a number of other high refresh rate gaming monitors this year, thanks to its Fast IPS display, which provides better viewing angles and colour accuracy than the PG248QP's E-TN display. Along with this, users can expect a 178° viewing angle, 99% sRGB colour space coverage, and a 1,000:1 contrast ratio – not bad for an esports gaming monitor.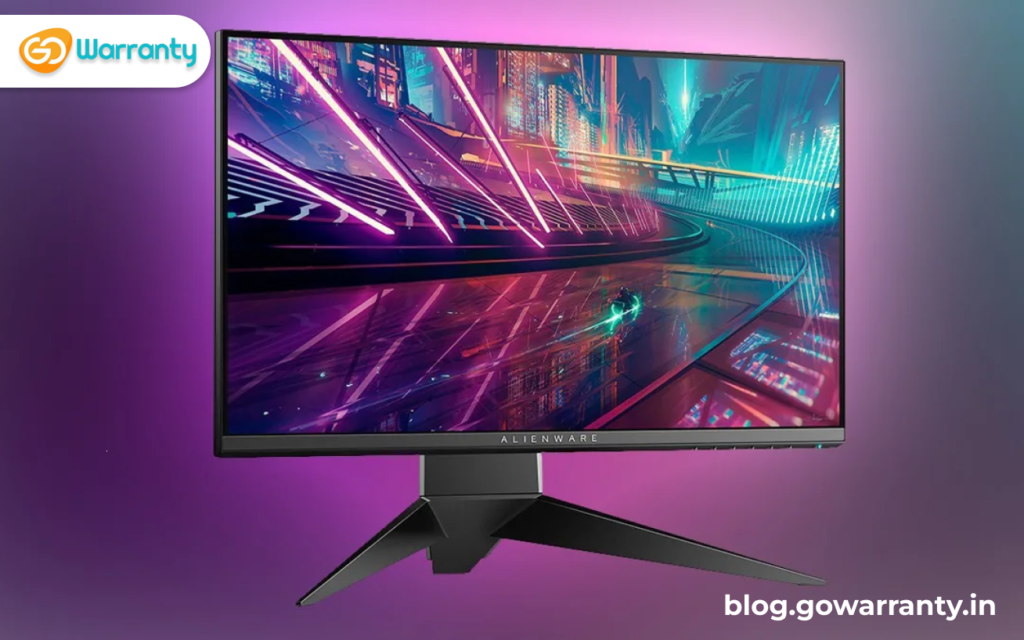 The monitor is VESA DisplayHDR 400 certified, with a peak brightness of 400 nits and a response time of 0.5 ms (GtG). The 24.5-inch monitor has a 480Hz refresh rate at 1080p by default. Nonetheless, it can be overclocked to 500Hz via DisplayPort 1.4. The AW2524H, Alienware's 500 Hz gaming monitor, will first be available in China, followed by North America. Dell has not stated whether the product will be available in other regions such as Africa, Europe, or the Middle East.
Price and Availability
The AW2524H is scheduled to go on sale in the first quarter of 2023. Pricing information will be released closer to the shipping date. This is pure speculation on my part, but I see this monitor costing around $1,000/£1,000/AU$1,500, possibly a little less. The Sony Inzone M9 is priced at $899, while the Alienware AW3423DWF is priced at $1,099. These monitors have features like 4K and QD-LED that the AW2524H does not have. However, a native 480Hz resolution could raise the price while keeping it within the price range of the aforementioned monitors. But, as I previously stated, that is pure speculation.
Design
The AW2524H is a fairly unassuming gaming monitor, measuring 15.37 / 19.71 (compressed/extended height) x 21.86 x 9.60 inches and weighing 14.09 pounds with its stand. Its all-black design contributes to its unassuming appearance. You'd never guess this was a gaming monitor if it wasn't for the glowing Alienware logo and "25" on the back.
The hexagonal base of the esports-inspired Legend 2.0 design has a small footprint. The fully adjustable stand also assists you in obtaining the best viewing angle possible. I dislike monitors with large bases, so the AW2524H's small footprint appeals to me. And I'm sure professional esports athletes will appreciate it as well, because they'll be able to position their keyboards closer to the monitor if they want.
Ports
The monitor has ports on the back and bottom. Two HDMI 2.1 ports, a DisplayPort, four USB-A ports (two upstream and two downstream), a USB-B port, a headphone jack, and a line-out port are available. An OSD (on-screen display) joystick is also located in the bottom centre. The AW2524H has a low-key appearance for an Alienware monitor. This gaming monitor, on the other hand, is all about delivering ultra-high refresh rates and a quick response time. As a result, its design aids in maintaining your full attention on the screen.
The monitor also has an integrated headset hanger, which is a nice addition.
Display
The Alienware AW2524H has a 24.5-inch FHD (1920 x 1080) display with a native refresh rate of 480Hz that can be increased to 500 Hz with compatible titles. Dell claims that the 16:9 monitor has a 1000:1 contrast ratio, a brightness of 400 cd/m2 (equivalent to 400 nits), and can cover 99% of the sRGB colour gamut.
During my hands-on time, I only saw some pre-recorded gaming footage, but the display appeared bright and colourful. I wasn't blown away, but I also wasn't disappointed. However, I cannot consider this a negative because this monitor prioritises performance over visuals, which makes sense for an esports-focused gaming device.
Performance
The AW2524H, according to Dell, has "the world's fastest refresh rate." Although the marketing emphasises the 500 Hz refresh rate, it is only possible with 500 Hz compatible games. Otherwise, the AW2524H has a native refresh rate of 480Hz, which is still extremely fast. According to the company, the fast IPS panel has a 0.5ms response time, which eliminates blurring and ghosting and allows for consistent colours. The Nvidia Reflex Latency Analyzer tool, which aids in the analysis and reduction of input latency, should also aid in response time.

This monitor is designed for the competitive gamer looking to get the most out of their gaming display. However, in order to fully utilise the 500Hz display, a powerful gaming rig is required. With the release of Nvidia's GeForce RTX 40-series GPUs, we may see more games that fully utilise this monitor's insane refresh rate.
Outlook
With the continued popularity of esports, it makes sense for companies like Dell to release devices that cater to that audience. Based on what I've seen, the Alienware AW2524H could be a big hit among esports pros. And, if priced correctly, the monitor may also appeal to casual gamers.
The AW2524H is just one of many products that will be unveiled at CES 2023.