Small soundbars can be extremely useful, especially if they do not require a subwoofer. They can then be ideal for a bedroom TV or a rumpus-room TV, or anywhere you want audible sound better than a TV but not a full-fledged room-banging surround solution. Yamaha's long history with soundbars has allowed it to produce some excellent little lone bars, like the compact SR-C20A soundbar (£229/$180/AU$279), which we awarded a Sound+Image award for its sheer value as well as remarkable competence for its size. The new Yamaha SR-C30A, on the other hand, includes a wireless subwoofer that works together with the compact bar.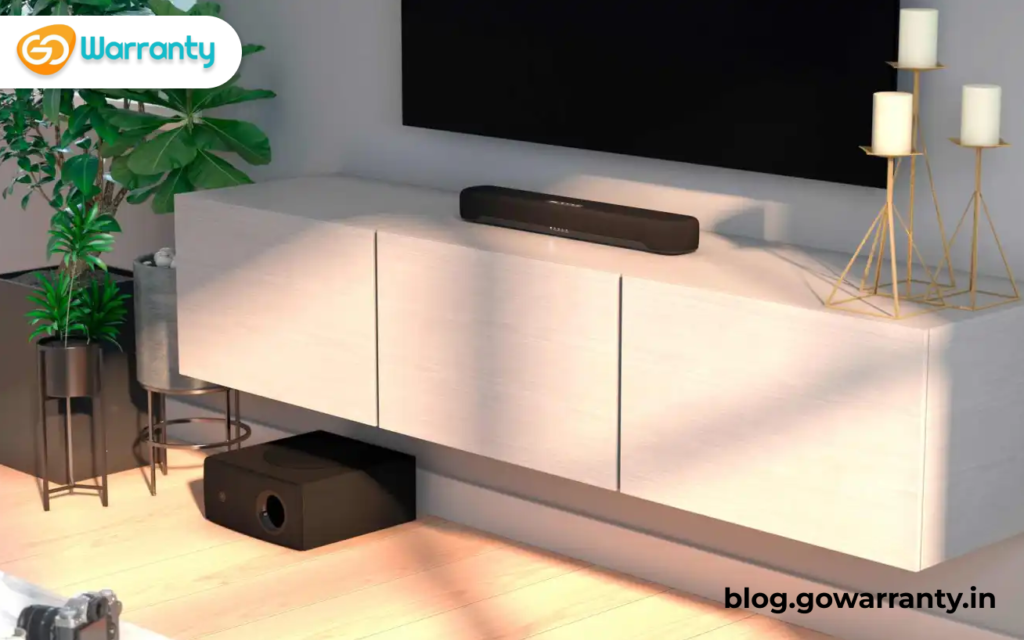 Build and Features
So we have a small black bar that is 60cm long and only 6.4cm high, making it suitable for sitting beneath the screen of most stand-raised TVs. The subwoofer is also small, with the ability to stand vertically at 34cm high or lay sideways; it ports to the front and appears to fire to the right when standing, so positioning will be fairly flexible within those parameters.
The bar is strictly stereo, with only a mention of "Yamaha Original 3D Sound Field Technology," and even this is described as "crafting a detailed and lively sound field" rather than claiming faux immersion or fake surround sound. That is exactly how it should be. Yamaha's focus is instead on 'True Sound,' which it defines as detail, clarity, and realism.
The more we examined the bar, the more it resembled the SR-C20A. It has the same dimensions, including a 94mm depth, as well as the same inputs, which are slightly more generous than many affordable soundbars, if not quite as well-equipped as some. The Yamaha includes HDMI ARC for playback from your TV, as well as two optical digital inputs, an analogue input, and Bluetooth streaming (SBC and AAC codecs available). There are four sound modes, which are very similar to those found on the C20A, as well as other similar adjustments.
Power Levels
We rarely discuss soundbar power levels because manufacturers rarely quote them and they don't look particularly impressive. So credit to Yamaha for claiming 2 x 20W maximum effective power, quoted into six ohms at 1kHz while allowing 10% distortion (THD). At hi-fi levels, the watts are likely to be in the single digits though there is also the additional power in the subwoofer, which is rated at 50W into three ohms with 10% THD.
Sound and Set-Up
The Yamaha SR-C30A package is very portable, and the bar that emerges is very small. Its fabric grille wrap is thick, making it difficult to see where the two 46mm speaker cones are located. We initially assumed they were on the spacious top surface, but after running our ear along the grille, we discovered they are facing forward near the outer edges of the bar.
We also plugged in the subwoofer and placed it in the centre. Finally, we used an HDMI cable to connect the signal from the bar to our TV's eARC socket. Turn on the power.
This bar does not have Dolby Atmos processing; instead, it only has Dolby Audio, which includes Dolby Digital and Pro Logic II. It makes no difference whether your TV supports eARC or only ARC, or whether you use the optical input labelled 'TV' instead. This is always reassuring, as our success rate with ARC and eARC connections working right away remains around 75%, even after optimising TV settings. Some televisions are simply rude, so having options is advantageous.
As soon as sound came out of the Yamaha SR-C30A bar and sub, it was clear that they had both roundness and depth. Indeed, there was a little too much depth initially for the casual TV programming we began with, but we discovered that the 'Bass Extension' was activated. The sound was simply suitably rounded when we turned it off.
No Display
Determining whether Bass Extension is turned on or off is difficult. The bar has no text display, only a row of LEDs on the front that flash three times (indicating that you've activated a function) or once (for off). When you select the Clear Voice option or one of the four sound modes, the same LED flashes.
SB Remote App
Yamaha has a clever solution for this otherwise limited information in the form of an app called SB Remote (as opposed to Yamaha's Sound Bar Controller app, which requires Wi-Fi). SB Remote connects to the bar via Bluetooth and displays all of the settings and their status, allowing you to easily change them. With the excellent remote control an unusual but very clear wide short remote all control and knowledge is at your fingertips.
The fact that we rarely had to do any button mashing to get a good sound impressed us throughout. The Standard and Stereo settings, with Bass Extension turned off, produced clear and powerful sound for almost everything.
Performance
Of course, there are performance limitations at this price. With relatively little sense of space in the soundstaging, the entire image remained firmly anchored to the front space and the bar itself. And there was a strength of sound in the big moments: the boar attack, the deer kill but not the slam that a bigger faster subwoofer can hit you in the guts with.
The '3D Movie' sound mode appears to be a go-to for something like this, and it does open things up with what we presume to be a 'virtualized' width, but this mode also thinned dialogue and put a light false hint into music content, particularly the strings that surge regularly throughout the HOTD action. It's the standard choice between a little more immersion and a little less clarity. Neither fails spectacularly here, so you can make your own decision by switching from one to the other.
Verdict
Yamaha's SR-C20A bar-only model is ideal for smaller spaces. This Yamaha SR-C30A adds a subwoofer for a surprisingly low price given the received gift of far greater scale and depth for much larger spaces. This is a TV audio solution, not a home cinema solution, so there will be no flashy sound bouncing around the room.
However, it is an excellent TV audio solution, with solid sound capable of powering along a large movie soundtrack with clarity as well as power, if not the width and height of a larger and more expensive system.