This year has already seen the release of the Lenovo Yoga Pro 9i (2023) and Samsung's Galaxy Book 3 Ultra, both of which aim to be the most powerful laptop available. These devices, on the other hand, appear to be a straightforward attempt to create a "Windows MacBook Pro," and what manufacturer wouldn't want a piece of that pie? The issue is that Apple has advantages that Windows laptops do not, thanks in large part to its latest M2 Pro and M2 Ultra chips. In some major aspects, these Windows devices just can't compete. The HP Omen Transcend 16 comes into play. Rather than creating a machine with no clear identity, HP is making a statement by using the "Omen" name  with a twist. A gaming laptop with a high level of quality.
We won't be able to give our final verdict on this matchup until we've tested the HP Omen Transcend 16, but here's how they compare based on what we know about the laptop now and our MacBook Pro testing.
The MacBook Pro's portable power is huge
One area where Windows laptops simply cannot compete with the MacBook Pro at the moment is mobility. When you disconnect the power cable from a Windows machine, the performance drops dramatically. Not so with the MacBook Pro, which has nearly identical capabilities when powered on and off. It's a truly amazing feature that's ideal for those who want to do demanding work while on the go, such as travelling.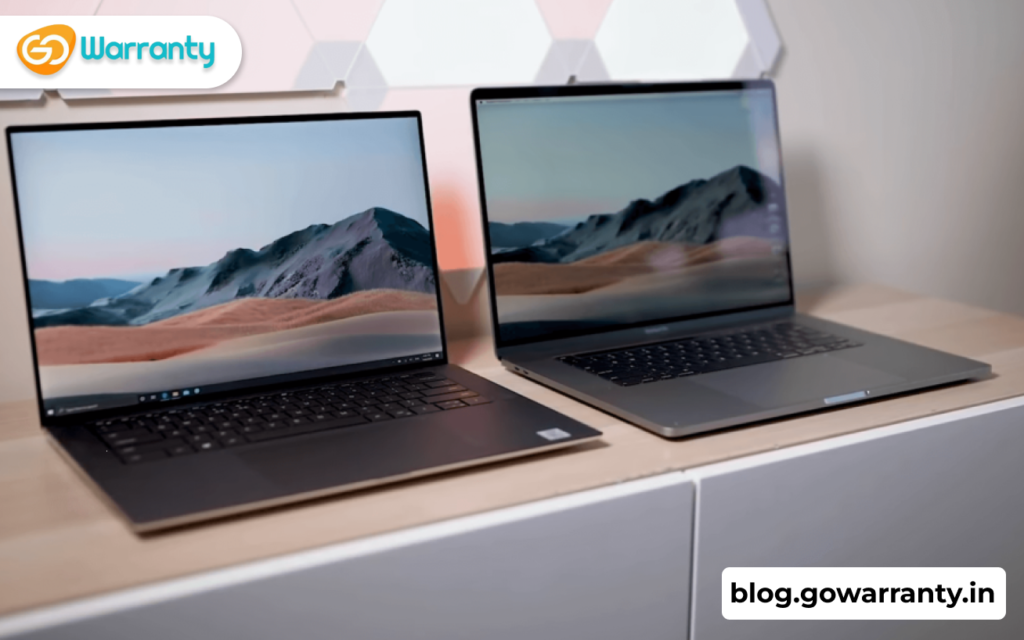 The HP Omen Transcend 16 appears to be a powerful device in its own right, with some of Intel and Nvidia's top chips onboard. Nonetheless, it appears unlikely that the performance it can provide away from a plug will be comparable to what Apple achieves.
The Omen Transcend 16 is expected to be a gaming powerhouse
The HP Omen Transcend 16 will be equipped with an Intel Core i9-13900HX processor and an Nvidia GeForce RTX 4070 graphics card. Additionally, up to 32 GB DDR5 RAM as well as up to 2 TB SSD storage are available. The graphics aren't the best you can get in a laptop right now, but it's still on the high end of things. When it comes to price, battery life, and thermals, keeping things slightly back from ultimate gaming power may be a wise move as well.
This is the primary advantage that this machine will have over the MacBook Pro, and it is wise for HP to base this device's marketing on the Omen series. MacBook laptops can't compete in terms of gaming. Apple's latest machines may perform surprisingly well in the games they can run, but the limited selection, combined with some performance limitations, makes the HP the clear winner for gamers.
Apple has excellent battery life on its side
The battery life on the MacBook Pro is exceptional, both for extremely long-lasting productivity workdays and also when pushed with higher-intensity tasks. In the review of the 14-inch M2 Pro model, we discovered that the machine could comfortably reach the end of the day with around 30-40% of the tank remaining – no more battery anxiety. Only GPU-intensive tasks necessitated our reviewer bringing a charger into the office on a daily basis.
Apple claims that it will provide up to 18 hours of video playback. In our re-creation of this test, the MacBook Pro actually outperformed it, lasting more than 19 hours. Windows laptops, especially those with powerful components like the HP Omen Transcend 16, simply cannot compete. But, in review time, we'll see if HP's new machine exceeds our expectations.
Mini LED displays could be matched evenly
Due to different approaches on the component front, the specs sheets for these devices look very different. Apple's rounded yet boxy look with metallic hues versus HP's white or black options are also distinct design approaches. When these machines are turned on, however, one thing may be more comparable- the Mini LED.
The MacBook Pro's display was fantastic, with the Mini LED screen providing extremely bright, detailed, and colour-rich images. The panel isn't as eye-catching as an OLED, but it excels at HDR content.
We'll have to see the HP Omen Transcend 16 display in person before making any deep comparisons, but based on the specs, Apple appears to have a slight advantage despite using the same technology. The Apple 14-inch panel has a resolution of 3456 x 2234, while the HP has a resolution of 2560 x 1600. The peak brightness on the HP is 1180 nits, compared to 1,600 on the MacBook Pro. However, true to its gaming roots, the Omen Transcend 16 outperforms Apple in terms of refresh rate, at 240Hz and 120Hz respectively.
HP provides greater versatility
Competitors to the MacBook Pro have a habit of overlooking the most significant advantage that Windows laptops have over Apple. We've already touched on it, and that's gaming. However, in addition to assessing gaming capabilities as much as possible, it is worth emphasising what these higher-powered Windows devices can do outside of games.
The HP Omen Transcend 16 appears to be well-equipped to handle the creative work that so many editors and designers seek when picking up their MacBook Pro. It has a display with high specifications, the graphical power to back it up, and a stylish yet bold design that won't make you look out of place at the office.
HP's new device should be able to transition from one of your requirements to another. Whether it's a productive day, a marathon gaming session, or intense editing work. The MacBook Pro is versatile across various creative workloads, but the broader Windows ecosystem offerings, such as gaming, should see the HP win out here.