HTC, best known for laying the groundwork for modern Android phones in the early 2010s, is now focusing its efforts on VR headsets. With the original HTC Vive, HTC was one of the big players in premium VR, and that family of devices has grown over the years. The HTC Vive XR Elite differs from HTC's previous mobile solution by eliminating wires and creating a versatile lightweight headset. We got our hands on it at CES 2023 to see if HTC's latest headset will usher in a new era of virtual reality.
HTC's next-generation headset features a versatile design that can be used standalone or connected, as well as a hot-swappable battery. It's nice and light, and the front RGB camera provides a great passthrough experience to complement its XR capabilities. It's pricey, but a lot depends on the content pipeline for this headset.
Design and Build
The HTC Vive XR Elite builds on the Vive Flow design and transforms it into a stand-alone solution. The previous Vive Flow was worn as a pair of glasses and required a wired connection to a mobile device. The Vive XR Elite has a compact goggle-style form factor, but instead of arms like a pair of glasses, it now connects to a rear battery pack with a pad for the back of your head.
The Vive XR Elite has a dial on the back to adjust the tension, as well as a strap that goes over your head, sort of level with your ears. Despite its lightweight, the Vive XR Elite is surprisingly stable and comfortable to wear. The front pad, a baffle that blocks light around your eyes while providing a comfortable touchpoint against your face, is essential to this. This baffle is actually removable, making it simple to change, remove for cleaning, or remove for any other reason.
The Vive XR Elite, on the other hand, is a modular design that allows you to remove the battery and swap the arms to make it more like the Vive Flow, though we didn't get to test this aspect of the device. The battery is also hot swappable, giving you a lot of options. The HTC Vive XR Elite employs the same controllers as the Vive Focus 3, providing ample support for a wide range of motions and controls while being tracked by the headset.
Technical Specifications
Adjusters are located inside the Vive XR Elite, allowing you to customise your vision and focus the lenses for the display. That should eliminate the need for special lenses for glasses wearers, though you should check the Vive XR Elite's capabilities to see if the dioptre adjustment will meet your needs. There are two displays, each with 1920 x 1920 pixels, a refresh rate of 90Hz to keep things smooth, and a field of view of up to 110 degrees.
The Snapdragon XR2, the same Qualcomm platform that powers the Meta Quest 2 and the Pico 4, powers the headset. It can be used independently or in conjunction with a PC to access additional content. We only tried it as a standalone device, with content running from its own storage. There's 128GB of storage and 12GB of RAM, but we didn't get to explore the device enough in our initial hands-on time to see how well the interface or day-to-day use works.
Internal sensors provide 6 degrees of freedom (DoF), with external cameras providing full-colour passthrough vision to allow you to see the real world around you and power those mixed reality or extended reality experiences hence the XR in the name. The headset also has Bluetooth and Wi-Fi connectivity, as well as built-in speakers, though we didn't get a chance to test the sound too thoroughly.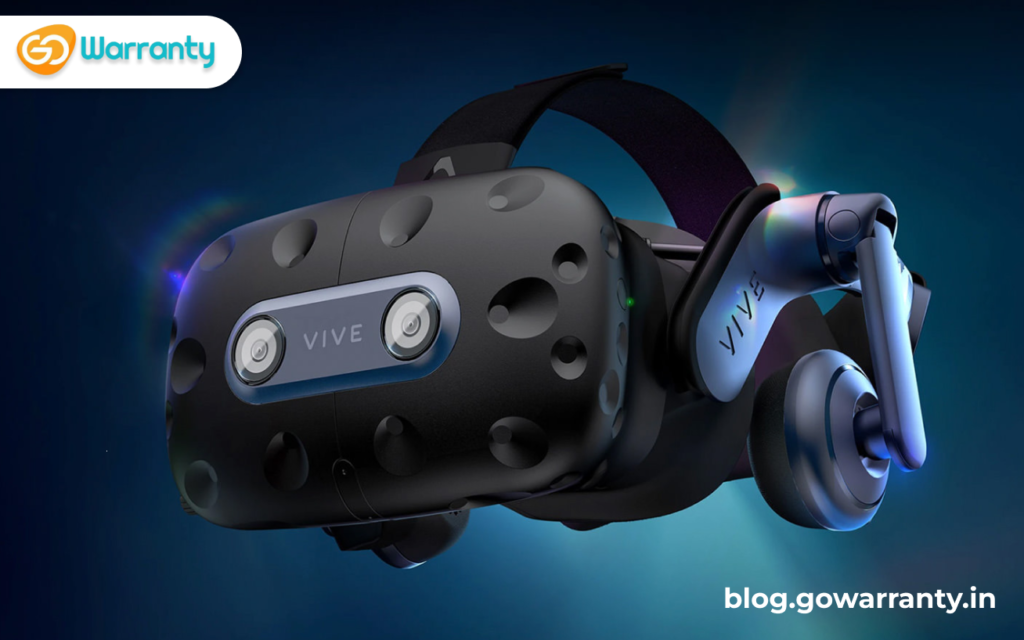 Performance and Battery Life
During our brief time with the Vive XR Elite at CES 2023, we tried a variety of different use cases to cover the full range of features it has to offer. To begin, the battery life is listed as 2 hours, which we did not test, but it is hot swappable, so you could extend your sessions or, more likely, not have to worry about always fully charging before you start.
The first experience we had was exploring mixed reality. The RGB cameras on the front of the headset are used to display the real world in glorious colour. This isn't as common as you might think, as many headsets only provide basic black and white passthrough. However, with XR or MR in mind, the quality of what you'll see in this mode is much higher.
Demo
While the demo was fantastic we painted on a virtual easel in a pretty standard XR demo, then switched to creating 3D aspects until we'd completely abandoned the painting task at hand and just crafted a virtual hellscape instead it was something else that demonstrated how good the passthrough experience is.
The HTC representative offered to take photos of us wearing the headset, and it was possible to pick up the camera, change all of the settings, and check them on the rear display, as well as give instructions, without removing the headset. That much attention to detail. HTC, suitably impressed by the XR experience, wanted to highlight Viverse, particularly some of the shared spaces that may one day replace your office. This type of experience, where real things are created in a virtual world, still has a slightly jilted feel to it. Sure, the view out the window was beautiful, but it was still a strange concept to us.
Initial Impression
The HTC Vive XR Elite impresses us with its lightweight hardware and the breadth of its controls. This appears to be a versatile headset with a wide range of applications. As with all such devices, much will depend on the content you have access to and your needs outside of gaming. It's nice to wear a headset that doesn't feel like it's trying to consume your head, and the passthrough experience from those RGB cameras at the front is really impressive. However, the asking price for this headset is exorbitant at $1099 / £1299 / €1399. To have consumer appeal at that price, the HTC Vive XR Elite will need to deliver on the content pipeline.