The Lenovo Slim 7i Carbon ultrabook is the European variant of the laptop, and is sold here as the Lenovo Yoga Slim 7 Carbon for reasons I don't understand. This is a mid-tier compact and ultra-light 13-inch ultrabook powered by 12th-generation Intel Core P hardware and priced lower than Lenovo's top-tier Yoga 9i lineup. It competes with popular ultraportables like the Dell XPS 13, the Asus ZenBook S 13, and possibly the Apple MacBook Air, although the latter is a larger and heavier model.
To make matters even more complicated, this laptop is a successor to the previous-generation IdeaPad Slim 7 Carbon, which was a larger 14-inch AMD model, whereas this new-generation is a smaller 13-inch Intel build.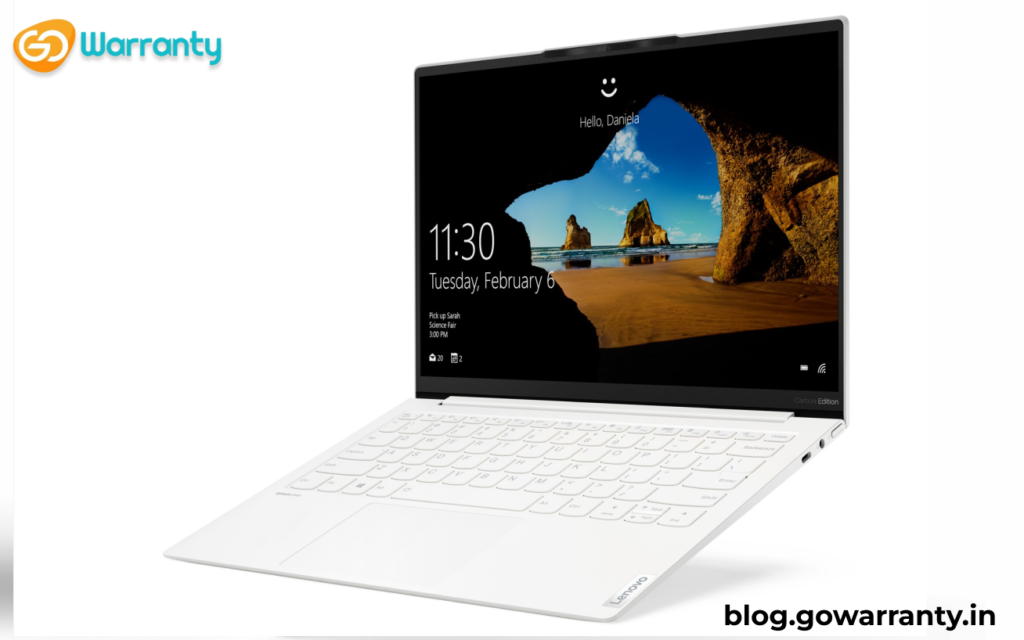 Price
At the time of writing, the Lenovo Slim 7i Carbon was widely available in stores. In the United States, this is typically available for around $1200 in an i7-1260P + 16 GB RAM + 1 TB SSD + touch QHD display configuration. Not bad, and it can be had for less with Lenovo sales and discounts. In Europe, the same model costs around 1200 EUR, while Core i5 + 8 GB + 512 GB configurations cost around 1000 EUR.
Design
Lenovo's recent consumer models pushed the company toward a unified design language. As a result, the Slim 7i Carbon, also known as the Yoga Slim 7 Carbon in Europe, shares design cues with the Slim 7i Pro X and the Yoga 9i series. The clean looks with some punchy branding elements on the lid and inside, the rounded edges all around the main chassis and lid, and the attention to detail and ergonomics are among them.
However, unlike the other models, this one comes in three colour options: two darker grey shades and a lighter grey model called Moon White. This is the darker Onyx Grey version. The lid cover is lovely in this version, but the rest is mostly utilitarian and practical, rather than aesthetically pleasing.
Ports
There's also the IO. This laptop has only USB-C ports, as well as an audio jack and a camera eShutter knob. At least those two USB-C ports are full Thunderbolt 4, and they're spread out on both sides of the laptop, making charging and connecting peripherals easier. The laptop comes with a USB-C to USB-A and HDMI dongle, so you won't have to pay extra for one.
Keyboard and Trackpad
This Lenovo Slim 7i Carbon comes with the standard Yoga/IdeaPad keyboard, which has full-sized and spaced keys.
The half-sized Up and Down keys are odd, but everything else is in its proper place. There's no room on the right side for an extra column of function keys, but at least they didn't use miniaturised keycaps like some other 13-inch designs, such as the ThinkPad X1 Nano.
The keycaps are made of plastic and have a soft-touch finish with a slightly rounded bottom shape. Lenovo also chose a dark-grey colour for the keycaps, rather than black, because they are better at hiding finger oil over time. The typing experience is satisfactory. The feedback is a little mushy, and the keypress is only 1 mm deep, so this will take some getting used to. The clickpad is small, but it makes full use of the available space on the armrest. It's a plastic surface that works well with everyday swipes and gestures. However, Lenovo could have made it sturdier, as the surface feels flimsy and rattles with taps, and the battery life is short.
Display
This Slim 7i carbon series features a 13.3-inch 16:10 panel with a matte non-touch option or a touch glossy option. The same IPS QHD+ 2560 x 1600px 90Hz panel is used in both. Our unit was matte, but the touch model is the default option in the US market. By today's standards, this Lenovo-branded panel is adequate for everyday use, with sharp image quality, fair brightness, good blacks, and good contrast.
However, it is not very bright, so it will struggle in brightly-lit environments (particularly in the touch version, with the added glass glare), and it is only standard-gamut at 100% SRGB coverage, so the colours aren't as rich as on some of the other options on the market today, particularly the OLED laptops.
Hardware and Performance
Our test model is a more powerful version of the Lenovo Slim 7i Carbon, featuring an Intel Core i7-1260P processor, Iris Xe graphics, 16 GB of DDR4-4800 RAM, as well as 1 TB of fast SSD storage. This is based on the 2022 Intel 12th-generation Alder Lake Core P hardware platform. The Core i7-1260P is a hybrid processor with four Performance Cores and eight Efficiency Cores, as well as sixteen combined threads. In this slim design, it runs at around 20W sustained, which is sufficient for this type of laptop but insufficient to properly showcase the platform's potential. We'll get into more detail later.
Noise, Connectivity and Speakers
Lenovo chose a straightforward thermal design, with a single fan, a single thick heatpipe, and a single radiator. The radiator is located beneath the screen, but Lenovo cleverly directs the flow of hot air behind the laptop, ensuring that the panel never overheats as it does on other designs with similarly positioned exhausts.
This laptop has the latest-generation WiFi 6E 22 and Bluetooth 5.1 connectivity via an Intel AX211 module. With our setup, our sample performed well, and the signal as well as performance remained strong at 30-feet with obstacles in between. The audio is handled by a pair of dual speakers located on the bottom of the laptop, so be careful not to muffle them during normal use. These sound good for thin laptop speakers, as they get quite loud at close to 80 dBA max, despite a noticeable lack of bass.
Battery
The Lenovo Slim 7i Carbon has a 50 Wh battery, which is smaller than most other ultrabooks these days and is a result of the slim and lightweight chassis. With the high-resolution screen and Core P hardware, this laptop won't last long on a single charge. A full battery charge takes about two hours, but one hour of charging will fill up the battery to 70% or higher.
Verdict
If you're looking for a compact and ultra-light laptop with good ergonomics, a nice display, as well as solid everyday performance, the Lenovo Slim 7i Carbon is a great option to consider, especially in Europe where lower-tier and more affordable configurations are available. Just make sure you're okay with the miniaturised IO and that you're willing to give up some battery life in comparison to other 13-14-inch ultrabooks that are a little larger and heavier but have higher capacity batteries.