In 2023, the JBL Bar 1300X is the company's flagship Dolby Atmos soundbar system, and it delivers a serious wow factor. JBL's innovative design, that also uses truly wireless rechargeable surround speakers that dock into the sides of the main soundbar to enhance its sound output while charging, before you put them back behind you, is a big part of this. Aside from that, it's a 16-channel system with 1,170 total watts of power and a 12-inch wireless subwoofer that's unusually large for one packaged with a soundbar.
The JBL 1300X is one of the more expensive soundbar systems on the market, costing $1,699 / £1,299 / around AU$2,570, but its price is comparable to other offerings that deliver an equally rich sense of immersion, like the Samsung HW-Q990B. It's also feature-rich, with Dolby Atmos and DTS:X processing, as well as Atmos upmixing of stereo sources.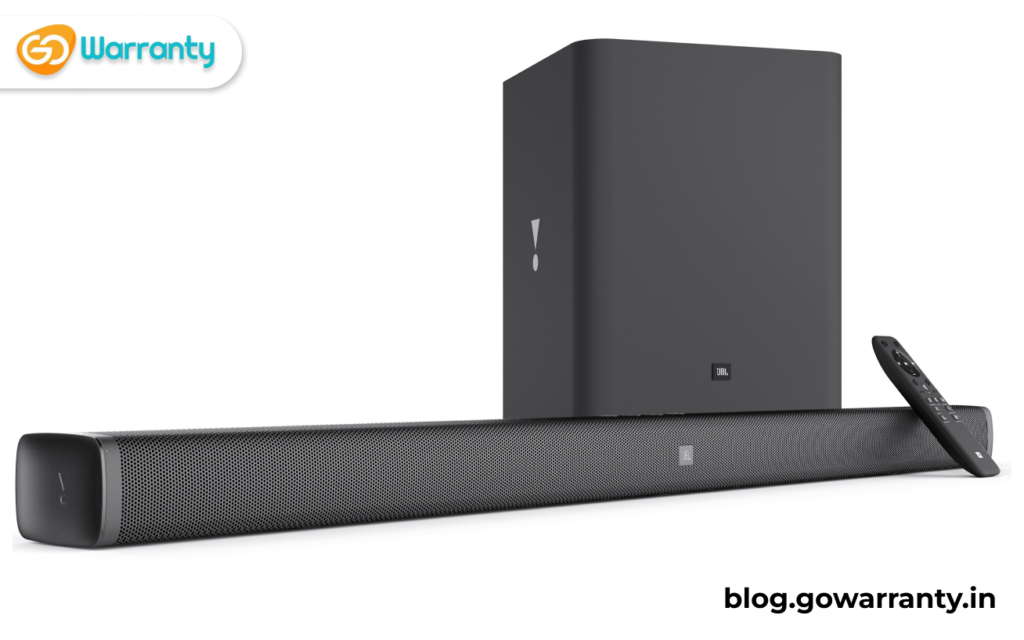 Price
The JBL Bar 1300X was released in February 2023 and costs $1,699/£2,299/approximately AU$2,570. That's a steep price for a soundbar, but it's comparable to other Samsung and LG systems with high channel counts for maximum sound immersion.
For the price, you get a system loaded with appealing and useful features, as well as excellent design and build quality. JBL offers comparable 7.1.4 and 5.1.2 soundbar systems at a lower price, both with detachable and rechargeable surround speakers, though the immersive effect may not be as complete as with the Bar 1300X.
Design
Given the Bar 1300X's high price, you're paying not only for sound quality but also for design, and JBL does not disappoint here. The rear speakers can be "docked" at either side of the main soundbar for charging, and when they are in this position, they contribute to the bar's output by widening the soundstage and supporting height effects. Once charged, simply remove them and replace the soundbar's included end caps.
The main soundbar measures 39.4 x 2.4 x 5.5 inches (W x H x D), making it suitable for 65-inch and larger televisions. For the left, centre, and right channels, it employs six 1.8 x 3.5-inch racetrack drivers and five 0.75-inch tweeters, as well as four 2.75-inch full-range up-firing drivers. The system's wireless subwoofer is fairly large, with a 12-inch driver and a rear port to improve output.
Features
JBL's top soundbar system is loaded with features. Dolby Atmos and DTS:X support are included, as well as the company's MultiBeam processing, which uses digital processing as well as beamforming to widen the soundfield and create a more immersive surround effect. This is a 16-channel system with 1,170 total watts, 650 of which go to the 12-inch wireless subwoofer. The soundbar has four up-firing speakers, and the surround speakers each have one up-firing speaker. I've never seen a soundbar with more than six up firing drivers.
The Bar 1300 X's most unusual feature is its rechargeable surround speakers, which are a true wireless solution because they don't need to be plugged in and can run for up to 10 hours. (JBL does offer the option of powering the surround speakers via USB-C if you prefer not to recharge them on a regular basis.) When not in use in the home theatre, these can be used as wireless Bluetooth speakers, and you can even pair them wirelessly for stereo playback.
Sound Quality
When it came to performance, the JBL Bar 1300X did not disappoint. Dolby Atmos soundtracks on TV shows and movies demonstrated the system's spatial audio capabilities most dramatically, but everything I watched and listened to sounded great on the system, which uses Dolby's upmixer to render stereo and regular surround soundtracks in Atmos.
A good Dolby Atmos example is a scene from 1917 in which two British soldiers are exploring an underground German bunker when a trip-wire causes an explosion, causing the structure to collapse. On the Bar 1300X system, the explosion in this scene sounded incredibly vivid, with its powerful subwoofer producing a low, thunderous rumble. The system's up-firing drivers created a strong sense of being within the space as debris fell on the soldiers in the aftermath, while the main soundbar's clear delivery of dialogue allowed me to easily hear their shouts amidst the chaos.
Usability and Setup
The Bar 1300X is well-equipped to handle complicated setups, with four HDMI inputs, which include eARC for connecting to a TV. For my purposes, I connected a 4K Blu-ray player and an Apple TV 4K box, but there was still room for a game console, despite the fact that the HDMI 2.0b connections on the Bar 1300X do not support 4K 120Hz passthrough. Aside from HDMI, there's an optical digital audio input, a USB type-A port for playing music files (US version only), and an Ethernet jack for a wired network connection.
The system was almost pleasingly simple to set up. The soundbar automatically established a wireless connection with the subwoofer and surround speakers, and all that remained was to press the calibration button in the JBL app.
Value
The JBL Bar 1300X is one of the more expensive soundbar systems available, costing $1,699 / £1,299 / around AU$2,570. However, it is also one of the most capable and feature-rich, which must be considered when determining its overall value. Competitors in its price range include Samsung and LG flagship soundbar systems, both of which match or nearly match the JBL's 11.1.4 speaker configuration.
The ability to use the Bar 1300X's wireless rear speakers as portable Bluetooth speakers, and high-quality ones at that, adds to its value. This allows you to get good sound no matter where you are.
Verdict
The JBL Bar 1300X has a unique design that provides maximum immersion with a wide range of movie soundtracks and music. It's an excellent choice for someone who doesn't want to forego the visceral excitement that the best home theatre systems effortlessly deliver, but also doesn't want to clog up their living room with an overly complicated setup. Multiple HDMI inputs allow you to connect a variety of sources with ease, and the system's rechargeable rear speakers can also be used as portable Bluetooth speakers, a design flexibility that adds to the Bar 1300X's overall value.