Projectors are growing more common in the average home. With the rise in popularity, more companies are springing up, hoping to sell a projector for a home media setup. One of the most recent is Formovie, a Xiaomi subsidiary. Formovie sells a small selection of portable projectors, but its flagship model is the Theater, an ultra-short throw laser projector which supports up to 4K media.
There is no shortage of competition from larger players in the projector market, such as UST 4K projectors from Samsung, LG, and Sony. I reviewed the XGIMI Aura, which I believe is the Theater's closest competitor, a few months ago, so I'll be comparing these devices to decide which one is a better buy.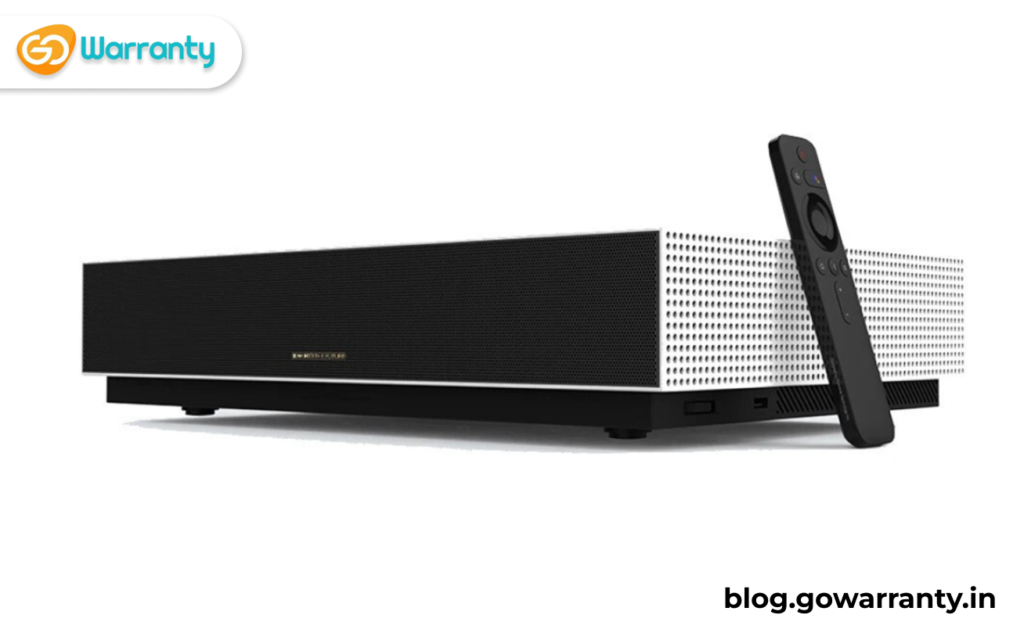 Design
The Theater, like most ultra-short throw (UST) projectors, is quite large. It is quite large, measuring 55 x 34.92 x 10.75 cm (21.7 x 13.7 x 4.2 in). However, when compared to other UST projectors, the Theater is relatively small. The Xgimi Aura is 60.6 x 40.1 x 14.0 cm (23.9 x 15.8 x 5.5 in) in comparison; the Theater is roughly 60% the size of the Xgimi. Since UST projectors must be placed close to the wall onto which they project, a deep shelf or counter is required for installation. If space is an issue, the Theater may alleviate some of your worries because its shelf can be significantly shorter than that required by most competitors.
The Theater weighs 9.8 kg (21.6 lbs), which is about 1 kg less than the Xgimi Aura and comparable to other UST projectors. The Theater, like most other projectors at this price point, is made of plastic. It has a solid overall quality and feels well-built and densely constructed. The shell is thick and solid. Overall, I don't have anything negative to say about the projector's case. It's a sturdy machine that should last a long time.
Connectivity
Along the back of the Theater are three HDMI 2.1 ports, one of which supports enhanced audio return (eARC). Because of this configuration, the Theater is compatible with the most recent media devices, including consoles. However, due to the MediaTek MT9629, the projector is limited to 4K at 60 frames per second. There are also two USB-A 2.0 ports capable of playing 4K media from a flash drive (though HDR content stutters), a S/PDIF input, a 3.5 mm audio output, and an Ethernet port.
Picture Quality
The Formovie Theater can project 4K images with a brightness of up to 2800 ANSI lumens. The lamp in the Theater is 17% brighter than the Xgimi Aura, though the difference is difficult to see at these levels. The Theater, like all projectors, struggles with contrast and displaying a bright enough image. It works well in low-light situations or at night, but even a sliver of sunlight through a slit in the blinds can wash out the image. A dedicated projector screen as well as flat wall is preferable because any texture shows through fairly easily.
In my experience, the projector is very crisp, especially given the size of the images produced by the Theater (up to 150 inches). Even at a larger scale, the picture is clear (mostly). However, there are some limitations. The most serious flaw I discovered is that the projected image becomes blurry along the edges. The edges of the image were always smudgy no matter how I focused it. This was true regardless of the surface behind the image; the border (especially along the top edge) was never as crisp as the image's centre.
Formovie also claims that the Theater supports HDR10+, which I don't believe is correct. Standard HDR10 content appeared washed out and lacked contrast, even in dark environments, while the projector technically supports HDR10+. Overall, the image quality is excellent, but there are a few minor but annoying flaws. While these may not bother most people, they will nag you throughout the film.
Sound
The Theater includes 2 15 Watt Bowers & Wilkins speakers. At maximum volume, the speakers are very loud (roughly 90 dB from about 6 feet away) but remain clear. There is no audible rattling or distortion. The bass is very full, but the highs are a little lacking. As a result, the sound is slightly bass-heavy, but the overall sound profile is good and provides a rich movie experience. If you want to use an external sound setup, the projector is Dolby Atmos-certified, but the speakers are adequate on their own.
Software
The Theater is powered by Android 11 TV and supports all of the expected apps, with one important exception: Netflix. Other streaming services (such as Disney+, Hulu, and YouTube) function perfectly, and some simple games (such as Crossy Road) are available. For Netflix, Formovie recommends using an external streaming stick, such as a Fire TV Stick, though there are other ways to get the app onto the projector.
Features
The Theater, like other UST projectors, includes a preventative system that turns off the laser if it detects a body nearby to prevent eye damage. Since this system is not enabled by default, parents should enable it when they first set up the projector. The focus and keystone adjustments are manual, which is fine because the Theater isn't meant to be moved once it's set up. It also includes a Chromecast, and streaming to this Chromecast is simple.
Verdict
Except for the seats and popcorn, the Formovie Theater includes everything you'd need for a high-end home theatre experience. It provides excellent picture quality, fantastic colour depth, and a rich sound experience in a small package. However, there are a few issues that prevent me from recommending it.
For one thing, the number of minor annoyances (such as the blurry edges, uneven top border, and lack of Netflix support) add up to a frustrating experience. These could be issues with my review unit, but at this price point (US$3499 at the time of posting), I'd expect more polish.