As more high-end VR headsets become available, New HTC Vive XR Elite Vs Meta's Quest Pro to be the best standalone VR headset. Let's take a closer look at these two all-in-one solutions, which can also be connected to computers for PCVR gaming.
Display resolution and clarity
The display quality is one of the most important aspects of a VR headset's design. An immersive experience is dependent on vivid colours and crisp details that are delivered at a fast enough rate to reduce VR motion sickness.
HTC's Vive XR Elite, like the Meta Quest Pro, has thin pancake lenses. When compared to older VR headsets' typical Fresnel lenses, this expands the sweet spot to provide much greater edge clarity. The Vive XR Elite has a slightly higher resolution, 1920 x 1920 pixels per eye, than the Quest Pro, which is 1800 x 1920. That is only a 6% difference, which may or may not be noticeable. Similarly, the Vive XR Elite has a slightly wider field of view than the Quest Pro, with 110 degrees versus 106 degrees. Both headsets have a refresh rate of 90Hz.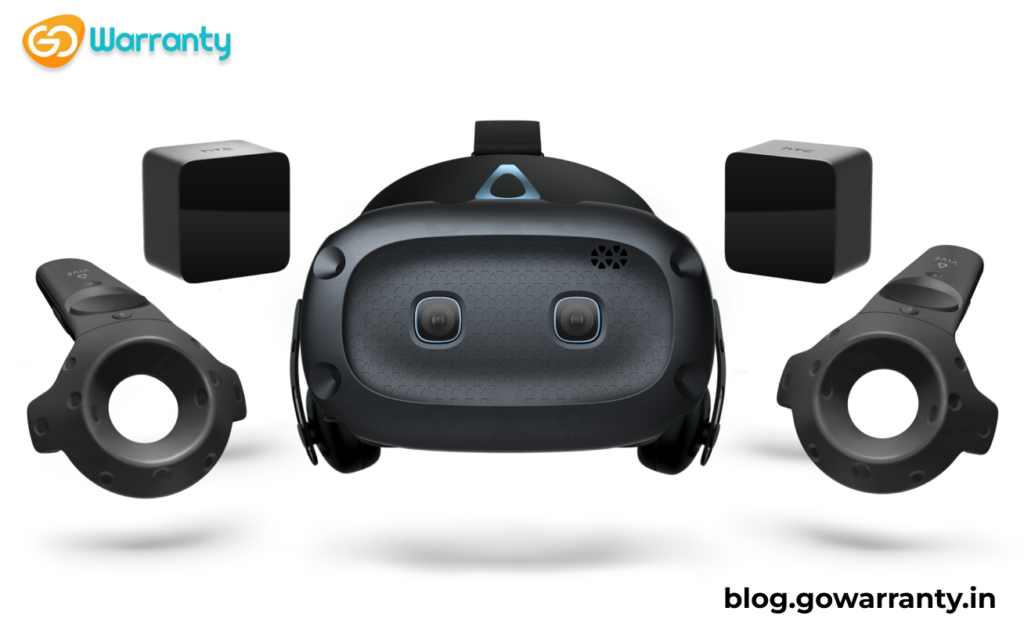 Mini-LED Backlights
The Vive XR Elite uses standard backlighting, whereas the Quest Pro uses mini-LED backlighting with 500 dimming zones to increase dynamic range. The inevitable blooming in high-contrast scenes with fine detail is a disadvantage of mini-LED backlights. A wider dynamic range is usually preferable.
HTC did include a unique display feature on the Vive XR Elite that you might enjoy if you are nearsighted. Each lens has diopter adjustments in front of it for each eye. Up to 6 diopters of correction are possible by twisting the dials. Many users who would otherwise want to keep their glasses in the headset will no longer need them. Wearing glasses with the Vive XR Elite may be difficult if you're outside that range for either eye, because the fit is so tight that there's no room for glasses with the headset. The Quest Pro is a larger headset that has enough space for glasses.
Standalone Use
HTC and Meta both have extensive app libraries. However, there is no doubt that Meta's Quest app store has more top games and apps than HTC's Viveport. The PCVR option on the Vive XR Elite fills that void, whereas it's only a bonus for Quest Pro owners.
HTC is employing the venerable Qualcomm Snapdragon XR2 processor, which has been used as a standalone solution for nearly every notable VR headset since 2020. Meta boosted the Quest Pro's performance with an upgraded Snapdragon XR2+, which Meta claims is 50% faster than the XR2 in the Quest 2.
Inside-out tracking for the HTC Vive XR Elite headset is similar to Meta's Quest Pro. This eliminates the need for tracking base stations. Meta, on the other hand, takes the lead with its advanced Touch Pro Controllers, which also self-track. HTC uses controllers with tracking rings that the headset recognises. In most cases, this works fine, but fails when your hands are out of sight or when one controller is blocking the other.
PCVR Use
The HTC Vive XR Elite vs Meta Quest Pro can both connect to a desktop computer or laptop to handle more difficult tasks than the built-in low-power processors can. HTC and Meta both support USB-C and Wi-Fi 6E for quick computer connections.
Since HTC has been producing Vive headsets for PCVR for many years, connecting to a Windows PC to play SteamVR games or draw from HTC's PC games in VivePort should be relatively simple. Meta's Quest Pro can be connected to a Windows PC and is one of the few VR headsets that can also be used on a Mac. Horizon Workrooms, Meta's productivity app, includes a remote desktop app that can display three virtual Mac displays.
Eye and Face Tracking
This is a feature that, depending on how you intend to use your VR headset, could make or break it. Bringing your virtual self to life by showing your avatar with your natural eye as well as facial movements is a game-changing experience for online meetings. Meta Quest Pro includes eye- and face-tracking, but HTC will sell this as a separate part for the Vive XR Elite in the future. This feature currently has little value for most VR gaming, browsing, viewing content, and working solo in VR. Eye-tracking could be used in the future to quickly select windows, buttons, and direct movement.
Mixed Reality
The HTC Vive XR Elite has serious distortion in the mixed-reality view, particularly around the hands, according to our initial impressions. This could be fixed before the final launch, but it was present in the early demos at CES 2023. The Quest Pro creates its mixed-reality passthrough by combining multiple camera views, but the error in the area between the eyes is minimal.
The passthrough resolution of the Vive XR Elite, on the other hand, is higher, which addresses a common complaint among Quest Pro users. The resolution of Meta's MR passthrough camera has not been disclosed, but HTC's 16MP appears to be superior, at least in the bright light of its CES booth.
Meta allows you to map out your surroundings, and HTC has a built-in depth sensor that collects this information automatically. Physical obstacles will be detected in both cases, so there is no need to view them through the passthrough camera while in VR. While mixed reality will become increasingly important in the coming years, the need for this functionality in a VR headset is currently limited.
Which is better?
In many ways, the HTC Vive XR Elite is similar to Meta's Quest Pro. While the Vive XR Elite costs $400 less, it lacks many of the advanced tracking features found on the Quest Pro, and HTC's selection of standalone apps isn't as extensive as Meta's.
The HTC Vive XR Elite is set to be released within the next two months. We found it to be an interesting VR headset which challenges the Meta Quest Pro in some ways after a brief period of use at CES. It's lighter at 625 grams (compared to the 772-gram Quest Pro), and it comes with hot-swappable batteries to alleviate any concerns about battery life. When used for productivity, the Vive XR Elite's glasses mode is an intriguing way to reduce headset weight, bringing the weight of the headset down to just 273 grams. That is by far the most distinctive feature of the XR Elite. For the time being, the HTC Vive XR Elite appears to be a good alternative to the reasonably priced Quest Pro.