Best 32 inch TV
Redmi Smart TV
This televisions comes in 32-inch and 43-inch screen sizes and features full HD display and colour reproduction. When it comes to performance, the smart TV feels sluggish when navigating and switching between apps. It has a 64-bit quad-core processor and a Mali G31 MP2 GPU. It has 8GB of storage but only 1GB of RAM.
XIaomi TV 5A
The Xiaomi TV 5A includes two 24W Dolby Atmos, DTS:X, and DTS Virtual: X speakers. More on the audio quality later in the copy. The TV has 1.5GB of RAM and 8GB of storage. It also has two HDMI 2.0 ports, 2 USB ports, one ethernet port, one AV port, one optical port, and a 3.5mm audio jack.
LG LM563 32 Inch
Active HDR optimises each scene, delivering fine detail and vibrant colour. The HDR10 and HLG multi-HDR formats, combined with LG's dynamic scene-by-scene adjustment technology. Colour is adjusted by the advanced image processor for richer, more natural images. Enjoy the splendour of nature's true colours on your television screen. With Dolby Audio on your Televisions, you can enjoy clearer, more immersive theatre-quality sound at home.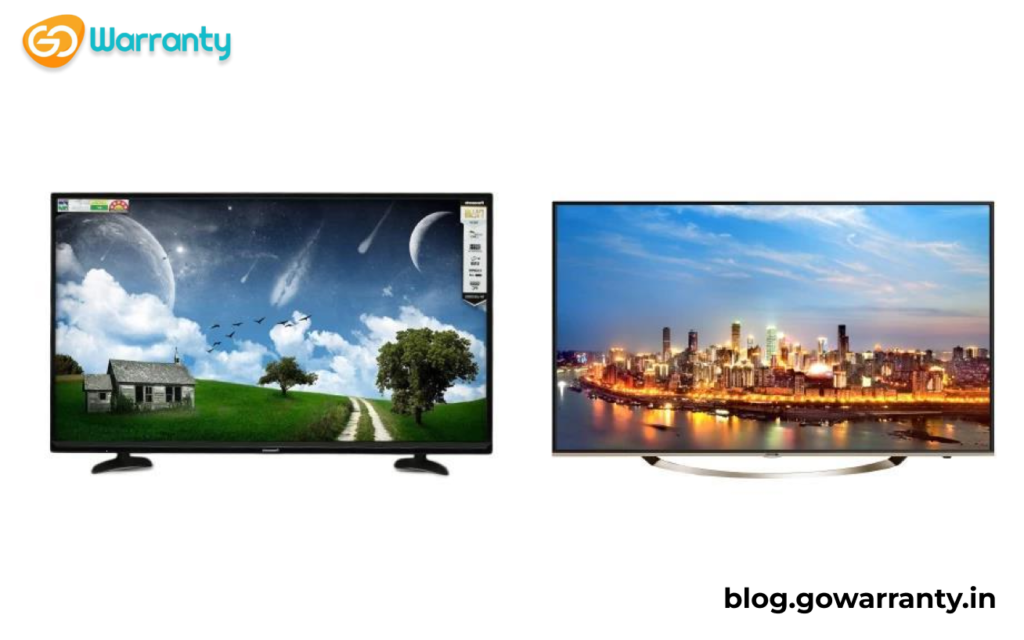 Samsung (32 Inches) LED Smart TV
Ultra Clean View produces high-quality images with less distortion by analysing original content and delivering improved detail. Enjoy the 3D sound effect, which drives multichannel audio to provide a 360° cinematic audio experience. When the need arises, your Samsung Smart TV can transform into a full-fledged computer, putting you in command. You can work from the cloud, mirror your laptop for a larger screen, or remotely control your office computer if you need to work on an unfinished file.
Xiaomi TV 5A 40 inch
Enjoy lifelike images on a Full HD Display with deeper colours thanks to a wider colour gamut capable of displaying more than 16 million colours. Its proprietary picture engine brings images to life by precisely tuning colour, contrast, and depth with each visual. Riveting, high-quality 24W Dolby Audio sound will elevate your content experience in ways that only great audio can.
Best 43 inch TV
REDMI 43 inch SMART TV
The Redmi Smart TV X43 has the same features that make its larger siblings an appealing offering. The TV has a slew of features, including support for almost all HDR formats, a variety of connectivity options, and a straightforward design. Its construction is comparable to that of other low-cost televisions we've tested. The TV's panel has very good HDR and SDR colour reproduction, but the peak brightness is lower than we'd like for an immersive HDR experience.
OnePlus Y1S Pro 43 inch
The Y1S Pro is visually appealing, with a well-calibrated 4K panel, good audio, and a plethora of connectivity options. Most importantly, the software deviates from convention in order to restore the fun, excitement, and convenience that you would expect from a smart TV of this calibre. Most smart TVs are only smart in name. The Y1S Pro lives up to its moniker. The fact that it is so inexpensive should serve as a wake-up call to competitors.
Hisense A6H 43 inch
Hisense has the most affordable HDR TV prices on the market. The Hisense 43R7E 43 Inch TV is simple to set up and use with Roku TV. Hisense is a great value brand for a Smart TV, offering the 4K quality you want without the high price tag. We like the simple home screen and remote, as well as the ability to control the TV from your smartphone. This is an excellent TV for technophobes or anyone on a tight budget.
Sony X74K 43 inch
The Sony KD-43X75K TV stands out for its performance focus. This is one of the better 43-inch TVs I've reviewed, thanks to its functional design, good specs and software, decent HDR performance, and overall ability to play all types of content well. The Sony KD-43X75K costs over Rs. 50,000, which is a good Rs. 20,000 more than most of the competition, and it's difficult to justify spending this kind of premium on it, especially if this is going to be a secondary TV in your home.
LG UK6300 4K LED TV 43 inch
The 43-inch LG UK6300 is a fantastic 4K TV with excellent picture quality, convenient smart TV features, and adequate sound. The LG 43-inch UK63000 is a great smaller option for anyone looking for 4K quality. It's ideal for smaller rooms and provides nearly everything you'd want in a smart TV. We wish it came with LG's Magic Remote, if only for the convenience of voice interaction, but that's a feature that won't be missed by everyone.
LG UQ8020 43 Inch
The 43-inch TV has three HDMI ports (1 eRAC) and two USB ports, but the 55-inch model only has one USB port. Bluetooth 5.0 and dual-band WiFi are supported. When comparing them, you won't notice much difference in their bezels. The LG UHD Televisions is enhanced by the 5 Gen5 AI Processor to provide an immersive experience. ThinQ AI transforms LG UHD TV into a smarter experience.
Samsung Crystal Neo 43 Inch
Powerful 4K upscaling ensures that you get up to 4K resolution for your favourite content. Because of its sophisticated colour mapping technology, you'll also notice more lifelike colour expressions. This technology brings reality to your TV screen by displaying colours in their true state. Enjoy a 3D sound effect which drives multichannel audio to deliver a cinematic audio experience from every angle. Enjoy rich, accurate colour and deeper contrast with crisp detail with HDR 10+'s dynamic tone mapping of colours.
GoWarranty's Extended Warranty
When purchasing a television, you should always get a good extended warranty. Avoid low-cost extended warranties that offer poor service. For these, Go Warranty's extended warranty plans are the best and most highly recommended. Well-known YouTubers like UdRawat also recommend it. GoWarranty provides the best extended warranty services, ensuring that your television is trouble-free. Purchase it for these televisions and receive an additional 4-year warranty, for a total of 5-years.