Sony is steadily reducing the price of its Cinema Line. The Venice 2 camera is at the top of the line, followed by the FX9, FX6, and FX3. The FX30 is the most affordable option yet.
It's an immediate contender for one of the best 4K video cameras, and possibly one of the best cinema cameras, at least for B-roll footage. It's also one of the best cameras for vlogging, especially for users looking to progress to more professional, cinematic productions.
Sony wanted to create a camera that could be used for simple straight-from-camera video creators while also allowing them to expand their shooting and post-production capabilities as they progressed to cinema-style production values.
Key Features
Let us begin with the design. The FX30 features the same chunky grip and grey-black finish as Sony's other cinema line cameras, instantly distinguishing it from Sony's previous APS-C models. There is no EVF (as we would expect from a cinema camera), but there is a very-angle screen on the back.
There are also five accessory mounting points on the camera body itself, so you won't need a cage to rig this camera up. Additionally, while the FX30 can be purchased body-only, it will also be sold with a combined carry handle and XLR mic adaptor, which has three additional mounting points.
The camera features a new sensor with a resolution of 20.1MP, presumably reflecting the 16:9 video aspect ratio, although it also shoots 26MP stills in the taller 3:2 native ratio for APS-C sensors (or Super35 if we're talking video). This offers dual base ISO 800/2,500 in S-Log3 shooting mode, with Sony claiming 14+ stops of dynamic range, and an ISO range of 100-32,000 in regular use. The FX30's main video features include 4K 120p capability, albeit with a hefty 1.6x crop. 4K 60p includes a crop, though it's so small at 1.04x that you'll probably miss it.
Cinematic Expression
Another major emphasis on 'cinematic expression' with the FX30 is Sony's S-Cinetone profile, user-defined LUTs, and a choice of Flexible ISO mode, Cine EI and Cine EI Quick modes from Sony's Cinema Line.
The FX30 has in-body stabilisation, unlike the cheaper vlogger-focused Sony ZV-E10. It also has digital image stabilisation with embedded gyro data that can be extracted and applied in Sony's free Catalyst Browse software – which we found to be very effective when testing gyro stabilisation with the Sony ZV-E10.
Build and Handling
Sony's previous APS-C mirrorless cameras were almost too small, especially with a pro lens on the front, but the FX30 is significantly larger. The body is much thicker, which is no doubt due to the IBIS unit, but also to the cooling vents behind the rear screen. It's still not a big camera, but it's a lot more substantial to hold and use, which is a good thing. The rear screen's vari-angle pivot is useful, but the screen itself is underwhelming. Even on this more serious cine camera, Sony keeps the 3-inch display, which is not only small but also prone to glare in bright outdoor lighting.
In general, the controls are excellent. The rear control pad includes buttons for controlling the shutter, zebra and peaking displays, and cycling through the display modes. It complements the video-oriented design of this camera.
The power button, on the other hand, is peculiar. You turn it on by pushing it to the left rather than the right, which appears to defy all normal convention (or is it just me?). Furthermore, having a mode button to cycle through the camera modes seems a little too indirect – a physical mode dial would be faster and would also show you the camera modes without having to turn it on or check the display.
This is also a camera that can be completely customised. The custom buttons are labelled with their default functions – Iris, WB, and ISO, for example – but the expectation is that users will programme this camera to suit their own workflow.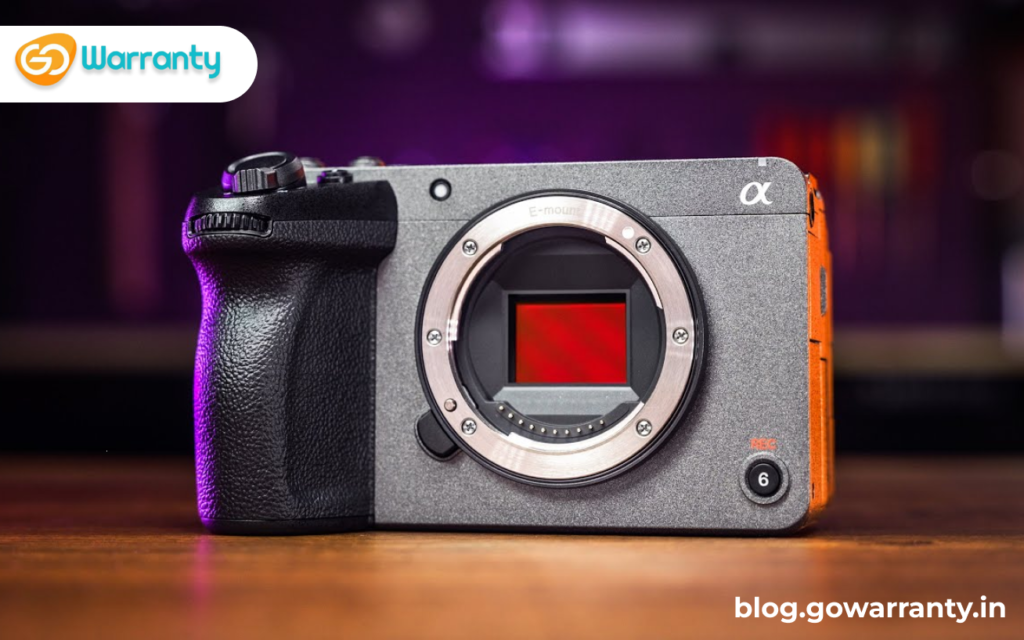 Performance
We put the FX30 through its paces with the relatively new Sony E 10-20mm PZ lens, as well as our own Zeiss 16-35mm f/4 lens for a longer focal range. We shot stills and video, and while we didn't get too fancy with log modes and LUTs in the time we had, we did use the S&Q modes.
There's not much to say about Sony's AF system, which is widely regarded as the best available. All you have to do is figure out which AF mode and settings are best for your shooting style and subject matter. The stabilisation is less obvious. To be sure, having in-body stabilisation is preferable to not having it, but while it's great for stills photography and shooting handheld from a static position, it's much less effective for anything but the slowest pans and doesn't cope well with walking and filming.
The story changes with digital stabilisation and the assistance of Sony's Catalyst Browse software. This software can use the gyro metadata embedded in the video to automatically counteract camera movement, resulting in almost uncanny smoothness from the shakiest looking video.
Aside from that, the FX30 produces excellent results in both still and video photography. The only issue we had was a silly one: our first 4K 120 S&Q test looked soft, but that's because the AF/MF switch on the 10-20mm PZ lens is far too easy to slide when mounting or unmounting it. It wasn't soft; it was simply not focusing this time – user error.
Verdict
Right now, the Sony FX30 appears to be a complete success. Casual vloggers and hybrid stills/video shooters may prefer a traditional mirrorless camera, but it appears to be ideal for more ambitious filmmakers looking to expand their post-production skills and opportunities into the cinema camera realm. Sony has created a full-fledged cinema camera at mirrorless camera prices.
Indeed, the FX30 is so good that it makes you wonder what it means for the full-frame, much more expensive FX3, the next model up in the line. Except for its full frame sensor and low light capability, it has few advantages over the FX30, and its 12MP sensor makes it far less appealing for hybrid stills/video work.