Google's latest mid-range phone brings high-end features, such as the company's top chip and class-leading camera, to a more affordable price. The Google Pixel 7a costs INR 36,999, which is 5k more than the initial price of last year's 6a but 16k less than the Pixel 7, despite offering almost identical features.
In fact, it appears to be almost identical to the 7, though slightly smaller. It has a bright 6.1in OLED screen with an upgraded 90Hz refresh rate to keep scrolling smooth. The phone is a good size and fits easily in a pocket, but it has a large enough screen to watch video on the commute.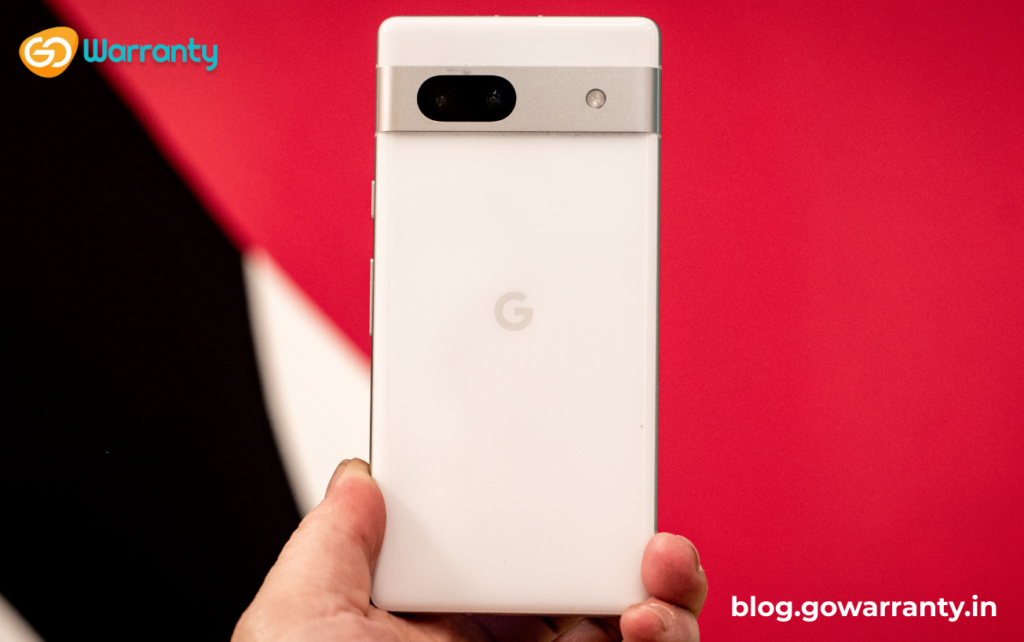 Face unlock and a fingerprint scanner are new features for this year. It's a good compromise, combining the convenience of face recognition for unlocking the phone in bright light with the security of fingerprint authentication for banking apps and similar apps. The fingerprint scanner isn't the fastest on the market, but it generally works well if you scan your finger precisely during setup.
Specifications Table
| | |
| --- | --- |
| Chipset | Google Tensor G2 |
| No of cores | 8 (octa core) |
| RAM | 8 GB |
| RAM Type | LPDDR5 |
| Height-Width | 5.98in-2.87in |
| Weight | 193.5 grams |
| Colours | Charcoal, Sea, Snow |
| Resolution | 1080 x 2400 pixels |
| Display Type | OLED, HDR 10+ |
| Colour Reproduction | 16M Colours |
| TouchScreen | Yes, Capacitive, Multi-Touch |
| Rear camera setup | Dual |
| Rear Camera | 64MP(Primary), 13MP(Secondary) |
| Front camera | 13 MP Resolution |
| Flash | Dual LED Rear flash |
| Video Resolution | 3840 x 2160 @ 30 fps |
| Camera Features | Auto FlashAuto FocusFace detectionTouch to focus |
| Battery Type and capacity | Li-polymer, 4385 mAh |
| Fast Charging | Yes, 18W |
| Internal memory type | 128 GB, UFS 3.1 |
| Operating System | Android v13 |
| Custom UI | No |
| SIM Configuration | Dual SIM |
| Wi-Fi | Yes |
| Bluetooth | Bluetooth v5.3 |
| GPS | Yes with A-GPS, Glonass |
| Fingerprint sensor | Yes, On-screen |
| Face Unlock | Yes |
| Other Sensor | Light SensorProximity SensorAccelerometerCompassGyroscope |
Price
Google Pixel 7a costs INR 36,999. The Pixel 7 starts at INR 61,999, the Pixel 6a is now INR 35,999, the Samsung Galaxy A54 is INR 45,999, the Nothing Phone 1 is INR 61,999, and the Apple iPhone SE is INR 45,999.
High-end processor
Google has stuck to the same formula that helped the Pixel 6a win last year. The new phone features the same Tensor G2 chip as the Pixel 7, as well as the same RAM and storage. As a result, the 7a is faster and more powerful than mid-range competitors, and on par with high-end phones. The battery lasts approximately 34 hours between charges, which is sufficient for even the busiest of days. It, like its predecessor and the Pixel 7, will require overnight charging.
Sustainability
Google does not specify the battery's expected lifespan, but it should last for more than 500 full charge cycles with at least 80% of its original capacity. Google and third-party shops can repair the phone, and genuine replacement parts are available directly from iFixit. The Google Pixel 7a is made of recycled aluminium, glass, and plastic, which accounts for approximately 21% of the phone's weight. For some of its products, the company publishes environmental impact reports. Google will recycle old devices at no cost.
Software
The Pixel 7a is powered by the same version of Android 13 as the Pixel 7 Pro and other Google smartphones. It is fast, well-optimised, and attractive, and it comes with free access to Google's VPN, which is useful for securing your data when using public wifi networks. Google provides software and security updates for at least five years, including at least three major Android versions. Many of Samsung's phones are supported for five years, while Fairphone is aiming for six years and Apple's iPhone is supported for up to seven years.
Camera
On the back are new 64-megapixel main and 13-megapixel ultrawide cameras, that improve on the already excellent Pixel 6a and bring the phone up to par with the more expensive Pixel 7. In both good outdoor and dim indoor lighting, the main camera produces really good, well-exposed, dramatic images with excellent levels of detail. It excels at capturing detail in portraits and photographs of objects.
The ultrawide camera is also one of the better options, with slightly lower detail and sharpness than the main camera but excellent handling of high contrast and difficult scenes. The 7a lacks a telephoto lens, instead relying on digital zoom, which is enough at 2x but degrades noticeably beyond 3 or 4x zoom.
The 13MP selfie camera is also excellent, and video captured by all three cameras is reasonably priced. This year's updates include a fun long-exposure mode for adding motion to photos and a significantly faster low-light mode that can make near darkness look like daylight. Overall, the 7a is an improvement over last year's 6a and roughly comparable to the more expensive Pixel 7. It completely outperforms the mid-range competition at this price.
Verdict
The Google Pixel 7a is the best Android phone in its price range. It packs even more of the premium smartphone experience into a smaller, less expensive package. Google's top chip, ample RAM, and enough space make it faster than most competitors. Its excellent, bright screen has a 90 Hz refresh rate that keeps things smooth when scrolling, which, along with wireless charging, is a major perk of high-end phones.
With great software and five years of support, you can use it for much longer. The camera is class leading and then some, outperforming many phones twice the price and completely dominating the mid-range competition. The back is plastic rather than glass, but most people will put it in a case anyway. The 34-hour battery is sufficient for a good day but falls short of the best.
But the Google Pixel 7a is so good for the money that I'm not sure why you'd pay an extra £150 for it. The 7a's biggest issue is that the Pixel 6a is still on sale from last year and has been reduced to £349, which is fantastic value.
Warranty Plan
| | |
| --- | --- |
| Warranty | 1 Year Manufacturer Warranty |
| Extended Warranty | 2 years Extended Warranty from the GoWarranty for the Google Pixel 7a phones |