So far, our favourite hybrid instant camera is the Fujifilm Instax Mini Evo. Hybrid instant models combine digital photography with instant film in a single device. It makes an excellent introduction to the medium for anybody new to it. Fujifilm's latest attempt is one of the first to really embrace the analogue format's heritage. Despite the fact that they aren't a new concept.
With a retro-inspired appearance and an array of easy-to-use filters and effects meant to replicate analogue film. The Instax Mini Evo is a love letter to Fuji's heyday in the 1970s. Is it, however, primarily an instant camera or merely a digital camera with an integrated Instax film printer?
Design and Features
The Evo Mini is definitely elegant, with fake leather and chrome design reminiscent of a vintage rangefinder camera. It is mostly made of plastic. Therefore, it doesn't feel as high-end as it appears. It's reassuringly heavy in the hand.
The Mini Evo, like the previous Instax Mini LiPlay, does not use direct film exposure. It may be considerably smaller than a standard instant camera since it has a digital sensor between the lens and the film. Because the lens is just slightly protruding from the main body. It is easy to slip it into and out of a backpack. Also, fits into the largest trouser pockets.
In addition to the rotating lens barrel, the front of the camera includes a power switch, shutter button, and small selfie mirror.
A second shutter button, a settings shortcut, and a mode dial dedicated to effects, as well as a cold shoe attachment for attaching accessories, are all located on the top of the camera. To print a photo, a lever shaped like an analogue film advance is utilised, which is a wonderful touch. Only a few of these buttons, however, are labelled. It leaves novices unclear of what to do.
The hybrid nature of the camera is disclosed by a 3 an LCD display and navigation controls on the rear. They're built into the film door. It resides in a place by a strong catch that won't pop open on the first knock.
The built-in battery may last up to 100 pictures and around 20 photo printouts. It charges using a micro-USB connector on the bottom of the camera. It also has a microSD card slot.
Performance
The Mini Evo's LCD user interface restricts to a portrait layout. Despite the fact that it is a landscape camera. This is more appropriate for the Instax film format, which has irregular top and bottom borders that work well with portrait photographs. The UI is pleasantly easy if you remember to hold the camera upright, albeit, without an optical viewfinder, the composition may be difficult in intense sunshine, where the LCD can be difficult to see.
The 100 various combinations, are swiftly rotated through by twisting the lens barrel or effects dial. Also, the live view changes almost immediately. Some aren't really spectacular, such as the fisheye effect, which essentially digitally zooms and distorts the image rather than creating a true ultrawide impression, while others allow you to express yourself. The highlights include mirror mode and dual picture, which overlays two different exposures.
Image Quality
The Mini Evo delivers photographs comparable to Fuji's completely analogue instant cameras when the print quality is set to "Instax Rich." The Images uploaded from a smartphone for printing appear to be somewhat lower resolution than those taken with the camera.
Dark shadows and lighter highlights are frequent, as are the colours and contrast. The definition is crisper than competitor film formats. and there's no light leaking like you'd see with a Lomography-style camera until you use the effects wheel to force it. In sunny outdoor conditions, there's a propensity for overexposure, however, manually decreasing the exposure by -2/3EV helps reduce blown highlights.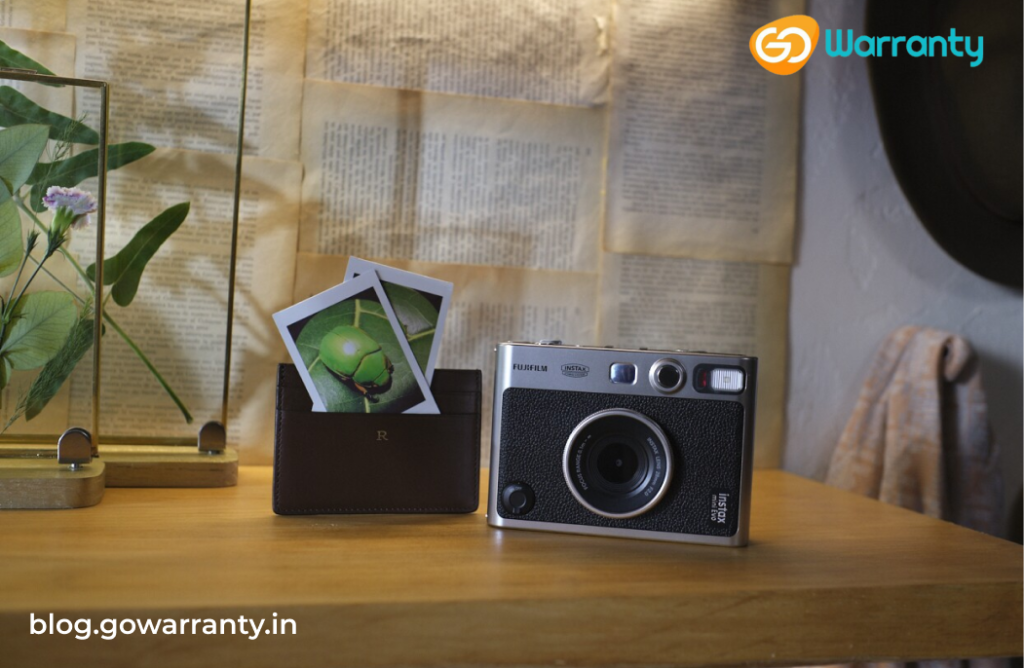 The digital photographs from the Mini Evo aren't quite as good as the ones printed. With a clear lack of detail and high noise levels in darker environments. They're on par with only the most basic of current smartphones. It may take away part of the attractiveness of a hybrid camera for some. The dynamic range is average. The colours aren't quite as vibrant as they look when printed, but they're mostly 'good enough for social media use.
Should I invest in a Fujifilm Instax Mini Evo camera?
Buy if…
The Mini Evo is the ideal instant camera for anybody wishing to explore or try out new photography techniques. Thanks to its myriad filter and effect combinations and the opportunity to just print the photos you choose.
Although they come at a cost, Fuji's latest Instax cameras, like the Mini Evo, have indisputably stylish designs. The plastic construction isn't nearly as pleasant to the touch as it is to the eye. It's far less toy-like than the Instax Mini 11.
Don't buy it if…
A current smartphone's high-resolution sensor is likely to produce higher-quality digital photographs. Compared to the Mini Evo's low-resolution sensor. It makes it more suitable for personal use rather than social media sharing.
The Fuji Instax Mini LiPlay hybrid instant camera appears a lot more contemporary. It offers a lot of the same functions as the Mini Evo – and it's a lot less expensive.
Verdict
The Fujifilm Instax Mini Evo is our favourite hybrid instant camera so far, with a retro-themed twist on instant photography that prioritises enjoyment. With autofocus, autoexposure, and auto shutter speed. It's significantly more pocketable than Fuji's other Instax cameras, and it's also more point-and-shoot friendly. It will be a turn off for the fans of pure analogue photography due to the digital-first approach. Also, the absence of an optical viewfinder and the poor resolution mean it won't be able to replace even a basic digital camera. However, the Mini Evo's ability to function as a smartphone printer is impressive. Its several built-in effects, as well as filters, provide a fun opportunity to play without wasting film.