A Fire Boltt Thunder smartwatch is a wearable gadget that resembles a wristwatch or other timepiece in appearance and functionality. In addition to indicating time, many smartwatches have Bluetooth capabilities. As a result, the watch morphs into a wireless Bluetooth adaptor, extending the functionality of the wearer's smartphone to the watch.
A smartwatch's objective is to provide consumers with information in an easy-to-read manner. Boltt sometimes referred to as Boltt, is a maker of low-cost audio goods such as headphones, earphones, as well as true wireless earbuds, as well as wearables like smartwatches for fitness trackers. The organization is well-known in the internet market.
Fire Boltt Thunder Smartwatch Description
The new Fire-Boltt Thunder smartwatch by Fire-Boltt was released in India on 12th March. This Bluetooth-enabled wristwatch features 30 sporting modes. Not only that, but it will match the 1.32-inch AMOLED display with seven-day battery life. Let's take a look at the latest Fire-Boltt Thunder smartwatch's pricing and entire set of features.
Specifications
| | |
| --- | --- |
| Brand | Fire Boltt |
| Model Name | Thunder |
| Camera | No |
| Display | Touch screen, Colour AMOLED 1.32 inch, 336 PPI |
| Flash | Yes (LED) |
| Meters and Sensors | Heart Rate Monitor, SpO2 (Blood Oxygen) Monitor, Calorie Count, Step Count, Sleep Monitor |
| Battery | 7 days standby |
| Compatible OS | Android and iOS |
| Bluetooth | Yes |
| Water-Resistant | Yes |
| Water Resistant Certificate | IP68 |
| Music | Yes |
| GPS | No |
| USB | Yes |
| Resolution | 360 x 360 pixels |
| Extra Features | Alarm Clock, Stopwatch, Timer, Reminder, Inbuilt Games, Voice Assistant, Weather Update, Drinking Water Reminder, Voice Assistant, Quick dial pad, Save contacts and Call history |
Warranty Plan
| | |
| --- | --- |
| Warranty | 1 Year Manufacturer Warranty |
| Extended Warranty | Up to 2 additional years. Visit GoWarranty to buy an extended warranty for Fire Boltt Thunder smartwatch |
This smartwatch has a full-touch 1.32-inch AMOLED (360×360 pixels) display. It features over 200 cloud-based watch faces. It also offers 30 sports modes, including hiking, badminton, basketball, skipping, cycling, running, and walking. This smartwatch will also have an accelerometer, a barometer, a gyroscope, and a light sensor.
The wearable, on the other hand, will provide Bluetooth calling capabilities. It has a built-in microphone and speaker for this purpose. According to the manufacturer, the watch has a battery life of up to seven days on a single charge. The wristwatch also includes a heart rate monitor, a slip tracker, and a SpO2 sensor to measure the amount of oxygen present in the blood. For contemplative breathing, there is also an integrated breath mode as well as a female health tracker.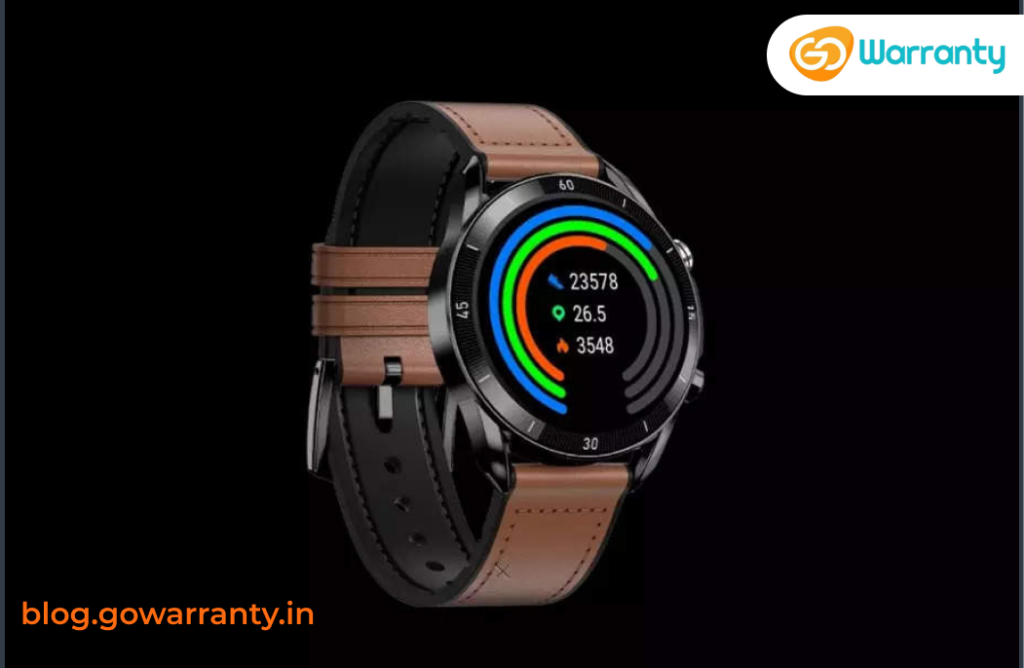 Android and iOS smartphones are supported by the Fire-Boltt Thunder smartwatch. Stopwatch, App Notification, Alarm, Weather Update, Drinkwater Reminder, Sedentary Reminder, Flashlight, Alarm, Stop Watch, and Clock are also significant features.
Furthermore, for mobile gaming enthusiasts, it will include titles such as Thunder Battleship, Young Bird, and 2048, which can now be played offline. Finally, the watch is water and dust resistant, having an IP68 rating.
 Pricing 
| | |
| --- | --- |
| Fire Boltt Thunder Smartwatch | Rs 2,899 |
The Fire Bolt Thunder wristwatch costs Rs 4,999 in India. It will be available for purchase on the e-commerce site Amazon on March 14 at 12 p.m.
Fire Boltt Thunder – Fire Boltt Spin: Comparison
Should you get Fire Boltt Thunder or Fire Boltt Spin? Your quest has come to a conclusion. Determine which smartwatch is ideal for you – Compare the two models based on their respective prices in India, body, display, sensor, connectivity, and online shop. Fire Boltt Thunder versus Fire-Boltt Spin is a comparison of Fire Boltt Thunder with Fire-Boltt Spin. When you compare Fire Boltt Thunder with Fire-Boltt Spin, you can see their distinct specifications scores, and unique characteristics. The current lowest cost of Fire Boltt Thunder is Rs. 2,899, while the current lowest cost for Fire-Boltt Spin is Rs. 5,949.
The Fire Boltt features a 1.32-inch screen, while the Fire-Boltt Spin has a 1.4-inch screen. Boltt Thunder has Heart Rate Monitor, SpO2 (Blood Oxygen) Monitor, Blood Pressure Monitor, Calorie Count, Step Count, Sleep Monitor, and Fire-Boltt Spin has Pedometer | Heart Rate Monitor | SpO2 (Blood Oxygen) Monitor | Calorie Count | Step Count | Sleep Monitor. Overall, Thunder has many features especially Bluetooth calling with fun for games and it comes at a very good price.
We've all been there: you're going out for an important meeting or you're running behind schedule for a trip and you can't locate your keys or phone. If your phone gets misplaced while doing something, it can be easily found with the help of the "Find My Phone" feature in the smartwatch which is a great help. When you start the find my phone procedure on your smartwatch, the phone will start ringing at max volume. In the end, smartwatches are simply smartphone extensions that are readily available. As they are always attached to the wrist, they are a convenient method to stay connected and give access to various apps while on the move.