A Realme Techlife S100 smartwatch is a wearable device that looks and functions similarly to a wristwatch or other timepiece. Many smartwatches include Bluetooth-capable in addition to telling time. Thus, the watch transforms into a wireless Bluetooth adapter, allowing the wearer's smartphone's functionality to be extended to the watch.
What is a smartwatch's primary function?
A wristwatch connects to a user's smartphone and displays alerts, calendars, maps, and other information on its tiny, circular screen. The Realme 9 5G series isn't the only product that was released on Thursday. Therefore, the business debuted the Realme Techlife Watch S100, a cheap smartwatch. As you might expect, this device is part of Realme's Techlife range.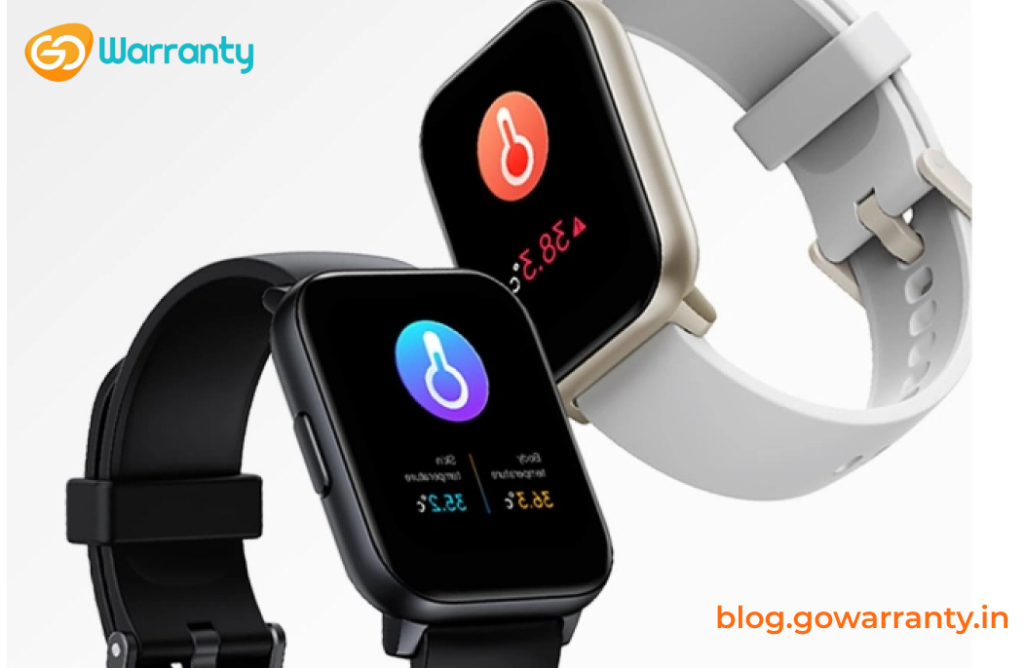 Moreover, along with the debut of the Realme 9 5G and Realme 9 5G SE smartphones, Realme has released two new accessories in India. Thus, Realme TechLife Watch S100 and Realme TechLife Buds N100 are a smartwatch and a Bluetooth neckband, respectively, from the company. Both items are inexpensive and have an excellent set of characteristics and features. However, let's take a closer look at the Realme Techlife watch S100's cost, characteristics, features, and availability.
Realme Techlife Smartwatch S100 Description
Moreover, It looks to be the latest version of this OEM's current wristwatch, with the addition of a customer's body-temperature tracker, which may be a game-changer. Its battery life is also expected to be better than that of its predecessor.
Despite its low price, the Dizo Watch 2 debuted in India in 2021 including an unusually large 1.69-inch LCD display as well as a metal body billed as "luxury." Now, the new Watch S100 appears to also have launched with the same specifications, however, its chassis appears to have been redesigned with new technology.
Specifications
| | |
| --- | --- |
| Display | Touch screen, 1.69inch, 218 PPI |
| Flash | Yes (LED) |
| Meters and Sensors | Heart Rate Monitor, SpO2 (Blood Oxygen) Monitor, Calorie Count, Step Count, Sleep Monitor, Skin & Body Temperature Sensor, Accelerometer |
| Battery Type and capacity | Lithium-ion, 12 days backup |
| Compatible OS | Android and iOS |
| Bluetooth | Yes, 5.1 |
| USB | Yes |
| Resolution | 240×280 pixels |
| Extra Features | Alarm Clock, Stopwatch, Timer, Reminder, Find my Phone, Weather forecast |
Warranty Plan
| | |
| --- | --- |
| Warranty | 1 Year Manufacturer Warranty |
| Extended Warranty | Up to 2 additional years. Visit GoWarranty to buy an extended warranty for Realme Techlife S100 smartwatch |
Moreover, the Realme TechLife Watch S100 has a 1.69-inch color display with a resolution of 240×280 pixels and a peak brightness of 530 nits. However, it has a Photoplethysmography (PPG) sensor for continuous heart rate monitoring. The wristwatch can also measure skin temperature and blood oxygen saturation, according to reports (SpO2). However, it, like other smartwatches with comparable health-focused features, isn't expected to cover any medical equipment. A three-axis accelerometer is also provided in the wristwatch for activity tracking.