The Apple Watch Series 8, due in Q3 2022 .It includes a body temperature sensor. An Apple Watch with a body temperature sensor, however, was not expected to be ready for at least another year, according to a report earlier this year. Ming-Chi Kuo, a well-known expert, currently claims that the Watch Series 8 with body temperature sensor will still be released in H2 2022.
Although the Apple Watch Series 8 is still a few months away, we're starting to learn more about Apple's next-generation wrist-worn device. Although the Apple Watch Series 8 is still several months away. We're starting to learn more about Apple's next-generation wrist-worn device.
Design and Size Options
Nothing is known about the design of the Apple Watch Series 8. Although, it resembles the Apple Watch Series 7 because Apple increased the display size with the Series 7 devices. Also, Apple stays with a display size for a couple of years.
According to display analyst Ross Young, the Apple Watch Series 8 might arrive in three sizes rather than two. With Apple introducing a bigger size to join the 41mm and 45mm size possibilities.
Multiple speculations stated that Apple was working on a revamped design with flat edges comparable to the flat sides of the iPhone 13 and iPad Pro prior to the arrival of the Apple Watch Series 7, but that didn't happen.
Apple Watch with a Rugged Design
According to Bloomberg, Reportedly working on an Apple Watch "with a tough case" geared at sports, hikers, and those who use the watch in more harsh settings than everyday usage. It will have the same capabilities as an Apple Watch, but it will be more durable and secure. Apple will deliver the rugged Apple Watch in 2022.
Possible Health Features
Apple is working on many additional health features for future Apple Watch models. According to The Wall Street Journal as well as other sources. Blood pressure monitoring, a thermometer for fertility as well as sleep tracking. Sleep apnea diagnosis, and diabetes detection are among the features available. Apple is increasing atrial fibrillation detection in watchOS 9 to compute "burden," or how frequently a person is in an atrial fibrillation condition over a certain time period.
Some of these functions are in the Apple Watch Series 8. But it's unclear whether all of the sensors are ready, so Apple could delay the functionality.
Women's health features, sleep upgrades, new exercise choices, and medication management are all scheduled to debut before blood pressure and glucose monitoring. They won't be available until 2025 or later.
Temperature Sensor
The Apple Watch might get a body temperature sensor as early as 2022. With the temperature sensor used first for fertility planning. It might be utilised in future Apple Watch versions to assess if a user's body temperature is greater than normal. Although, it is unlikely to provide an actual measurement.
The Series 7 should have temperature tracking. Although, Apple couldn't get it to operate precisely enough. According to Apple analyst Ming-Chi Kuo, the series 8 might contain a body temperature tracking feature if Apple's algorithm has improved sufficiently. Because a smart watch is unable to detect core body temperature, skin temperature might change depending on the environment.
Car Crash Detection and Sleep Apnea
When a car collision is detected, the iPhone or Apple Watch immediately calls 911 for help. This is a feature built for the iPhone 14 models as well as the Apple Watch Series 8. Although, it's not to be confined to those devices. It will be an extension of the existing Apple Watch and iPhone models' Fall Detection capability.
Apple wants to use the present blood oxygen sensor to detect sleep apnea. But getting several measurements without draining the battery is difficult.
Apple Watch Patents
Apple has patented a lot of intriguing technologies that may be used in future products. Watches with a biometric identification mechanism that validates identity by analysing the wearer's skin pattern. This capability would eliminate the requirement for a passcode when wearing the Apple Watch.
Another patent suggests a self-tightening Apple Watch band that would adjust for precise heart rate readings. During strenuous activities such as jogging or working out, and then loosen up afterwards. Tightening might help with directions, workout reps, and other things.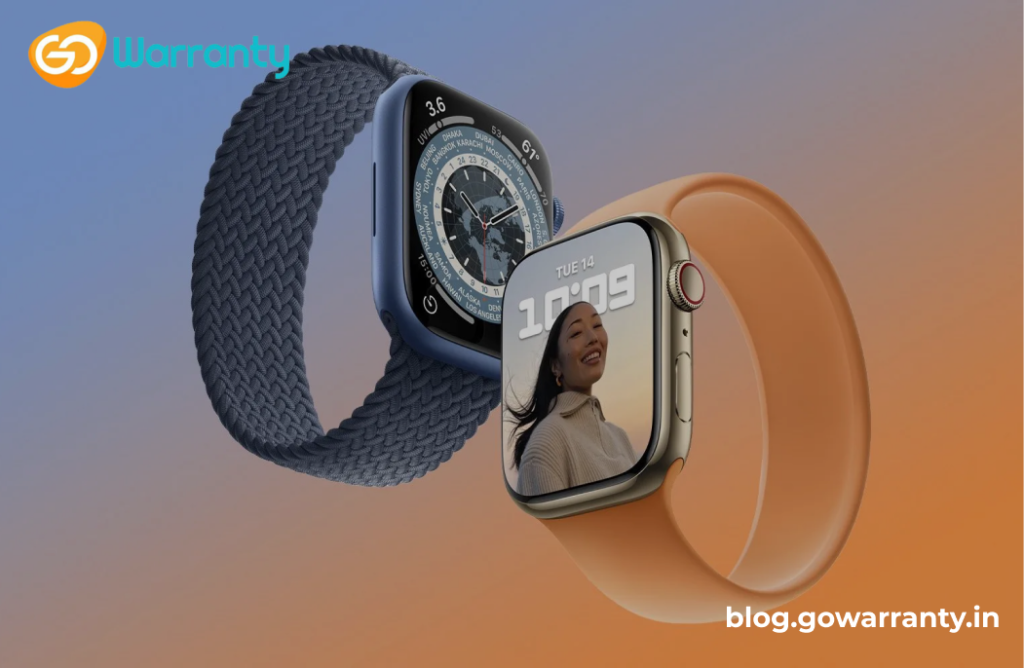 According to two patents filed in 2020, Apple is working on Touch ID with an under camera for the Apple Watch. A side button with an integrated Touch ID fingerprint sensor is used for user authentication and device unlocking. However, now Apple Watch is unlocked by entering a passcode or unlocking the linked iPhone.
A two-stage display technology is described in the patent for an under-display camera, which includes a camera that is only observable from the outside when it is operational. In a patent application from 2021, Apple proposed a drastic makeover of the Apple Watch, with a rounder watch face, wrap-around flexible display, as well as digitally adjustable watch bands.
Apple Watch Features in the Future
Blood Glucose Monitoring
Apple has a team of biomedical professionals working on a method for testing blood glucose levels non-invasively using optical sensors. It might someday make its way into the Apple Watch. Such a feature would make diabetes management much easier because it would not necessitate puncturing the skin.
According to speculations, Apple has been working on a blood glucose monitoring tool for years, but it is a critical health feature that would almost certainly require regulation.
Blood Pressure Measurements
Blood pressure monitoring technology  is coming around 2024 at the earliest. Apple is working on an improved sensor and software that can detect elevated blood pressure. But it hasn't shown to be accurate in testing.
They are monitoring apple employees for blood pressure. Instead of providing particular systolic and diastolic measurements, the function will alert Apple Watch users to the possibility of hypertension.
Satellite Connectivity
Apple intends to add satellite connectivity to the Apple Watch in the future. Allowing for emergency messaging and SOS response directly on the wrist. Satellite connection will be available on the iPhone 14 and, subsequently, the Apple Watch.