Apple's latest accessory offering on its US site isn't another set of AirPods or a keyboard. Apple sells third-party accessories for a number of products. But this is the first time a smart water bottle from the HidrateSpark brand has been featured. These smart water bottles promise to keep you hydrated by monitoring your water intake, as the name implies. The HidrateSpark must be synced to the Apple Health app through Bluetooth in order to activate the smart capabilities of this smart device. Currently, the HidrateSpark smart water bottles are only available in the United States. In India, interested shoppers may have to wait a bit longer to get their hands on these.
Overview
Hidrate Spark 3 smart water bottle helps you drink more water by measuring your intake and indicating when it's time to drink. Your iPhone, iPad, or Apple Watch's vivid glow and push alerts will train you to drink more frequently, bringing you closer to your hydration objectives. Its system requirements are Operating System: iOS 13 or later and watchOS 4.3 or later.
The things that come in the box are Hidrate Spark 3 Smart Water Bottle, Finger loop, CR2477 battery and an Instruction manual.
Hydration Equation
What is Hidrate Spark 3 and how does it work? It calculates and changes a tailored hydration target depending on your body and activity level throughout the day. However, the sensor in the bottle records how many ounces or millilitres you drink. Which you can see on your iPhone or iPad via the app.
Apple Health Integration
The Hidrate Spark Smart Bottle app, which is available for free, works in tandem with the Spark 3. The software can access Apple Health for your personal information and step statistics, which it utilises to update your daily hydration target when you create an account. Every sip the app captures is also sent to Apple Health, enabling you to see all of your data in one spot. You can also use Apple Watch to track your water intake and effortlessly add quantities of water consumed from sources other than the Hidrate Spark 3 bottle.
HidrateSpark Smart Water Bottle price
The smart water bottles are now available in four types on Apple's product listing website in the United States: HidrateSpark 3, HidrateSpark Pro Steel, HidrateSpark Pro, as well as HidrateSpark Steel. The HidrateSpark Pro Steel, which is presently advertised at $79.95 (approximately Rs. 6,100), is the most costly of these variations, while the Pro version is $59.95. (roughly Rs, 4,600). The other two variations are $69.95 each (approximately Rs. 5,400).
Features
The HidrateSpark smart water bottle, which is available on Apple's website and in stores, can track your daily water intake and link it with Apple Health. Although, the gadget uses LED sensors at the bottom to assist achieve a personalised hydration goal and provides warnings to Apple Health anytime water is drunk.
The HidrateSpark app must be downloaded on an iPhone, iPad, or Apple Watch in order to sync it with Apple Health. Following account creation, the app will request access to Apple Health in order to track personal information and other statistics. If the user drinks water from a source other than the HidrateSpark PRO bottle, it can be included in the data for a more accurate water consumption computation. However, the bottles ensure that your water is free of BPA. They're easy to clean in the dishwasher, and the sensor may be wiped clean with a moist cloth.
White, Yellow, and Black are the three colour possibilities for the HidrateSpark 3 Smart Water Bottle. It includes a Lithium cell CR2477 battery with a six-month battery life. The water bottle's measurements are 10.4 x 3 x 3.25 inches. To use it on your devices, you'll need iOS 13 or later, and your Apple Watch will need to be running watchOS 4.3 or later. Bluetooth 4.0 connection is included. The smart water bottle, finger loop, battery, and instruction booklet are all included in the box.
Other Versions
Currently, the HidrateSpark Pro Steel Smart Water Bottle is available in black and silver. The smart bottle comes with a stainless-steel, vacuum-insulated container. Also, a rechargeable lithium-ion battery that lasts 10-14 days on a single charge and requires roughly 2.5 hours to charge. It supports Bluetooth 4.0 and Bluetooth 5.0 connection and can be charged with a USB cord. The bottle's measurements are 11.3 x 3.8 x 3.8 inch.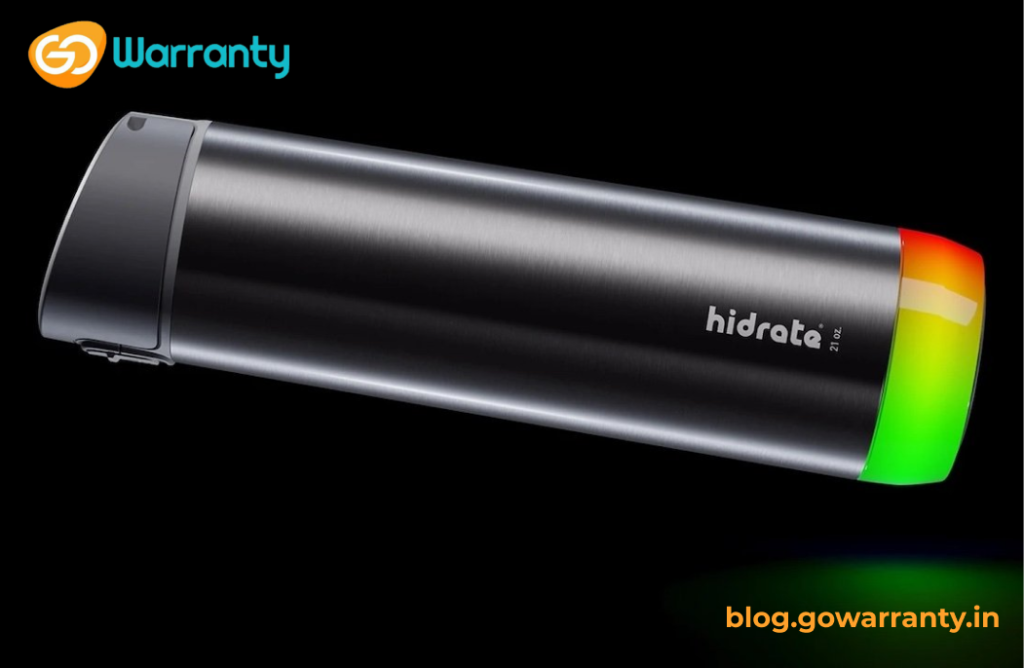 The HidrateSpark Pro Smart Water Bottle is the next in line. With a Tritan Plastic Sea Glass body in green and black colour choices. To connect the app, the user must have an iPad or iPhone running iOS 12.3 or later, as well as an Apple Watch running watchOS 4.3 or later. The measurements of this water bottle are 10.9 x 2.8 x 2.8 inch. Also, the characteristics are comparable to HidrateSpark Pro Steel Smart Water Bottle.
Featured App
HidrateSpark is a simple smart water bottle that tracks how much water you drink. Lights up and glows to remind you to drink more water, and syncs with this app through Bluetooth so you can track your progress. Your ally in the formation of good habits.
Characteristics:
GLOWS : When you need to drink more water, HidrateSpark will light up and glow.
MEASURES : HidrateSpark tracks how much water you drink and delivers the information to your iOS smartphone through Bluetooth.
RECOMMENDS : Based on your age, height, weight, and sex, this app determines a suggested hydration target for you. It may even alter the target for you every day based on your physical activity and local weather.
INTEGRATES : The amount of water you need to drink is affected by your degree of activity. Connect to Apple Health, Fitbit, Under Armour Record, or Withings HealthMate. It automatically alters your goal based on your activity level. Your hydration information may also be saved to Apple Health or Fitbit.
HISTORY : Track your hydration levels on a daily and monthly basis. How many days can you accomplish your objective in a row?
FRIENDS : Keep track of your friends' progress to ensure they keep hydrated. Begin a friendly competition to determine who can achieve their objective the most consecutive days.
FUN REMINDERS : When you start to get behind and need to drink more water, this app will give you alerts. To remind you to remain hydrated, the HidrateSpark smart water bottle will light up and sparkle.
Warranty
Warranty : Limited 100-day warranty
For extended warranty you can visit the website GoWarranty.in which will give you the extended warranty for Apple Smart Water Bottle.