After the release of the Galaxy Z Flip 3 last summer, the Galaxy Z Flip 4 will have a difficult task ahead of it. Samsung updated its clamshell-style foldable phone with that model, making improvements across the board as well as delivering a considerably more affordable $999 starting price.
However, there is always opportunity for expansion, particularly in the still-emerging area of foldable phones. The Galaxy Z Flip 3 is far from flawless, so Samsung has lots of opportunities to improve it when a new version is released later this year. From battery life to durability, the Galaxy Z Flip 4, like its predecessor, has the potential to be a game changer.
The Samsung Galaxy Z Flip 4 will have a bigger exterior display, according to Ross Young, who has his finger on the heart of the display business. The latest Samsung Galaxy Z Flip 3 5G external display is a big advance over the first Galaxy Z Flip, but it's 1.9-inch size leaves much to be desired. These displays are often used for simple information distribution, such as alerts, the time, or basic phone interactions, such as answering a phone call.
Possible Price
We only have the history to go on, but we'd anticipate that Samsung will have an Unpacked event for the Galaxy Z Flip 4 and Galaxy Z Fold 4 in August. The Galaxy Z phones replaced the Galaxy Note as Samsung's mid-year product launch, and Samsung likely wants some lead time before the iPhone 14 arrives in September, as is customary.
We don't think Samsung will change the pricing of the Galaxy Z Flip 4 from what it now costs. After all, one of the Galaxy Z Flip 3's distinguishing features was its lower starting price of $999. If Samsung wants to persuade more people to try foldables, the pricing must be reasonable. However, the price might fall much more.
Specifications
Table
| | |
| --- | --- |
| Chipset | Qualcomm Snapdragon 888 Plus |
| No of cores | 8 (octa core) |
| RAM | 8 GB |
| Graphics | Adreno 660 |
| Size | 6.72 inches |
| Aspect Ratio | 22:9 |
| Resolution | 1080 x 2460 pixels |
| Display Type | Dynamic AMOLED |
| Colour Reproduction | 16M Colours |
| TouchScreen | Yes, Capacitive, Multi-Touch |
| Rear camera setup | Dual |
| Rear Camera | 12MP(Primary), 12MP(Secondary) |
| Front camera | 10 MP Resolution |
| Flash | LED Rear flash |
| Camera Features | Auto FlashAuto FocusFace detectionTouch to focus |
| Battery Type and capacity | Li-ion, 3700 mAh |
| Fast Charging | Yes, 18W |
| Internal Memory | 128 GB |
| Operating System | Android v11 |
| Custom UI | Samsung One UI |
| SIM Configuration | Dual SIM |
| Wi-Fi | Yes |
| Bluetooth | Bluetooth v5.1 |
| GPS | Yes with A-GPS |
| Fingerprint sensor | Yes, Side |
| Face Unlock | Yes |
| Other Sensor | Light SensorProximity SensorAccelerometerCompassGyroscope |
A Big Display
There isn't much information regarding the Galaxy Z Flip 4 yet, but a rumour suggests that Samsung may maintain the same 6.7-inch internal and 1.9-inch exterior screens as the Galaxy Z Flip 3. That makes sense – the Flip 3's design is excellent, and the external display is really handy. According to Ross Young, the Galaxy Z Flip 4 may have a bigger cover display, extending at least two inches.
According to reports, Samsung has been testing a Galaxy Z Flip 4 with an under-display camera. We certainly hope that's not the case, given the terrible one on the Galaxy Z Fold 3. According to the source of this rumour, Samsung is attempting to make the Galaxy Z Flip 3 lighter by changing the hinge design. We simply want a gapless design similar to the Oppo Find N.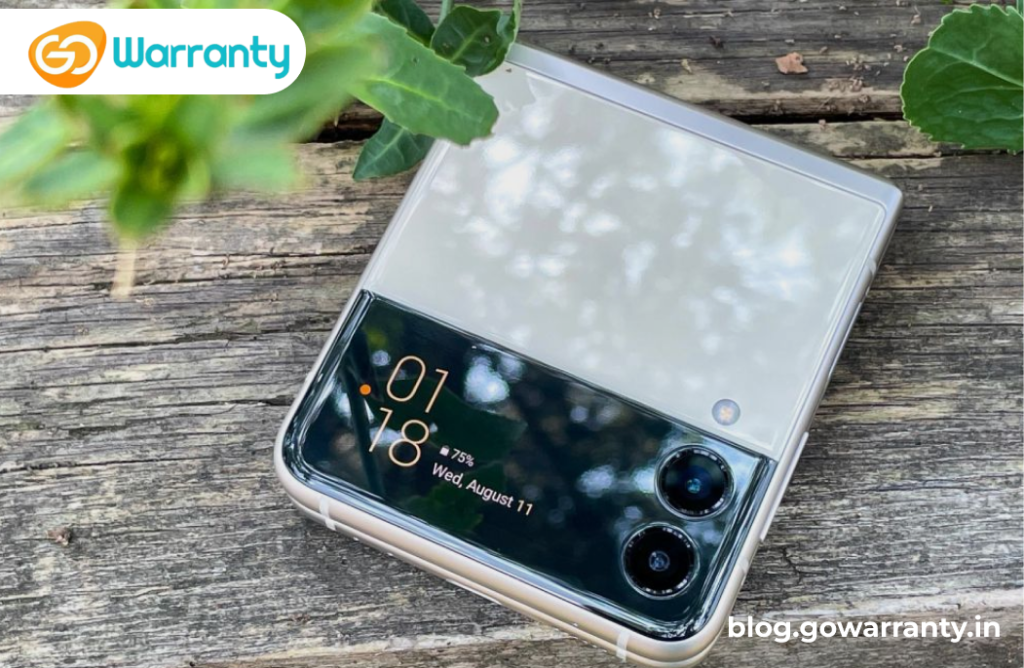 Unfortunately, according to current speculations, the Galaxy Z Flip 4 will feature the same 3,300 mAh battery as the Flip 3. However, according to a recent report, Samsung intends to raise the total capacity by 100 mAh.Assuming Samsung has some surprises, this might be a massive letdown, considering one of the current Flip's greatest flaws is its lack of battery life.
Assumed Battery Life
The battery life of the Galaxy Z Flip 3 was awful. It didn't even survive 6 hours on the Tom's Guide battery life test in adaptive refresh rate mode. That's not a good sign. We believe this is due in part to the higher power consumption of the 120Hz internal panels and the bigger cover display. We'd want to see the Galaxy Z Flip 4's battery life improve. Simple, but unless Samsung includes larger power packs, that could be a tall order. The Snapdragon 8 Gen 1's improved power efficiency isn't going to make a significant difference on its own.
Improved Durability
While Samsung made significant progress in improving the durability of its previous foldables, we've heard that Galaxy Z Flip 3 devices are failing just a few months after purchase. While we can't back up these claims with personal experience, it's nonetheless alarming to hear of phones that don't last a year. Foldables still have a long way to go in this area.
Gapless Hinge and fast Charging
While Samsung may have been the first to introduce the foldable phone concept, Oppo has one-upped Samsung in one critical area: hinge design. The Oppo Find N's hinge is absolutely gapless. That means there's no gap between the panels at the hinge, which should keep the inside screens safe from dust and damage.
A gapless hinge is something we'd want to see on the Galaxy Z Flip 4 (and Galaxy Z Fold 4). Take a leaf from Oppo's playbook, Samsung.
The Galaxy Z Flip 4 should have at least 25W of power, which is what the Galaxy S22 has. (Wired charging for the Galaxy S22 Ultra as well as Galaxy S22 Plus is 45W.)
A Telephoto Lens
We'd like to see a telephoto lens added to the Galaxy Z Flip 4, even if it's only a 2x or 2.5x zoom. While there are trade-offs to be made when choosing a foldable phone, Samsung appears to be having a harder time justifying the loss of camera capabilities.
When is the Samsung Galaxy Z Flip 4 going to be available?
There hasn't been any official word from Samsung on the Flip 4, but we've heard some rumours about possible release dates, and we can look back at past versions for a general approximation. According to several news outlets, a Korean tech blogger stated on the country's social media site Naver that the new model will be released in the same manner as the previous versions.