Is the Galaxy S22 Ultra for people who value productivity and miss the Galaxy Note, or for those who adored the Galaxy S21 Ultra and its incredible camera? Is it for both, or a completely different group of people? The Samsung Glaxy S22 Ultra combines many of our favourite features from the Galaxy Note 20 Ultra and the Galaxy S21 Ultra, so being perplexed is understandable, but don't be. Consider this heavyweight technological powerhouse to be practically all the phone you'll need for the next few years, regardless of what you want to do with it, and you'll be fine. There's a lot to cover here, so let's get started.
Design
Samsung Galaxy S22 Ultra is a serious device, especially in the White colour. It's not as quirky or playful as the Galaxy S21 Ultra or its other S22 family members, the Galaxy S22 or S22+ phones, that also share no design similarities other than the fact that they're smartphones. With its flat end caps, sharp lines, and squared-off corners, it's all business. Its overall design is unmistakably influenced by the Galaxy Note 20 Ultra rather than the S21 Ultra.
It's the same height as the Galaxy S21 Ultra and Google Pixel 6 Pro, but it's several millimetres wider, and at 228 grams, it's one of the heaviest smartphones available. The sharply curved sides, the square corners that dig into your palm, and the nearly 9mm thick body all contribute to it not being the most comfortable phone to hold, especially with one hand. We probably never imagined that the Galaxy S21 Ultra, a massive phone, would be more hand-friendly than any sequel, but it is.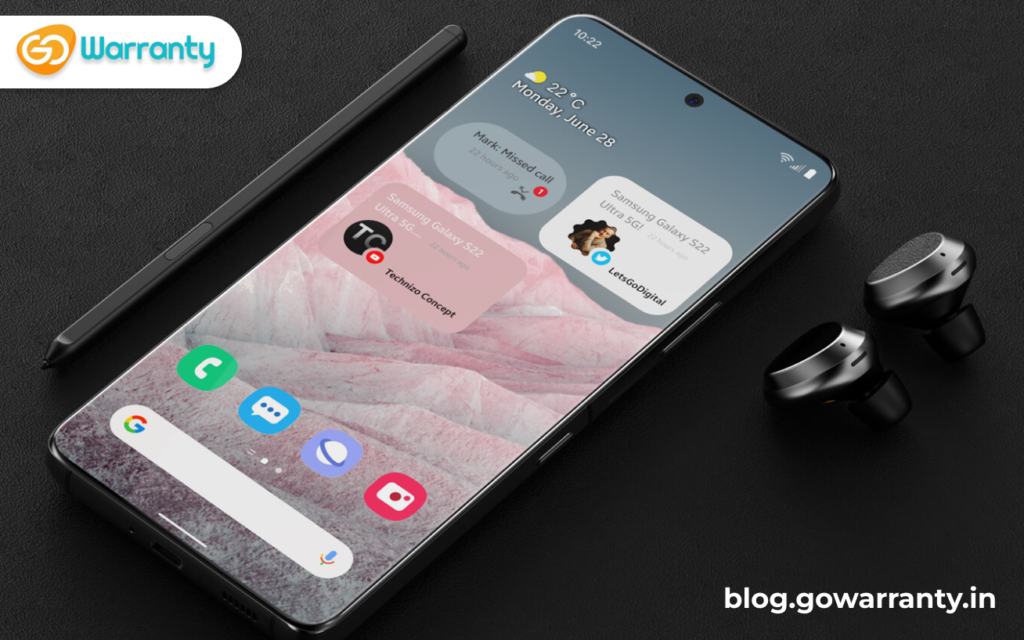 S Pen
The Samsung Galaxy S22 Ultra includes a S Pen stylus in a special storage slot on the phone's bottom, which is identical to the system used on the Galaxy Note 20 Ultra. The S Pen is also similar in shape, being small and thin, and not particularly comfortable to hold if you have large hands. It connects to the phone via Bluetooth and charges its internal battery when docked inside the phone. The latency of the S Pen has been reduced to 2.8 milliseconds, and it truly feels instantaneous. You can tell the difference when comparing it to the S Pen on the Galaxy Note 20 Ultra, which has a latency of 9ms.
Camera
This camera phone is still excellent. In fact, it's still one of the best camera phones available, but it's not a huge step up from the Galaxy S21 Ultra, or even the Galaxy Note 20 Ultra in some ways. Samsung has improved the 3x, 10x, and 30x zoom levels, providing more detail and more natural and accurate colours, but the main and wide-angle cameras perform similarly to their predecessors. I haven't encountered a situation where the Galaxy S22 Ultra's camera won't satisfy. The camera's main and wide cameras take beautiful photos with vibrant colours and excellent balance, as well as the newly updated portrait mode is very effective. The app is simple and easy to personalise, allowing you to quickly access the features you use the most.
Screen
The 6.8-inch Dynamic AMOLED screen on the Samsung Galaxy S22 Ultra has a refresh rate of 120Hz and a maximum resolution of 3088 x 1440 pixels. It supports HDR10+, has Gorilla Glass Victus+ protection, and a peak brightness of 1,750 nits. For comparison, most phones have a brightness level of around 1,000 nits. This is enabled by a feature called Vision Booster, which is designed to improve outdoor viewing, particularly in direct sunlight.
When viewed straight ahead, there isn't much of a difference; perhaps it's a little brighter with slightly crisper whites, but there is a noticeable improvement when viewed at an angle in bright conditions.
Software and Performance
I'm using the Galaxy S22 Ultra in the United Kingdom, which has Samsung's Exynos 2200 processor, whereas versions purchased in the United States have the Qualcomm Snapdragon 8 Gen 1 processor. The cheapest model has 8GB of RAM and 128GB of storage space, but we recommend at least the next model up, which has 12GB RAM and 256GB storage space. Since the phone does not have a MicroSD card slot, the only way to add storage is to use a cloud-based service.
Similarly, the software is unfazed. The phone runs Android 12 with Samsung's OneUI 4.1, which is fast and attractive, with logical settings and consistent notifications. I haven't had many bugs or problems, all of my apps have installed and worked properly, and I like the level of customization available.
Battery and Charging
The battery inside the S22 Ultra is rated at 5,000mAh, and while Samsung has equipped the phone with support for 45-watt fast charging, the relevant charging block is not included in the box. If you buy one from Samsung, it will cost you $50, but what if you use another charger? I used the $40 Elecjet X21GaN Pro charger, which supports the Power Delivery PPS standard required for Samsung's Super Fast Charging system to function. The phone's screen confirms that Super Fast Charging is enabled, and the S22 Ultra took 59 minutes to reach 100% capacity from 3%.
Price and Availability
The 8GB/128GB version of the Samsung Galaxy S22 Ultra costs $1,199. More storage costs $1,299 for a 12GB/256GB model, $1,399 for a 12GB/512GB model, and $1,599 for the top 12GB/1TB model. We recommend making a careful selection because there is no expandable storage space, so if you run out, you'll have to delete content or apps or transfer them to cloud storage. The phone is available in burgundy, green, and Phantom White. When you order from Samsung, you'll have the option of three additional exclusive colours: Sky Blue, Graphite, or Red.
GoWarranty's Extended Warranty Plan
Always get a trustable extended warranty when purchasing a television. Avoid low-cost extended warranties that provide poor service. Go Warranty's extended warranty plans are the best and most highly recommended. It is also endorsed by well-known YouTubers such as UdRawat. GoWarranty provides the best extended warranty services to ensure that your television runs smoothly. If you buy it for this television, you will receive a 5-year warranty plus an additional 4-year warranty.