The Canon imageCLASS MF743Cdw is a small or home office all-in-one colour laser printer. It is compatible with Canon's 055 toner cartridges as well as the 055 'H' high-yield cartridges. It has USB, Wi-Fi, and Ethernet connectivity options, and it supports NFC and USB flash drives. Also has a five-inch colour touch-screen display and an ADF scanner with extendable lid hinges, single-pass duplex scanning, as well as optical character recognition. This printer is part of Canon's imageCLASS MF740 and MF640 laser printer series, which includes several variants with slightly different features and overall performance. To know more, read the sections below.
Design
The build quality of the Canon MF743Cdw is excellent. It's entirely made of solid, sturdy-feeling plastic. The design is very user-friendly because it allows easy access to toner cartridges and paper jams, and the power cord is easily replaceable if it becomes damaged. Sliders in the input tray accommodate different paper sizes, as well as the scanner lid's hinges can extend to allow you to close the lid over thicker items such as books or manuals. In addition, the scanner lid remains open by itself.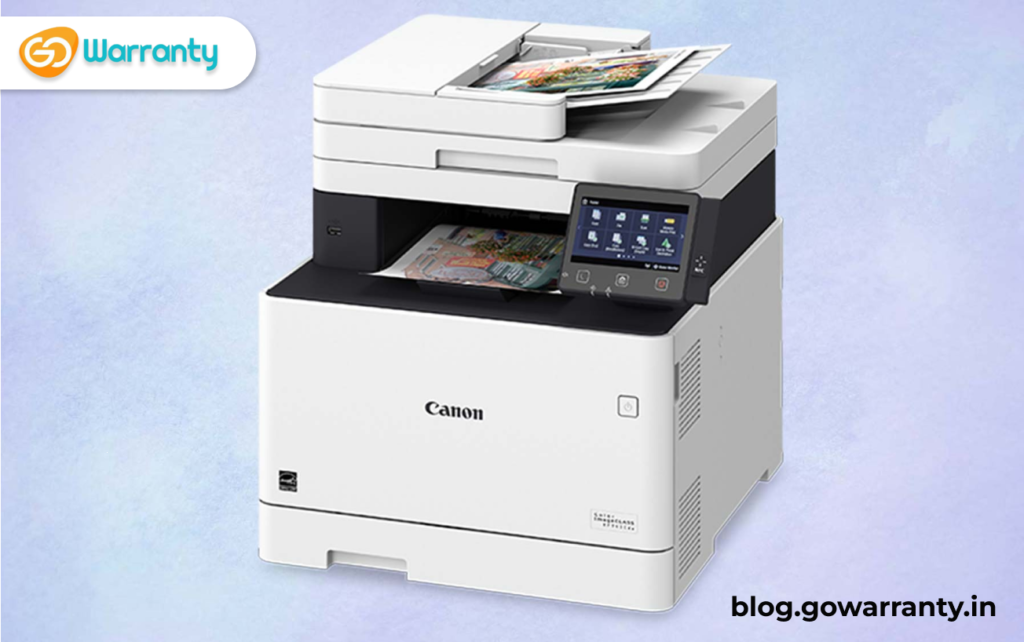 The Canon MF743Cdw is big and bulky. Furthermore, the display extends on the right side, making it impossible to press the printer flush against a wall on this side.
Display
The display is fantastic. It has a massive touchscreen with physical buttons on either side for various features. The screen responds quickly to touch commands as well as the user interface is responsive. The only disadvantage is that glare from bright ambient lighting may make it difficult to see. Canon MF741Cdw, MF644Cdw, MF642Cdw, and MF641Cw models lack an NFC module on the right side of the display.
Scanner Features
The Canon MF743Cdw has a powerful scanner. The hinges on the lid extend, allowing you to close the lid over thicker items such as textbooks and magazines. Because the feature isn't built into the printer, you can only scan documents into searchable PDFs using the Scanner MF Utility application. Unfortunately, when using the automatic feeder, the scan speed is quite slow, significantly less than the advertised 28 pages per minute. It scans the first few sheets quickly, but then slows down and waits between pages in a stack. Finally, while the scan resolution isn't as high as that of other printers on the market, it's sufficient for office use or casual photo scanning.
The scan quality is excellent. The text appears to be clear, and all of the finer details are present. The sole complaint is that the colours appear a little washed out.
Cartridge
Toner cartridges for the Canon MF743Cdw produce a large number of prints, so you won't need to replace them frequently unless you print regularly. Furthermore, because each cartridge contains an integrated drum unit, there is no need to replace the drum separately, which makes maintenance easier. Third-party cartridges can be used with the printer, but you must remove the chip out of the Canon toner and place it on the third-party cartridges for them to work.
Printing Speed
The Canon imageCLASS MF743Cdw prints quickly; it only takes a few moments to wake up from an idle state. Canon's MF746Cdw, MF745Cdw, and MF741Cdw models all perform similarly. The Canon MF644Cdw and MF642Cdw are a little slower, with print speeds of 22 black or colour pages per minute advertised. The Canon MF641Cw is advertised to print at a speed of 18 black or colour pages per minute and does not support duplex printing.
Colour
The colour gamut of the Canon imageCLASS MF743Cdw is limited. It is incapable of producing vibrant, saturated colours. It also has trouble with lighter red and blue shades, as well as darker green and yellow shades. Colour accuracy is adequate for a colour laser printer, but printed photos are grainy and lack detail, as is typical of laser printers.
This printer struggles to produce fine details. It prints at a low resolution as well as the printing pattern causes fine details to be lost. This printer is unable to print on glossy paper. Only plain, recycled, and coated papers, along with labels and envelopes, are supported.
Connectivity and OS Compatibility
The Canon imageCLASS MF743Cdw supports NFC, so you can connect by simply tapping your NFC-enabled device against the printer. NFC is also supported by the Canon MF745Cdw and MF746Cdw models, but not by the Canon MF741Cdw, MF644Cdw, MF642Cdw, and MF641Cw. All variants have the ability to print a USB flash drive.
Printing and scanning on Chrome OS and macOS devices do not require the installation of any drivers, whereas Windows devices do. Installing drivers on Windows devices can be difficult because administrator privileges are required. You must also ensure that no other Canon imageCLASS printer is connected to the computer, as the software can only detect the most recently used printer.
Mobile App
The Canon PRINT Business app is excellent. You can use it to print, copy, and scan using the camera on your smartphone. However, it has a few quirks that make it difficult to use. For starters, photos cannot be accessed via the app on Android devices. To print, go to 'My Files,' then select the photo and open it with Canon PRINT Business. Second, you must use the 'Image Correction' function on iOS devices before printing Word documents; otherwise, they do not print with the proper formatting. Third, on iOS devices, you cannot print an HTML file from the app.
Verdict
The Canon imageCLASS MF743Cdw printer is ideal for small and home offices. Due to its high-yielding toner cartridges as well as big input trays, it produces sharp documents, prints quickly, and requires little maintenance. The scanner has an automatic feeder with single-pass duplex scanning, but it's a little slow, processing only five sheets per minute. Its numerous connectivity options, including Wi-Fi, USB, and Ethernet, make it simple for everyone in the office to use.