The Asus ExpertBook B9450CBA-XVE75 (INR 1,49,999 as tested; up to INR1,99,999) is a 14-inch business laptop meant for on-the-go executives, priced to compete with premium business ultraportables such as the HP EliteBook 840 G9, Lenovo ThinkPad X1 Carbon Gen 10, and ThinkPad X1 Nano Gen 2. Its 2.2-pound magnesium alloy chassis is both durable and lightweight, and its combination of an effective Intel 12th Generation Core U-series processor (CPU) as well as a 66-watt-hour battery provides exceptional unplugged life. We like the Asus ExpertBook B9 design and portability, but it would be more useful if Asus replaced the 16:9 aspect ratio widescreen display with a modern 16:10 or 3:2 panel. In addition, the company's pedestrian webcam needs to be updated.
Design
The entry-level ExpertBook B9450CBA-XVE75 model reviewed here costs INR 1,49,999 and includes an Intel Core i7-1255U processor, 16GB of RAM, Intel Iris Xe integrated graphics, and a 1TB solid-state drive (SSD). The 14-inch non-touch display has a full HD (1,920-by-1,080-pixel) resolution and a brightness rating of 400 nits. The B9450CBA-XVE77 model, which costs INR 1,70,000 on Amazon, doubles the memory and storage to 32GB and 2TB, respectively.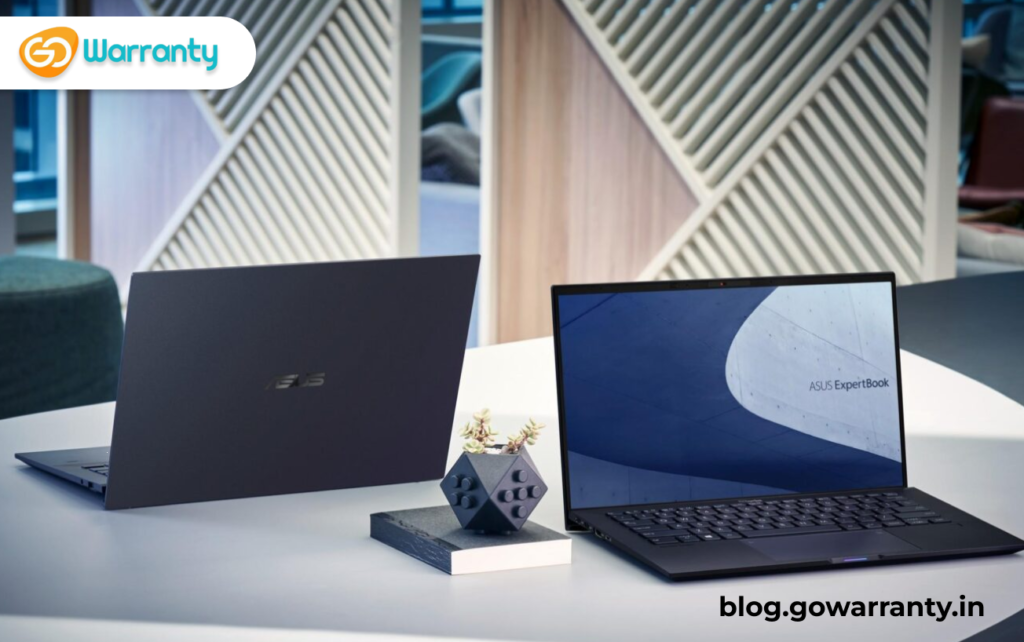 The ExpertBook B9, measuring 0.59 by 12.6 by 7.9 inches (HWD), is one of the lightest 14-inch laptops at 2.2 pounds, but its competitors aren't far behind: The 14-inch ThinkPad X1 Carbon weighs 2.4 pounds and has a slightly taller 16:10 display, whereas the HP Elite Dragonfly G3 weighs 2.2 pounds and has a squarer 13.5-inch screen with a 3:2 aspect ratio, which is arguably better for watching more of a document or webpage at once.
Webcam
Sharper 1080p cameras are now expected on all but the most basic laptops since the pandemic turned us all into Zoomers. A business laptop in 2023 should have at least a 1080p webcam, if not one of the 5- or 8-megapixel cameras offered by vendors such as HP. You'll appear fuzzy or grainy to your conference colleagues if you use the ExpertBook B9's 720p camera.
On the plus side, the webcam includes IR face recognition for Windows Hello logins, as well as a physical shutter to protect your privacy when not in use. The Asus also has a proximity sensor, which activates the system when you approach and locks it when you leave. A fingerprint reader located beneath the keyboard provides a second secure biometric login option.
Keyboard and Accessory Box
The keyboard is spacious and responsive, but its shallow travel falls short of the plush feel of a ThinkPad keyboard. The bottom edge of the display, that props the system at a slight typing angle, improves the overall typing experience. The accessory box as well as the rest of the ExpertBook's packaging have been created from 90% recycled pulp and paper sourced responsibly. By using recycled materials, responsible manufacturing processes, and carbon offsets, Asus claims the ExpertBook B9 is the world's first carbon-neutral business laptop.
Connectivity
Asus includes both USB Type-A and Type-C ports in the latest ExpertBook B9, allowing you to connect most peripherals or other devices without the use of an adapter. On the left side of the laptop, there are two USB-C ports with Thunderbolt 4 support, and one USB-A 3.2 port on the right. On the left, you'll also find a full-size HDMI port and a micro HDMI port, the latter of which can be used as an Ethernet port with the included adapter. Wi-Fi 6E and Bluetooth 5.2, the most recent wireless standards, are also supported. Finally, Asus includes a carrying case made of imitation leather in the box.
Testing
The Core i7-1255U in our ExpertBook B9 is part of Intel's "Alder Lake-U" series of power-efficient 15-watt mobile processors. It is equipped with two Performance cores, eight Efficient cores, and 12 processing threads. We compared the Asus to a group of similarly sized business laptops with 12th Generation CPUs from both the U-series and the 28-watt P-series, all of which were previously mentioned:  the HP EliteBook 840 G9, the HP Elite Dragonfly G3, the Lenovo ThinkPad X1 Nano Gen 2 as well as the Lenovo ThinkPad X1 Carbon Gen 10.
Graphics Test
We put two DirectX 12 gaming simulations from UL's 3DMark to the test: a comparatively modest Night Raid (suitable for laptops with integrated graphics) as well as the more demanding Time Spy (suitable for gaming rigs with discrete GPUs). We also run two GFXBench 5 tests, which stress both low-level routines like texturing along with high-level, game-like image rendering.
Battery and Display Test
The battery life of the ExpertBook will raise an eyebrow, especially if your job frequently takes you out of the office and away from AC outlets. It outlasted the other four laptops in our video rundown, lasting nearly 16 hours and ensuring that you can get through even the longest workday along with some after-hours Netflix or YouTube.
In terms of colour fidelity, the Asus proved to be right on par with its competitors. Again, creative media professionals will want more Adobe RGB and/or DCI-P3 gamut coverage, but the ExpertBook will suffice for general productivity apps. In terms of brightness, the system finished near the bottom of the pack, falling short of the 400 nits advertised by Asus but still satisfactory. It's important to note that the display is noticeably brighter than its competitors at Windows' 50% brightness setting, which speaks to its impressive battery life.
Verdict
The Asus ExpertBook B9 has some appealing features. We like its thin and light magnesium alloy chassis, as well as its long battery life. When shopping for a business laptop, portability, durability, and a long battery life should be top priorities. The ExpertBook, on the other hand, has been using the same design for quite some time, its 16:9 widescreen display and generic 720p webcam are clearly showing their age. Let's hope Asus updates the system to put it back in the top ranks of business lightweights in 2024.