Dyson is well-known in the vacuum industry for producing high-quality products that incorporate cutting-edge technology. However, with so many options to choose from and potentially steep price tags, it can be difficult to determine which Dyson model is best for you. The Dyson V15 Detect, one of the brand's higher-end cordless vacuums, clearly stood out in our rigorous testing processes, thanks to its consistent performance, surprisingly useful technology, and ability to pivot from hard floors to carpets or rugs. Not only that, but the Dyson V15 Detect was also named in the list of the best vacuums for pet hair on the market.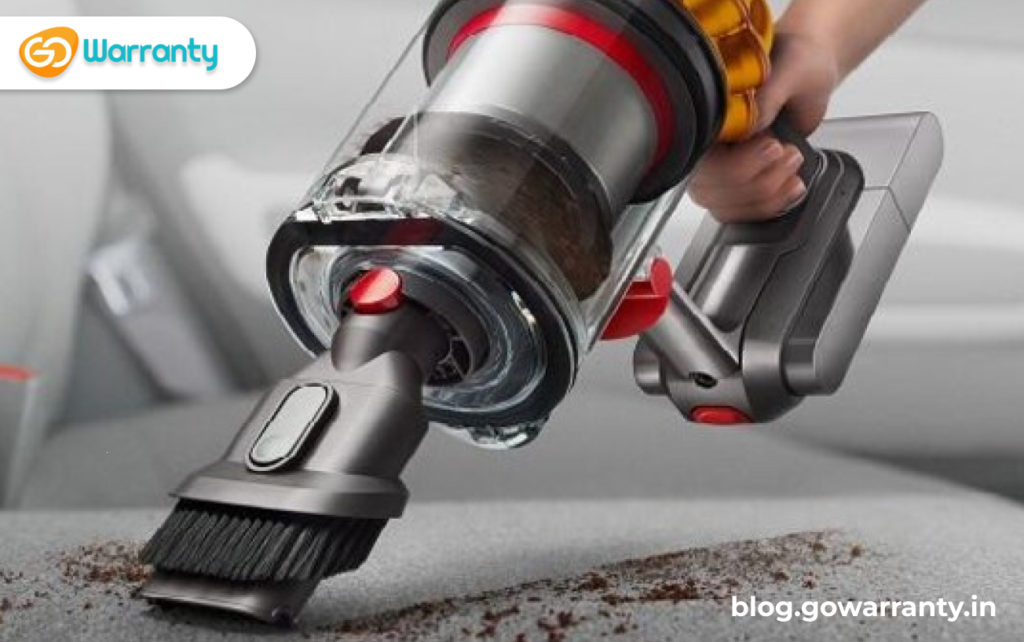 While the V15 is more expensive than the other models we tested, it comes with a slew of useful accessories that allow you to use it on floors, furniture, and other surfaces. This vacuum cleaner weighs less than seven pounds, making it easy to transport and store. It's powerful enough to clean large homes as well as large dirt piles. The icing on the cake: this cleaner has a unique laser feature that makes cleaning up hidden dirt and dust easier than with any other model. To decide what to test, I looked into the best-rated Dyson vacuums and chose the top seven to compare.
The Dyson V15 Detect Extra cordless vacuum cleaner is priced at INR 65,900 in India and is available in Prussian Blue and Bright Copper at the company's official website and offline stores.
Dyson 15 Detect Features
Consistent Performance
The V15 Detect, like the majority of the other Dyson vacuums I tested, comes with two heads: one with a fluffy roller for hard surfaces and one with a hair removing tool for rugs and carpet. It also easily converts to a hand vac, as do all Dyson cordless models. The cleaner easily sucked up every type of debris from all of the surfaces I tested as long as I used the correct head. Nothing, including pet and human hair, got stuck in the roller, and I never had to push the cleaner across a surface multiple times in order to clean up a mess. Other models, by comparison, required two to three swipes per mess to complete the task.
Cleaning Technology That Makes Life Easier
This vacuum's Detect technology, which displays a green light in front of the vacuum head, has made it easy to see tiny dust particles that would otherwise be missed on hard floor surfaces. (This technology is also available in the Outsize+ and V12 models.) I wasn't sure if the feature would be useful at first, but after using it, I don't want to go back to using a vacuum without this technology.
Battery-Saving Feature
The V15's battery-saving feature is also interesting. Although cordless vacuums are known for their convenience, many users complain about their short battery life.The Dyson V15 Detect is designed to save battery life by automatically adjusting suction power when it detects different-sized particles. This was something I noticed during testing as well. The vacuum became quieter as I vacuumed dust or hair, and louder and more powerful as I vacuumed Cheerios and rice. The cleaner performed consistently in each case, and it was great not to have to worry about draining the battery unnecessarily as I cleaned.
Power and convenience in one package
You should not worry about choosing between power and convenience with the V15 Detect, even though it's cordless and lightweight. Corded vacuums are typically more powerful, but you are limited by the length of the cord. Furthermore, they do not require recharging, allowing you to cover more ground. Although cordless models are much more convenient because they are lightweight and easy to push, their batteries may not last long enough to clean larger homes or heavy messes.
Display
The Dyson V15 Detect laser screen displays a little information. First, it displays your cleaning mode: Eco, Auto, or Boost. It then displays how much battery life is left. Finally, it shows a detailed graph that shows exactly what you're sucking up. The size of the debris being collected is represented by each bar on the graph, which ranges from allergens and hair to microscopic dust and skin flakes.
Comparison of the Dyson V15 Against Other Dyson Vacuums
Many of the Dyson vacuums I tested were powerful, as well as lightweight and simple to use. This vacuum cleaner did the best job of combining these characteristics. The Dyson V15 was the most versatile cleaner I tested, consistently performing on a wide range of debris sizes and surfaces. It worked best on hardwoods, but it also worked well on carpet with the right head. If you're looking for a less expensive one and have mostly carpeting in your home, just buy a simpler model that lacks hard floor technology (such as the Dyson V8 Absolute).
Detect Technology
The Detect technology was the icing on the cake as well as a major reason why this vacuum won my heart. I was able to get a more thorough cleaning with the Dyson V15 Detect in my testing because I could easily see particles I'd otherwise miss. Two other vacuums I tested had this technology, but the combination of performance and ease of use made this vacuum the winner. The Dyson V15 is a more than worthwhile investment due to its excellent performance across all use cases.
HEPA filtration is available on Dyson's V15 Absolute model. The Dyson V15 Detect, on the other hand, lacks a HEPA filter. Whole-machine filtration is standard on all Dyson vacuums, and it captures 99.97% of particles as small as 0.3 microns. HEPA is widely regarded as the gold standard in filtration, and Dyson has always used HEPA-grade filters though not all of its vacuums are labelled as such.
Should you buy it?
The Dyson V15 is the brand's most expensive cordless model, so it will be costly. If you're willing to spend some money on a vacuum, this model proved to be the most powerful as well as enjoyable to use in our tests, and it could easily replace multiple vacuums, including a corded and hand vacuum.