The Canon EOS R50 is a compact mirrorless camera aimed at users who want something more than a smartphone. It has a 24 megapixel sensor and Canon's new 'RF' lens mount. The Canon EOS R50 is the company's most affordable RF mount camera, priced below the slightly larger R10, which looks and feels more like one of the company's successful Rebel series DSLRs. The body-only version will cost around $679.99. A kit with the retractable RF-S 18-45mm F4.5-6.3 IS STM will cost around $799.99, while a two-lens kit with the new 55-210mm F5.0-7.1 will cost around $1029.99.
Body and Handling
Despite the large RF lens mount on the front, the EOS R50 is surprisingly small. The grip is quite small (I found myself wrapping my fingers across it at a 45-degree angle rather than trying to grasp it straight on), but it is adequate for the camera's size and weight, especially with compact lenses. If you want to use the camera in the more hands-on P, A, S, or M modes, there's a dial on the top of the camera that you can use, but it's underutilised. This is due to the camera's touchscreen-centric user interface.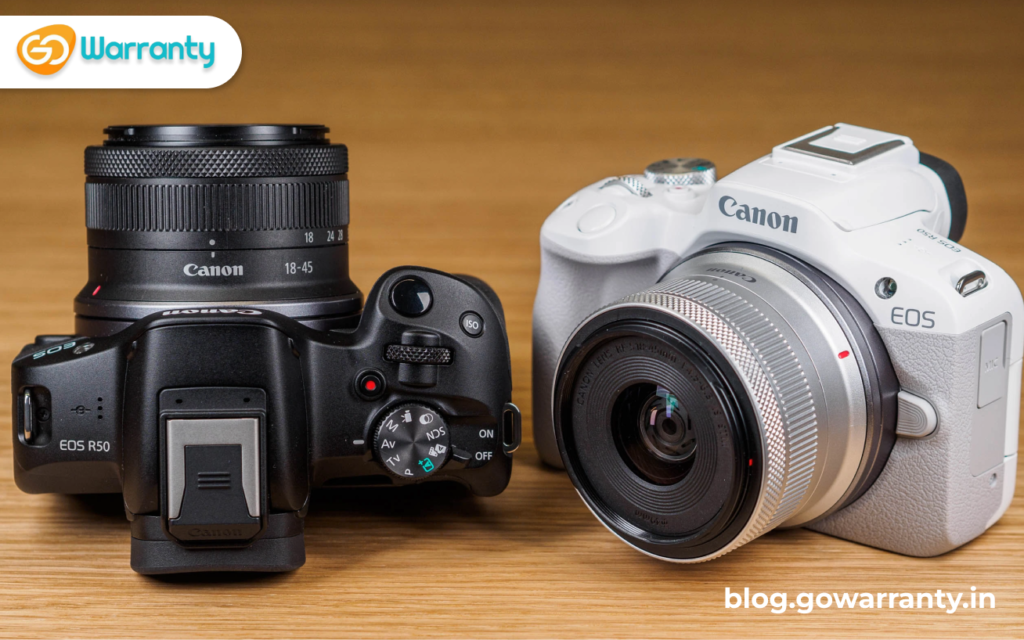 The R50, like previous Canons, will display a screen that explains the mode you've just selected or the feature you've just activated to help you understand when it's applicable. These explanation splash-screens can be disabled if you prefer, or once you've become familiar with the camera.
Autofocus
The autofocus system on the R50 is probably its most appealing feature. It's a simple but effective system that combines a variety of subject recognition modes with tenacious tracking. In many cases (especially with people), you can simply point the camera where you want it to focus and it will track whoever or whatever you pointed at.
The R50 has been specifically trained to recognise people (eyes, faces, and heads), animals (specifically dogs, cats, birds, and horses), and vehicles (motorsport cars and bikes, trains and aircraft). There's also a 'Auto' mode that will attempt to determine which of these subjects is in front of the camera.
Burst Shooting
The R50 can capture clips at up to 12 frames per second using its electronic/mechanical shutter mode, as well as 15 frames per second in fully electronic mode (with the risk of moving subjects appearing blurry if there is too much lateral movement). It can only capture 42 JPEG images per burst, but it's fast enough to capture fleeting moments if you can anticipate them.
A+ Advanced Auto
As part of its beginner-friendly A+ auto mode, the EOS R50 includes Creative Assist mode. This uses a touchscreen interface to allow you to adjust most of the camera's key parameters, which are expressed in terms like 'Brightness' and 'Colour' rather than technical jargon. It works well, but it would be useful to assign one of its functions to the command dial instead of having to use the touchscreen interface every time.
Furthermore, the R50 gains a 'Advanced A+' option, which increases the level of automation even further. To overcome these challenges, Advanced A+ will automatically shoot four shots as well as combine them into a single JPEG if it detects a scene that is too dark, has too much contrast, or would benefit from more depth-of-field. For years, we've seen modes like this in other cameras, but none capable of evaluating and selecting one of three multi-shot modes for different scene issues.
Video
The EOS R50 is capable of recording 4K video at up to 30 frames per second. This footage is made up of all 6000 horizontal pixels on the sensor and should be extremely detailed. The use of the entire width of the sensor eliminates the need for awkward cropping and should result in better low-light performance. If you have an HDR TV, the EOS R50 will allow you to shoot stills and video that make photos with bright highlights look more vibrant and realistic. As you'd expect from a camera of this calibre, there's a microphone jack but no way to connect headphones.
Battery
The EOS R50 is powered by the same LP-E17 battery found in Canon's other small ILCs. It has a 7.5Wh battery, which isn't much for a mirrorless camera. It'll suffice for quick snaps as you go about your day, but if you devote any length of time to photos or video, there's a chance you'll be confronted with a flashing red battery warning.
In standard ('Smooth') mode, the camera is rated to deliver 370 shots per charge when using the LCD but only 230 shots when using the viewfinder. As is customary, CIPA-standard figures can significantly underestimate the number of shots you're likely to get, typically by a factor of two, depending on your shooting style. Energy saver mode increases the number of shots to 440 and 310, respectively.
Thankfully, the R50 can be charged using a USB PD (power delivery) charger, making it simple to keep charged if you're returning to a car or hotel room or carry a modern power bank with you (though not all in-car USB sockets would be powerful enough to charge it, so you may need to use a power bank).
Verdict
The EOS R50 is yet another (understandable) attempt by camera manufacturers to create a camera that appeals to users whose primary experience with photography is through their smartphone. The existing M50 sold well, so it makes perfect sense that Canon would try to migrate those customers to its newer RF lens mount so that it doesn't have to support multiple lens lineups in the future.
And the R50 does a good job of taking appealing photos with little user intervention. It provides a user interface that is both simple to use and attempts to guide the user as they make adjustments.