Canon is a well-known brand in the photography and printing industries. They have a large catalogue of cannon printer to meet the needs of both general consumers and businesses, with their most popular lines being the PIXMA and imageCLASS lines. They manufacture both inkjet and laser printers, in colour and monochrome, and offer a wide range of price points. Due to their expertise in photography, their printers are frequently the first choice for both casual and professional photo printing.
Best Printer- Canon imageCLASS MF743Cdw
The Canon imageCLASS MF743Cdw is the best Canon printer we've tested. This laser printer has numerous features to meet the majority of office requirements, including high page yields and fast printing speeds. Despite its size and bulk, it feels incredibly well built, with a design that allows easy access to toner cartridges and paper jams. You can print from a USB flash drive or connect to the printer via Wi-Fi, USB, or Ethernet. There's even NFC support, which lets you connect by simply tapping your NFC-enabled device against the printer. It has a scanner with an ADF and single-pass duplex scanning capability, allowing you to easily digitise multi-page and double-sided documents. It isn't the fastest scanner, processing only five pages per minute, but it beats manually scanning each page.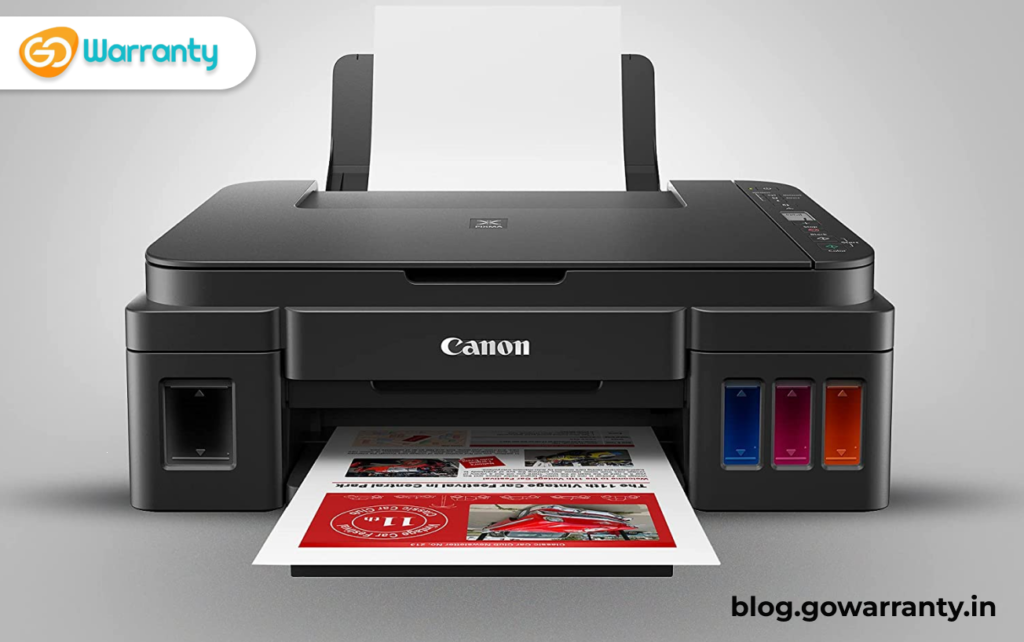 It produces exceptionally sharp documents and prints at speeds of up to 29 pages per minute. Because the toner cartridges are good for around 3000 black and 2000 colour prints, they don't need to be replaced as frequently, making the printer inexpensive to maintain over time. Furthermore, the drum is built into the cartridge, making maintenance easier. It isn't ideal for photo printing because the results are grainy, flat, and lack detail, but this is true of most laser printers.
Best Upper Mid-Range Canon Printer- Canon PIXMA G7020
If you don't need all the bells and whistles of an expensive model like the Canon imageCLASS MF743Cdw, the Canon PIXMA G7020, one of the best Canon all-in-one printers we've tested, is a good option. It's an excellent choice if you want to keep your maintenance costs low because it has a refillable ink tank that produces a large number of prints, approximately 5400 black and 4700 colour. Furthermore, the ink bottles are inexpensive, so you won't have to worry about high maintenance costs if you print frequently. It produces high-quality black and colour documents; however, it is a little slow, printing only eight black or three colour pages per minute. It has a wide colour gamut and produces images with fine details. It doesn't have the best colour accuracy, but it's not so bad that photos look unnatural or bad.
It has excellent overall build quality, and its design allows for easy access to the ink tanks and paper jams. It does necessitate a little more upkeep than laser printers, as the printheads can clog shortly after extended use, and refilling the tanks can be messy if you're not careful. Although the scanner has an automatic feeder, it can only process four pages per minute and does not support duplex scanning. It has the standard Wi-Fi, USB, and Ethernet connectivity options, and it works with Canon's mobile app.
Best Mid-Range Canon Printer- Canon PIXMA TR8620a
The Canon Printer PIXMA TR8620a is our top mid-range pick. It's an all-in-one colour inkjet printer with enough features to meet the needs of every family member. It has a decent build quality and a variety of connectivity options, such as wireless printing via Wi-Fi, Apple AirPrint, as well as Mopria Print Service, which makes it easily accessible to everyone in the household. The lid of the flatbed scanner can be slightly extended to accommodate thicker books and documents, and there is an automatic document feeder to help with scanning long documents. It also has optical character recognition, which allows you to scan documents into text files, allowing you to edit the text.
In terms of printing quality, it can produce high-quality photos with fine details and vibrant colours. It has a low black page yield, so you'll have to replace the black ink cartridge frequently, but it has a high colour page yield, as it can print over 300 colour pages before the ink runs out. Because the ink cartridges are inexpensive, it is not expensive to maintain. It has an adequate printing speed, producing approximately 12 black and white or four colour pages per minute and supporting automatic double-sided printing. Overall, it's a versatile all-in-one printer that ranks among the best Canon printers for home use we've tested.
Best Budget Canon Printer- Canon PIXMA MG3620
We recommend the Canon PIXMA MG3620 if you are on a tight budget. It's a straightforward inkjet printer with a flatbed scanner, Wi-Fi and USB connectivity, as well as a two-cartridge system. However, it still produces high-quality documents and photos, so if you're simply looking for a printer for the occasional one-time project, this printer will suffice. The scanner produces high-quality scans as well; however, it lacks an automatic feeder and fax functionality.
The main disadvantage of this printer is its low page yield. Its black and tri-color cartridges only produce about 200 black and colour prints, requiring frequent replacement. Maintenance costs aren't an issue because ink cartridges are inexpensive; rather, it's an inconvenience because it requires a lot of maintenance, which means you may have to interrupt print jobs to change the cartridges. Furthermore, because it uses a tri-color cartridge, you must replace the entire cartridge if only one colour runs out, which is wasteful. Again, it's a good option if you only print once in a while, but if you print frequently, a printer with higher page yields, such as the Canon PIXMA G7020, is preferred.
Conclusion
Canon is one of the leading printer manufacturers. They're also one of the best, if not the best, for photo printing; given their long history in photography, this comes as no surprise. They have a large selection of printers at various price points, so you can easily find what you need.