The Apple TV 4K 2022 will provide more upgrading power and better picture quality at a lower price. While the latest version of Apple TV has always been one of our top picks for the best streaming devices, its high price tag has deterred many customers. The Apple TV 4K 2022 may now cause some to reconsider. Despite rumours of a new streaming device on the way, we were sceptical that Apple would release a new box anytime soon, given that the Apple TV 4K (2021) was only released last year. That was the first change in four years.
The Apple TV 4K (3rd generation) is "more powerful, entertaining, as well as affordable than ever before, with impressive cinematic quality," according to the company. The two significant improvements are a new A15 Bionic chip for faster performance and HDR10+ support. This model, like the previous one, comes with a redesigned, much improved Siri Remote. Of course, it runs on the elegant tvOS interface and integrates seamlessly with other Apple devices.
Price and Availability
The Apple TV 4K 2022 is available in two cheaper configurations than last year's model. Apple TV 4K 2022 (Wi-Fi) costs $129/£149/AU$219 and has 64GB of storage. The Apple TV 4K 2022 (Wi-Fi + Ethernet) has 128GB of storage, a Gigabit Ethernet port, and the Thread mesh networking protocol for more reliable streaming. It is priced at $149/£149/AU$249 Previously, the Ethernet port was included as standard.
Both options are now available for pre-order and will start shipping on Friday, November 4.
Design and Specifications
The Apple TV 4K (3rd generation) looks exactly like the previous generation — a sleek, black square with a discreet Apple logo on top, ports on the back, and a tiny light on the front to indicate power is on.
On the inside, things are different: A new A15 Bionic chip, a significant upgrade from the A12 chip in the second generation version. Apple claims that the Apple TV 4K 2022 is more powerful than the 2021 model, with CPU performance increasing by 50% and GPU performance increasing by 30%. Opening apps, navigating tvOS, and playing games should all be lightning fast.
The company is touting its environmental efforts, highlighting the Apple TV 4K 2022's energy efficiency. It consumes nearly 30% less power, and the 15 Bionic chip does not require an internal fan. The new generation device includes 100% recycled gold plating on multiple printed circuit boards, 100% recycled tin solder, and 80% recycled aluminium in the thermal module. The Siri Voice Remote's case is made entirely of recycled aluminium. Apple TV 4K 2022 contains no mercury, BFRs, PVC, or beryllium.
The outer plastic wrap has been removed from the new packaging, and over 90% of the packaging is fiber-based, bringing Apple closer to its goal of eliminating plastic from all packaging by 2025.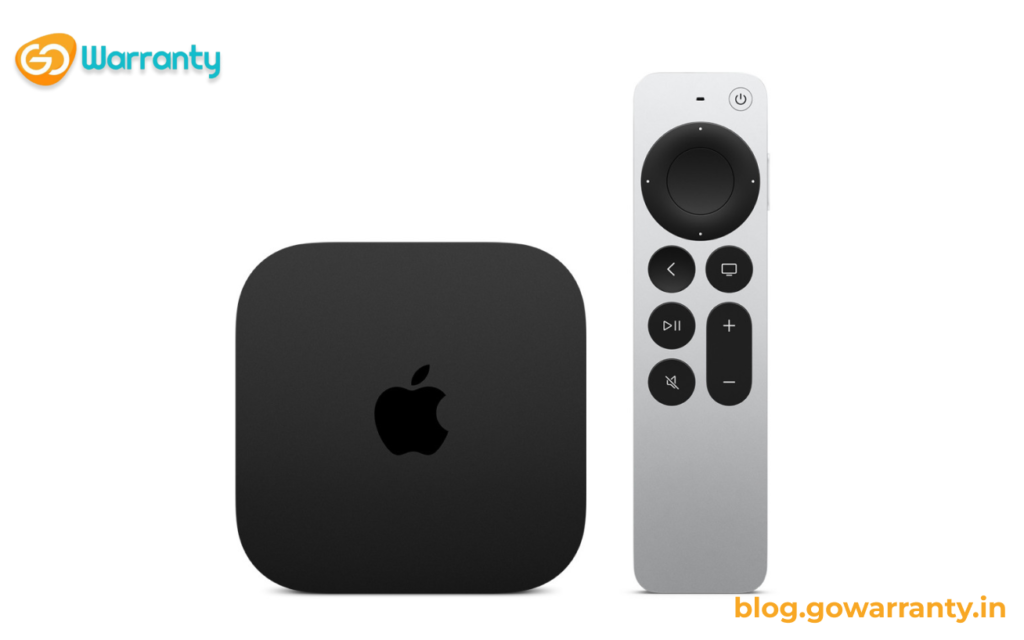 Features
The Apple TV 4K 2022 now supports HDR10+ in addition to Dolby Vision. Not all content will be available in HDR10+ or Dolby Vision, but those that are will be brighter and more vibrant, with a wider range of colours and greater contrast. Support for Dolby Atmos, Dolby Digital 7.1, or Dolby Digital 5.1 surround sound is carried over from the previous generation model for an immersive audio experience.
As is customary with Apple products, the new Apple TV 4K integrates seamlessly with the rest of the Apple ecosystem. The box can function as a smart home hub, connecting to HomeKit cameras, lights, shades, and other devices. It is also compatible with Matter, a smart home connectivity standard which allows accessories to communicate across platforms.
Of course, the Apple TV 4K runs the most recent version of tvOS, which is one of our favourite interfaces due to its simplicity and elegance. Apple apps such as Apple TV Plus, Apple Music, Apple Arcade, and Apple Fitness Plus are easily accessible, as are thousands of third-party streaming apps such as Netflix, HBO Max, and Disney Plus.
Remote
The Apple TV 4K 2022, like the previous generation, comes with a redesigned Siri Remote. It was without a doubt our favourite aspect of the 2021 upgrade. It's a slim silver rectangle with black buttons, including a clickpad and jog wheel. A button on the side activates Siri, allowing you to control the device with voice commands. The Lightning cable is used to charge the remote. The Siri Remote is included with either configuration of the Apple TV 4K 2022 and is also available for purchase separately for $59.
Apple TV 4K (2022) vs Apple TV 4K (2021)
The new Apple TV 4K (2022) will replace the still-relatively-new Apple TV 4K (2021), and it will do so with a lower price and a few tweaks here and there. But how does it compare to the previous model? Unlike some of Apple's other products, streaming devices do not come and go on a yearly or biannual basis. However, the new Apple TV 4K (2022) is aimed at both new and existing users.
Apple's pricey streaming device is no longer as clearly overpriced as it once was, thanks to a $50 price drop and an upgrade in internal storage. You also get the A15 Bionic chip for faster performance and HDR10+ support for better picture quality.
Differences in Design and Ports
The new Apple TV 4K (3.7 x 3.7 x 1.2 inches) is slightly smaller than the 2021 Apple TV 4K (3.7 x 3.7 x 1.2 inches) (3.9 x 3.9 x 1.4 inches).
One unexpected change is that the Apple TV 4K's Gigabit Ethernet port is only available on the more expensive model, the $149 128GB Apple TV 4K. This Ethernet-equipped model includes Thread networking support, which was present in all 2021 models. Smart home devices that adhere to the Matter standard will be compatible with the new Apple TV 4K. (2022).
Performance
The Apple TV 4K (2022) is powered by the A15 Bionic processor, which Apple claims allows for up to 50% faster CPU performance, resulting in snappier responsiveness as well as smoother interface animations. Oh, and you can expect up to 30% faster GPU performance if you use Apple Arcade on the Apple TV 4K.