There's something about using the Samsung Galaxy Z Fold 4 that makes it feel more powerful and productive. Perhaps it's the new taskbar, which makes multitasking easier, or the ability to run apps in parallel and drag and drop content between windows.
I also like the large 7.6-inch main display, which is now brighter and has slimmer bezels and there are more apps designed for the Z Fold 4's large canvas. Furthermore, the 6.2-inch cover display is larger and easier to use. Other enhancements include a 50MP primary camera. However, despite the thinner hinge and lighter device, this is still a very thick and heavy phone that makes me feel a little less powerful after a while.
Price
The Samsung Galaxy Z Fold 4 is now available in stores, with a starting price of $1,799 for 256GB of storage, which can be upgraded to 512GB or 1TB. The 512GB model costs $1,919, while the 1TB model costs $2,159.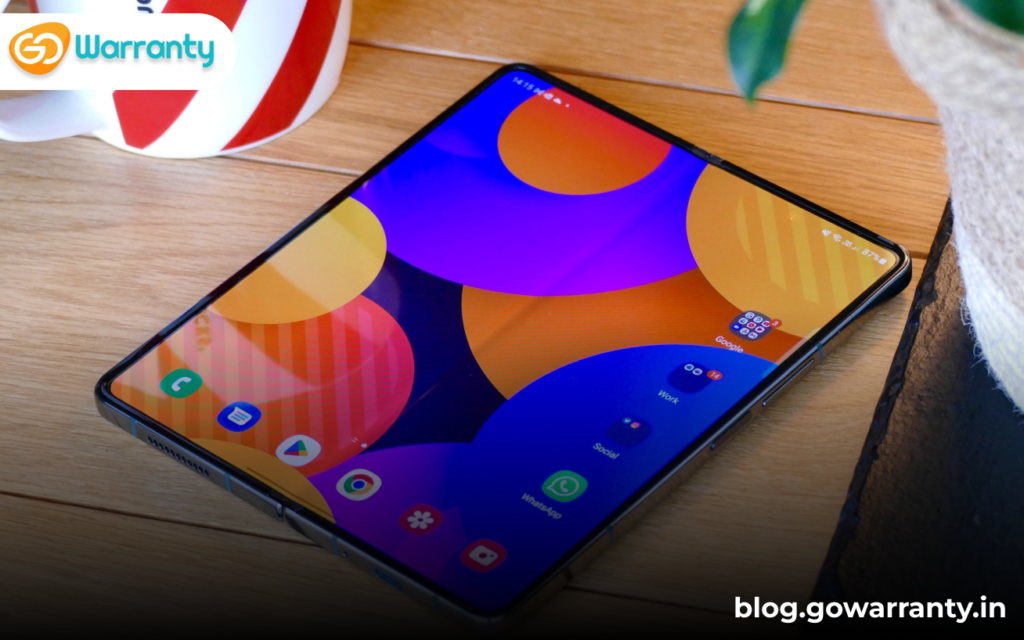 Design and Colours
The first thing about the Galaxy Z Fold 4 is that the front display isn't as squished as it used to be. This is due to the fact that it has a larger aspect ratio than the Galaxy Z Fold 3. This makes the 6.2-inch panel easier to use with one hand and, frankly, makes using the cover screen for things like checking notifications as well as quickly responding to messages more comfortable.
The Galaxy Z Fold 4 is slightly less bulky and heavy this time around, but only marginally. This is due in part to Samsung's slimmer hinge. The Fold 4 weighs 9.28 ounces, compared to 9.55 ounces for the Fold 3.
Grey Green, Beige, and Phantom Black are the colour options for the Galaxy Z Fold 4. However, a special Burgundy colour will be available through Samsung.com.
Display
The Galaxy Z Fold 4's main display remains a beast at 7.6 inches, but Samsung has increased the brightness while sustaining the 120Hz adaptive refresh rate. When watching a trailer for Thor: Love and Thunder, this OLED panel looked vibrant. The 6.2-inch cover display also has a smooth 120Hz refresh rate (scaling down to 48Hz), but it's now 3mm wider, so you won't feel as claustrophobic with the screen closed. I had no trouble typing on the front panel, which, if you think about it, could help you save battery life if a larger screen is not used.
Software
The software is one of the biggest improvements with the Galaxy Z Fold 4, thanks to the new Android 12L operating system. This version of Android is intended for large-screen devices, such as foldable phones. To facilitate multitasking, a new Taskbar appears at the bottom of the Galaxy Z Fold 4's display and automatically displays your recently used apps. You can also change which favourites appear on the taskbar by rearranging the main home row on the home screen.
Flex mode has also been improved with the Galaxy Z Fold 4, which places app content on top and controls on the bottom when the screen is folded in half. Samsung is collaborating with a number of developers, including Google Meet, Microsoft Teams, and Zoom, to improve the usability of the foldable display.
Cameras
When it comes to cameras, the Galaxy Z Fold series is no longer a move behind the Galaxy S series. It addresses the one flaw I have with foldables and has a camera that competes with the likes of the iPhone 13 Pro Max. The Fold 4, in fact, employs the same camera system as the Galaxy S22 and Galaxy S22 Plus.
It begins with a 50MP main camera with a 23% brighter sensor, which should result in better indoor images. A 12MP ultra-wide camera as well as a 10MP telephoto lens with 3x optical zoom and 30x Space Zoom are also included. The phone has a 10MP selfie camera on the front, and a 4MP sensor on the right side of the 7.6-inch display.
Performance
The new Snapdragon 8 Plus Gen 1 chip and 12GB of RAM power the Galaxy Z Fold 4. The default storage capacity is 256GB, but this can be increased to 512GB or, more recently, 1TB. So far in my testing, the Galaxy Z Fold 4 has been snappy and responsive, but I've had a couple of instances where an app has stopped responding while running side by side.
Gaming performance has been excellent. In the Asphalt 7 racing game, I enjoyed turbo boosting and performing 360-degree turns, and having a large display allowed me to appreciate finer details such as splashes of water hitting my car.
Last but not least, using the Adobe Premiere Rush app, the Galaxy Z Fold 4 transcodes a 4K video to 1080p just a hair faster than the Galaxy S22 Ultra (45 seconds vs 47 seconds). The iPhone 13 Pro Max took only 25.1 seconds.
Battery
This was one of the concerns I had about the Galaxy Z Fold 4. It has the same 4,400 mAh battery capacity as the Galaxy Z Fold 3. On our web browsing test, the Galaxy Z Fold 3 lasted only 7 hours and 52 seconds in 60Hz display mode as well as 6:34 in adaptive mode.
The good news is that in our testing, the Galaxy Z Fold 4 lasted longer on a charge, but the results were inconsistent. We saw an average of 9 hours and 28 minutes in standard mode (60Hz). With adaptive mode enabled, that time was reduced to 8 hours and 19 minutes.
The Galaxy Z Fold 4 supports fast charging, which should get you to 50% in 30 minutes, as well as fast wireless charging and Wireless PowerShare for charging your Galaxy Buds Pro 2 or Galaxy Watch 5.
Verdict
The Samsung Galaxy Z Fold 4 is a worthy successor to the best foldable phone. And I can see myself ditching my current smartphone in favour of this beast. It can multitask like no other phone, and the latest Fold versus Phone simply allows me to get more done in less time.