The INR 24,999 Moto G Power 5G marks an important moment for Motorola's perennial value-priced phone. After years of emphasising battery life above all else (sometimes lasting up to three days), the new phone's qualities revolve around its screen, 5G compatibility, and internal specifications.
Moto G Power Overview
The Power 5G is the most affordable phone with a 6.5-inch 120Hz refresh rate screen, 256GB of internal storage, and 6GB of memory that I've seen. As a result, it is a media powerhouse that can easily house your music library, downloaded Netflix movies, and games.  Even though it's no longer the phone's main selling point, the 5,000-mAh battery on the Moto G Power 5G can still last about a day and a half with heavy use, or two days with light use.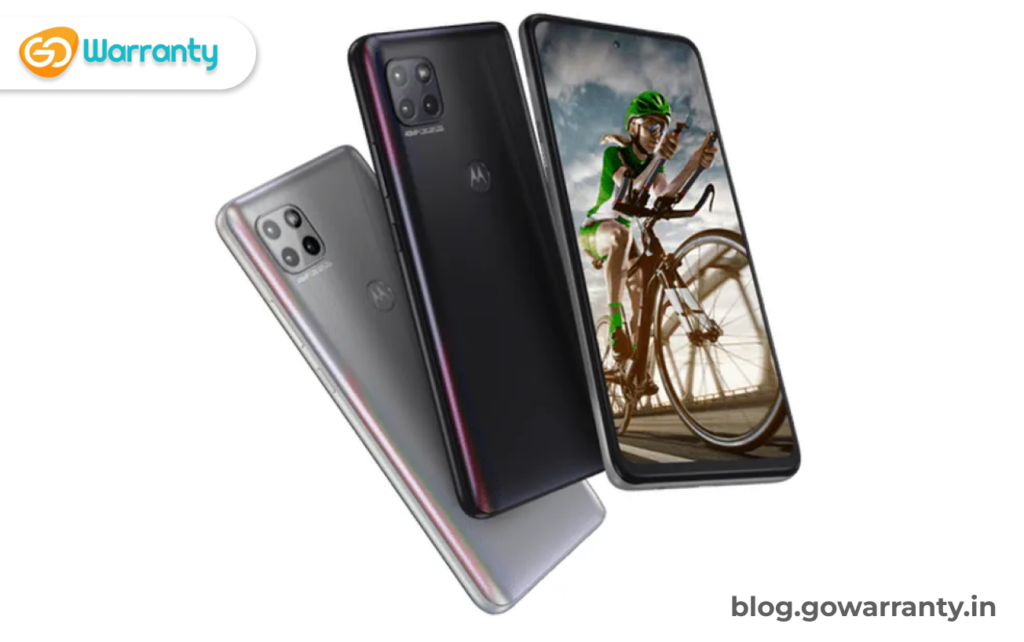 Unlike many phones under 24,999, the Moto G Power works on all three major carriers and runs a lightly skinned version of Android 13. However, it lacks NFC for mobile payments and has a camera that struggles to capture much detail. This latter omission is particularly noteworthy given that contactless payment is a standard feature in this price range. The Power 5G, like other Moto G phones, receives one major software update and three years of security updates. The phone also comes with a few bundled apps that are forcibly installed during setup, such as TikTok , but they are simple to remove if you don't want them.
If you can live with those compromises, the Moto G Power 5G is still a very capable phone for the price just don't expect it to replace your camera.
Design
The Moto G Power 5G has a simple, average-looking design. It has two plastic body colours: Mineral Black and Pearl White. The 6.5-inch display has a 1080p resolution, a refresh rate of 120Hz, and a screen cutout for the 16-megapixel front-facing camera. For the price, the screen is quite good. When I watch YouTube or Netflix videos, the higher refresh rate makes articles easier to read, game animations smoother, and details more visible.
There are stereo speakers on the top and bottom, which is an improvement over the single speakers found in this price range. There's a headphone jack next to the USB-C charging port, as well as a SIM/microSD card tray. The phone's power button has a side fingerprint sensor that quickly unlocks the phone.
A Motorola logo and the phone's three cameras are visible on the back: a 50-megapixel main camera, a 2-megapixel macro camera, and a 2-megapixel depth sensor for portrait mode. Inside is a MediaTek Dimensity 930 processor, which performed admirably when switching between games and apps. When I turned the Marvel Snap card game's graphics settings up to high, the phone chugged a little, but when I turned them down to medium, the game ran at 60 frames per second without issue. In terms of performance, it outperformed the INR 21,499 TCL Stylus 5G and the INR 18,999 OnePlus Nord N300 5G in benchmark tests.
Benchmarks
The 5,000-mAh battery performed admirably even when the phone's screen was set to its 120Hz refresh rate. I took the Moto G Power to Philadelphia for the weekend, fully charging it Friday afternoon before I left. It lasted over a day and a half on a single charge and withstood two-and-a-half hours of intense use on a train ride, a photo-centric late night out, and an entire day of touring. It still had 35% of its Friday charge on Sunday morning.
While I have no complaints about the battery life, I am concerned about the charging speed. The phone comes with a 10W phone charger, and it took about two and a half hours to charge the battery from 5% to 100%. It took one hour and 47 minutes to charge from 35% to 97% using an 18W charger. In comparison, the OnePlus N300 and OnePlus N20 both include a 33W fast charger that can cover the same distance in less than an hour. The TCL Stylus 5G comes with an 18W charger that takes approximately 90 minutes to charge fully.
Cameras
Even for the price, the Moto G Power 5G cameras are subpar. Photos were consistently blurry, particularly in indoor settings. There is a Night mode that activates automatically in a darker environment, but it was ineffective. I took photos on a dance floor and later of my friends' cats, and both had excessive image noise.
I was particularly dissatisfied with the food photos I took over the weekend. I got blurry photos of our drinks and charcuterie at a birthday mocktail party, so I asked a friend to send me a photo of a dish she took with a Pixel 7 Pro. Outdoor photography was preferable. Colour was abundant in my photos and videos of Philadelphia murals. I was even able to get a few good food shots with a nice pop to them outside in the sunlight.
Test Shots for comparison
To compare the three phones, I took a few test shots with the Moto G Power 5G, the OnePlus Nord N300 5G, and the TCL Stylus 5G on the GoWarranty office's grass wall and bookshelf. The grass wall has a lot of detail and is well lit, with the Power 5G and TCL Stylus 5G highlighting different shades of the wall. Instead, the OnePlus phone saturates many of the greens, creating a more neon-like effect.
A darker bookshelf in the office, on the other hand, proved to be another challenge for the Power 5G. Both the TCL and the OnePlus were able to brighten and detail the bookshelf. Meanwhile, the 16-megapixel front-facing camera is adequate for selfies and video chats, but it isn't particularly detailed. A photograph I took in a well-lit environment, such as this one in New York's Penn Station, turned out well. It's not particularly detailed, but it has balance and colour to me.
Bottom Line
If you want to use the phone for calls, texting, watching videos, and playing games, the Moto G Power 5G performs admirably. For 24,999, you get a lot, including a 6.5-inch 120Hz refresh rate screen and an unlocked phone. If you use Verizon, the Power 5G may be your only option for a device under 24,999 that isn't on sale, and if that's the case, it's a good one.
Warranty Plan
| | |
| --- | --- |
| Warranty | 1 Year Manufacturer Warranty |
| Extended Warranty | 2 years Extended Warranty from the GoWarranty for the Moto G Power 5G phones |