Xiaomi began with smartphones in India before expanding into other smart products. One such product is the smart air purifier, which the company recently launched alongside a slew of other products at its Smarter Living event. The Xiaomi Smart Air Purifier 4 claims to provide clean and breathable air at a lower cost than the competition, with a price tag of INR 13,999. I've been using the Smart Air Purifier 4 at home, and here's what I think of the latest smart air purifier on the market.
It has a sleek design for modern homes, but more importantly, it has an excellent performance, covering and purifying a large, 20m2 room in about 10 minutes. It can certainly cover a larger area (60m2), making it appropriate as a primary air purifier for the living room. Our master bedroom is about 15m2, so I put the Xiaomi Smart Air Purifier 4 there.
Design
The Xiaomi Smart Air Purifier 4 is a large device. However, after opening the magnetic-door design filter area, I understand why. The unit has a large 3-in-1 filter that can trap a variety of pollutants for up to a year (depending on usage). It's a highly efficient filter with a large surface area and high content of quality activated carbon, consisting of a Pre-Filter (traps larger particles like pet hair), Xiaomi's High Efficiency Filter (traps small particles as small as 0.3 microns), as well as High-Quality Activated Carbon (traps harmful gases and odour).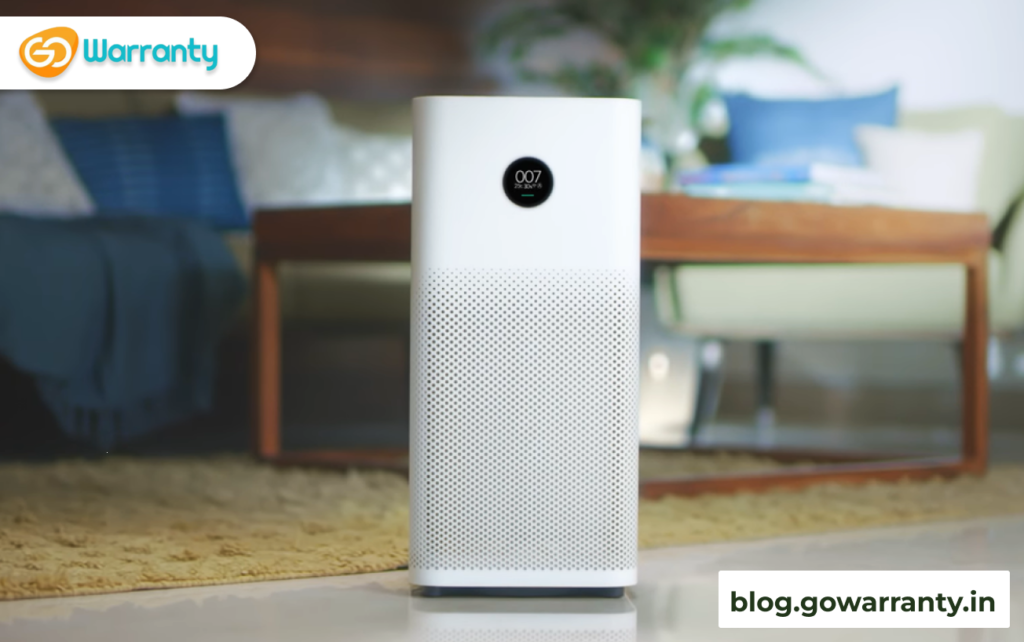 Elegant design and functionality
The Smart Air Purifier 4 looks exactly like its predecessor right out of the box. However, the most recent entrant has a slew of new design changes that make it easier to use and service. The white polka-dot-like design isn't just for show; these vents actually intake ambient air and expel it through the top. The improved design allows the air purifier to take in air from all sides, ensuring that the filter is used uniformly.
Display
The newer model also has a single screw that allows you to open and clean the fan area, and the smaller grills ensure that it is a child-safe air purifier. Meanwhile, the monochrome touch-enabled OLED screen has been slightly enlarged, making it easier to access, and the same can be used to change modes. The display also shows the remaining percentage of the filter, as well as an LED light bar that changes colour depending on the air quality, from red (bad) to orange (average) to green (good). The display also shows the humidity percentage, current temperature, and your home's real-time air quality index (AQI).
Finally, it comes with a detachable power cord, making it easy to transport. I also liked that if you open the back panel to access a filter while the purifier is running, it will turn off the device.
Smart Purifier
This is a smart air purifier that connects to your WiFi along with can be controlled remotely from your phone using the Mi Home app. This is a useful feature for those who want to turn on the purifier when they get home from work, and it also allows users to turn it off from a remote location to save energy.
This is the first air purifier I've used, and I'd say it performs as expected. With an AQI of less than 50 (in Bengaluru), I'm glad I don't live in a high-risk area. Furthermore, the purifier would reduce the AQI to less than 10 (2.5 ppm) in less than 20 minutes. When I cook (once in a while), the air quality quickly deteriorates, but the air purifier quickly neutralises it. This may differ from home to home (depending on the size of the space).
It's now summer, and I've even used it as a table fan. It did produce a cool breeze, similar to that of a table fan. Even after using this purifier for more than 15 days (5-6 hours per day), the filter health was still at 99%, and it should last at least a year, at least in areas where the AQI isn't too bad. It should be noted that it employs a new HEFA filter, and no pricing information is now available.
Automatic Mode
While it runs quietly in low and night modes, it can be quite loud in high and manual modes, much like an air cooler. If you don't want to constantly change the settings, you can set it to automatic mode and forget about it, and the device will change the mode based on the surrounding air quality.
Verdict
The Xiaomi Smart Air Purifier 4 is a good investment for those who have poor indoor air quality. I never imagined that I would require an air purifier until I began testing this one. It can filter pollen as well as dust particles, and the built-in negative air ioniser may be useful for those who suffer from respiratory allergies (it can also be turned off). Overall, a high-quality smart air purifier from Xiaomi meets all of the company's claims.
is a fantastic, high-performance air purifier that can fit in any modern home, inside a larger room, to clean the air of pollutants and eliminate odours. It has a nice, modern design with an OLED display, an accurate sensor, high-performance air filtration, and a large area coverage. Its massive 3-in-1 filter can trap all kinds of different things within, ensuring that all kinds of pollutants and odours remain there, and what you get is clean air in large volumes within the room. The machine can also be cleaned inside and out, including the sensor and filter compartment, and the air filter can be easily replaced.