Since the COVID-19 pandemic, there has been renewed interest in tablets in general. Nokia recently introduced the Tab T21, an entry-level Android-powered 10-inch tablet aimed primarily at students and children. I spent a few weeks with the Nokia T21, and here's how it compares to other devices in its price range, such as the Oppo Pad Air, Realme Pad, and Redmi Pad.
The Nokia T21 is an incremental improvement over its predecessor, the Tab T20. Nokia has made minor improvements to the camera and storage options, which are powered by the Unisoc T612. While the processor provides similar performance to its predecessor, the tablet now has Widevine L1 certification, allowing users to stream content in FHD on popular OTT platforms such as Netflix.
Design and Display
The aluminium body of Nokia's T21 gives it a premium look and feel. The build quality is excellent, and while I haven't dropped it, it appears that the tab can withstand a few blows and survive drops from small heights. It has a matte finish that feels nice to the touch but is slippery, as are most tabs in this price range. On the right side, there are volume controls and a microSD card slot. The power button and two speakers are located on the tablet's top right side, while the bottom side houses the other two speakers, a USB Type-C port, and a 3.5mm headphone jack.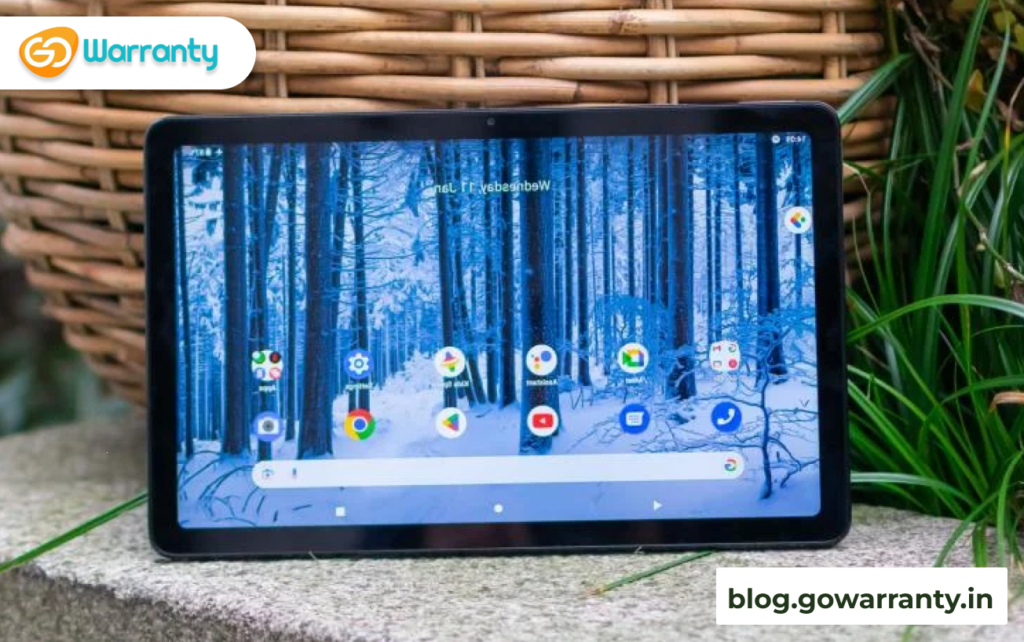 It has a nice-looking 10.4-inch LCD with a Full HD+ resolution. The bezels are quite large, which I don't mind on tablets because they make it simple to hold the tablet from the front without touching the screen. It has a peak brightness of 360 nits, making it difficult to see anything in direct sunlight. Also, I discovered that the white balance is slightly warmer by default, and changing the colour temperature from the device display settings to the colder side resolved the issue for me.
Performance and UI
The Nokia T21 runs Android 12 out of the box, and the Android experience is similar to that of recent HMD Nokia phones. The user interface is similar to stock Android, with a few additional options. Instead of the Google feed that we are all accustomed to seeing when swiping left from the home screen, you will find an app that sorts content and offers recommendations from various Google services such as YouTube, Books, Play Games, and YouTube Music.
Although the device has Widevine L1 certification, which allows users to stream content from OTT platforms like Netflix in Full HD, I noticed that the YouTube app can only play some videos in Full HD (720p). I'm hoping this is a software bug that Nokia will be able to fix in a future update. The device has an 8MP rear and front camera for photography, which can be used to take photos as well as attend online meetings, but don't expect too much from them.
In terms of performance, the Tab T21 is powered by the Unisoc T612, a May 2022 chipset that offers performance comparable to the five-year-old Snapdragon 665. When I first turned on the tablet, it lagged a little, and I assumed it was because of the initial optimization phase, but after a while, I realised that the chipset is simply not powerful enough. The user interface improved slightly after I installed a third-party launcher, but the vast majority of people who purchase the tablet will not do so.
I'm not sure if it's just my review unit, but system animations such as dragging down the notification bar and swiping notifications are jerky. RAM management is also unsatisfactory. I tried opening 5-6 apps and switching between them in order to relaunch the app. At times, I thought Nokia should have simply gone with Android Go.
Nokia promises three years of security patches and two Android upgrades for the Tab T21, which sounds good on paper, but unless Nokia optimises the device performance, it may end up making the tab slower in the long run because newer operating systems require more processing power.
Audio and Speakers
The stereo speakers on the Nokia T21 with Ozo playback sound fantastic. I watched a few movies and listened to some songs on the tab, and the experience was fantastic. At full volume, the tab can easily fill a medium-sized room, making it an easy recommendation if the only thing you want to do is watch movies and videos or listen to music. With an 8,000mAh battery, the tab should last one to two days, depending on usage. The only complaint is that it only supports 18W charging, which means it will take nearly three hours to fully charge.
Camera
In terms of cameras, the tablet has an 8-megapixel camera sensor with an LED flash on the back. In addition, there is an 8-megapixel fixed focus selfie camera sensor on the front.
The Nokia T21's cameras are satisfactory, but only because it is a tablet. While you won't be using these to take high-quality photos, you can expect them to perform correctly for video calls. Both the front and rear sensors produce average photo quality. Both lack sharpness, but the colours are fine. While the photos can be soft and blurry at times, it can handle colours well in bright indoor or outdoor lighting conditions.
Verdict
The Nokia T21, like its predecessor, is a good choice if you want a tablet to browse the internet, watch videos, listen to music, or read ebooks. In comparison to other devices in the price range, such as the Oppo Pad Air, Redmi Pad, and Realme Pad, Nokia's latest entry-level tab has a premium look and feel, but the performance isn't as good. Those looking for a tablet for their children or for media consumption should consider the Nokia T21. However, if you are seeking a device to multitask or play games, I would recommend the Realme Pad or the Redmi Pad.