Xiaomi, long a mainstay of the mid-priced Android market, has now branched out into 2-in-1 laptops, with the Xiaomi Book S 12.4 providing both value and versatility. It's an ARM-based Windows 11 PC laptop that also functions as a tablet thanks to its 12.4-inch LCD touchscreen. But, with competitors like the Surface Pro 8 and Huawei MateBook E also playing the hybrid game, will its £650 price tag, Snapdragon 8cx Gen 2 chipset, and 8GB of RAM be enough to make it stand out?
Price and Availability
The Xiaomi Book S 12.4 will cost £649.99/€699/$750 on its own. This would make it a mid-range 2-in-1 tablet/laptop, but if users want it to function as such, they'll have to pay an additional £129 for the keyboard and £89 for the Xiaomi Smart Pen.
Design and Build
The Xiaomi Book S 12.4 is somewhere in the middle of the beauty spectrum, with an uncluttered design that will sit quietly on your desk without drawing attention to itself. Its unobtrusive black chassis weighs 720g and is only 8.95mm thick, thanks to the use of a dark-grey aluminium-magnesium alloy.
While the device's simple design is unlikely to win any design awards, the bezels around the 12.35in touchscreen are relatively thin for its price range. There's also the welcome matte finish, which won't show fingerprints or smudges and will look more than presentable in an office or professional setting. With a 12.35in screen and dimensions of nearly 300mm x 200mm, it can be difficult to hold for extended periods of time.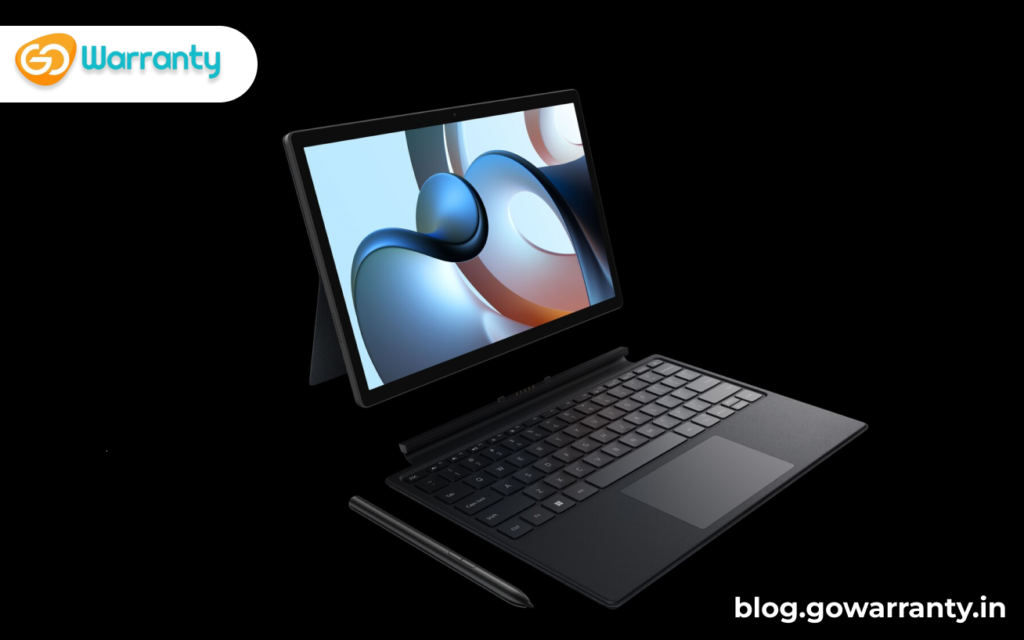 Accessories
While Xiaomi advertises the Book S 12.4 as a 2-in-1 device, owners will only be able to use it as such if they purchase the official keyboard. As previously stated, this is sold separately for £129, making a £650 device cost £729. To be fair, many 2-in-1 tablets are sold individually from their compatible keyboards (for example, the Microsoft Surface Pro 8), so the Book S isn't out of the ordinary, but including it would be a selling point for potential buyers. And, for what it's worth, its keyboard is quite good.
The Xiaomi Book S 12.4 Keyboard has a traditional Windows layout, with the Start button at the bottom among the Control and Alt keys and the F keys at the top. There are no frills, but the trackpad beneath the keyboard serves as an excellent substitute for a mouse. The Xiaomi Smart Pen is a rechargeable stylus that magnetically attaches to the left side of the Book S. It recharges here, with a full recharge taking only 18 minutes and a single minute of charging lasting 20 minutes. When fully charged, it can last for nearly eight hours.
Screen and Speakers
In a market dominated by OLED displays, the Xiaomi Book S 12.4 opts for a less expensive LCD touchscreen. It has a 2560 x 1600 (WQHD) resolution, a pixel per inch count of 244ppi, and a 16:10 aspect ratio. It also has a basic refresh rate of 60Hz.
In other words, the display's specifications aren't great, especially considering that OLED panels with 120Hz refresh rates are now more or less standard. Nonetheless, with a typical brightness of 500 nits and the ability to cover 100% of the DCI-P3 colour gamut, it will suffice for the majority of users. Images and videos are generally sharp and vivid, with a wide dynamic range.
Specs and Performance
Surprisingly for its price, the Book S performs in the middle of the pack when compared to its competitors. Its Qualcomm Snapdragon 8cx Gen 2 (7nm) processor can't compete with Intel-based devices, but it's fast enough for most tasks. This is aided by the use of an octa-core Qualcomm Kryo 495 CPU and 8GB of LPDDR4X RAM. However, there are no models of the device available with more RAM or more than 256GB of internal memory, so users should not have unrealistic expectations.
Nonetheless, overall performance is strong. Everyday tasks like web browsing, word processing, and multitasking are handled flawlessly. Windows open quickly and apps load with few or no delays, and users can run multiple windows without overtaxing the tablet.
Cameras
The tablet's rear camera is a decent 13Mp, but the quality of photos taken with it varies. Images captured in good natural light, in particular, turn out quite well, if not spectacularly, whereas anything with too much or too little light taxes the device's software far too much to be useful.
The Camera app, on the other hand, can capture whiteboard content and scan documents (and barcodes), so it works better as a multi-purpose image tool than as a serious camera. The same can be said for the 5MP front-facing camera, which won't take flattering selfies but will be useful for conference calls and video chats with friends and family.
Battery
With a battery capacity of 38.08Wh, Xiaomi claims that the Book S 12.4 will last for approximately 13.4 hours. This is entirely dependent on how you use it, with the addition of the keyboard and the Xiaomi Smart Pen typically resulting in significantly less battery life than 13 hours.
The Book S's battery's lack of endurance is also evident when used as a media device, specifically for watching TV and movies. This is not ideal, especially since watching video is one of the most popular uses for a tablet. The Book S 12.4 lasted eight hours and 37 minutes in our standard video loop battery test at 120 nits brightness.
While the battery itself is somewhat disappointing, Xiaomi's 65W GaN charger helps to compensate for its short lifespan. It can charge you from nearly empty to 50% in about 40 minutes, and a full charge takes just over an hour and a half.
Verdict
The Xiaomi Book S 12.4 is a good option for anyone looking for a low-cost 2-in-1 tablet with a wide range of functionality. It does nearly everything that its more expensive competitors, such as the Surface Pro 8 and Huawei MateBook E, do while saving the user hundreds of pounds (or euros), depending on which add-ons they purchase.
Despite the fact that it uses an LCD panel and lacks a faster refresh rate, its 12.35in display is large and bright enough to provide an enjoyable viewing experience while also being more than adequate for work. Its performance is also adequate for most day-to-day tasks, but nothing too demanding.