Sony has carved out a unique niche with the HT-A3000 soundbar (available at Amazon for $598.00), which is no easy feat in this category. It combines the size of the HT-G700 with the upgradability as well as wireless connectivity of the HT-A5000 and A7000, the company's newer big siblings.
Many of its competitors at this price point include more features, with many including at least a subwoofer and some including surround speakers. That expandability comes at a cost with the A3000. To create a full 5.1-channel setup, connect to a pair of Sony wireless subwoofers (the $400 SA-SW3 or $600 SA-SW5) as well as wireless surround sound speakers (the SA-RS3S at $350/pair or the SA-RS5 at $550/pair).
Specifications
The A3000 has three oblong drivers (left, right, and centre), two rectilinear bass drivers, and two side-firing ports. It's slim enough to fit beneath most TVs without obstructing the signal, but it also has optional IR repeaters (which can be enabled in the setup menus) in case it interferes with the signal between your remote control and TV. Aside from the HDMI eARC port, the soundbar has only two physical connections: a digital optical and an S-Center Output. The latter is intended for use with higher-end Sony XR TVs (such as the Sony X95K), which have screens that can function as centre speakers in a surround sound setup. Transducers built into the screen reproduce higher frequencies from the centre channel, while the A3000 handles midrange and lower frequencies.
The A3000 comes with a mid-sized remote with two AAA batteries, setup literature, a power cable, and an HDMI cable to connect the soundbar to your TV. That cable should have been long enough to reach the connections on most TVs, particularly if you have a Sony TV, which has inputs and outputs on the same side as the soundbar (left if looking from the front). The pack-in HDMI cable wasn't quite long enough to reach an 85-inch Vizio TV, whose connectivity is on the opposite side. With a 75-inch Vizio, it was almost exactly long enough, but not by much.
Without a subwoofer, the dialogue is clear and the sound is full-bodied
If you're looking for a soundbar of this size, chances are you want more sound than your TV speakers can provide, and perhaps more importantly, you want to improve the intelligibility of dialogue from your favourite shows and movies. In both areas, the HT-A3000 excels. If your room is much larger than average, its output will not blow your hair back. Without the soundbar, an 85-inch Vizio TV in that room failed to provide a satisfying listening experience. The A3000 needed to be turned up to its maximum volume to produce truly satisfying sound, but it was up to the task.
In a smaller den, roughly 17′ x 19'—probably closer to the intended room size for this model—a volume setting of around 78% was sufficient to achieve satisfactory levels. In a smaller, 12′ x 15′ bedroom, the volume readout rarely exceeded the upper 60s.
Easy Upgrades
Another advantage of the HT-A3000 is that you don't have to decide whether to add a subwoofer… or surround speakers. I listened to the soundbar on its own for a few days before adding the SA-SW3 sub, and I was surprised by how few hoops I had to jump through when pairing it with the system. A day later, I added a pair of SA-RS3S surround speakers, and all I had to do was plug them in (with the supplied 80-inch power cords) and re-run the unit's Sound Field Optimization, which also plays a series of sounds picked up by a mic built into the soundbar as well as balances the overall sound of the system.
This includes adjusting the level of each speaker to keep the overall sound balanced, though the surround speakers and subwoofer can be adjusted independently if the automated results aren't to your liking.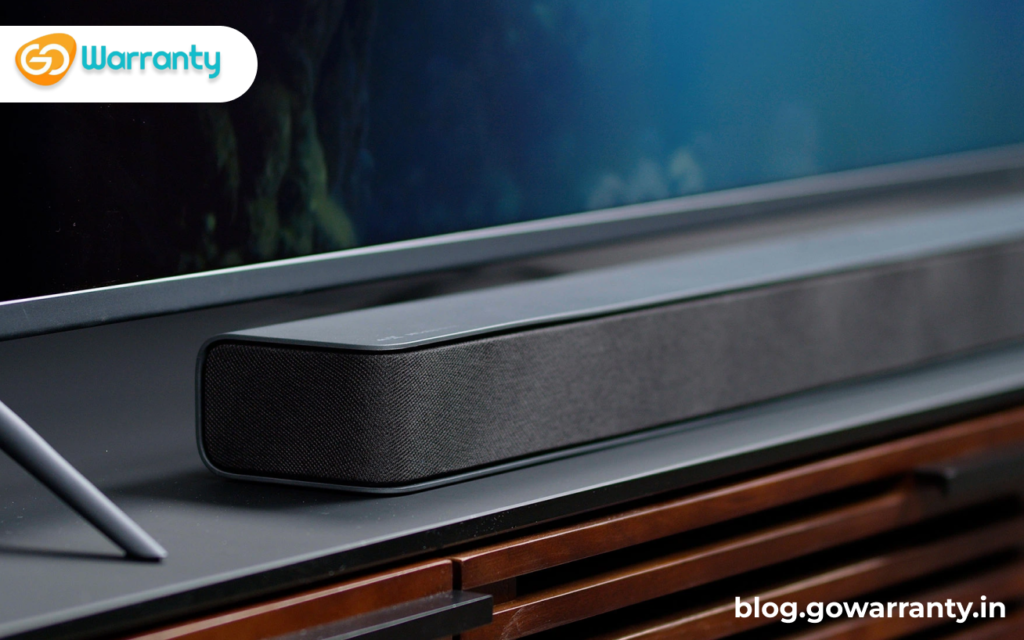 The sound processing is excellent
Sound Field Optimization also can compensate for less-than-ideal speaker placement, such as when you can't place your surround speakers in the room symmetrically in relation to your main seating position. To see how bad it would sound and how well the Sony could compensate, I moved the right surround speaker forward about three feet and slightly raised it on my mantle about two feet higher than the left surround. To be honest, it did such a good job that I doubt most people would notice the poor placement.
Sound Field Optimization also significantly enhanced the sound of the SA-SW3 subwoofer, transforming it from a burping bass box in the corner to a nearly seamless extension of the soundbar itself. When the SA-RS3S surround speakers were plugged in, it made a significant difference in the A3000's ability to create a convincing Dolby Atmos effect.
Fantastic wireless connectivity
The A3000 includes Bluetooth connectivity (transmission and reception), but one surprise was support for AAC (Apple's compression codec) and LDAC (Sony's high-resolution audio codec) in addition to the standard SBC. The soundbar is also compatible with Amazon Alexa devices, has a built-in Chromecast, and is compatible with Spotify Connect, Apple AirPlay 2, and Sony's Music Centre app.
Verdict
Yes, if you're short on space and prefer wireless connectivity to wired connectivity.
On its own, the HT-A3000 is a tenacious little overachiever that provides a rich and enveloping listening experience if you sit within its sweet spot, which is approximately 6 feet. The dialogue is clear, and in a smaller room, the bass is adequate regardless of what you're watching. Even in less-than-ideal conditions, Sound Field Optimization makes setup simple.