Air purifiers have been around for a long time, but their popularity has recently increased in response to a global pandemic and the increasing frequency of wildfires. While you might associate Wyze with security cameras and scales, the company is entering the air purifier market with its tried-and-true strategy of transforming common appliances into smart home devices and charging very low prices. And, as one might expect, the results are quite good.
There are three filter options available: Allergen ($34.99), Formaldehyde ($59.99), and Wildfire ($39.99). If you want replacements delivered to you regularly, Wyze also offers a subscription with a reasonable discount.
Design and What's in the box
Wyze's air purifier has a very simple design, housed inside a square-ish black plastic tower that's about twice as tall as it is wide. The intake vents are located on the lower half of the front and back sides that cover the fan. The air flows through the filter and out the top of the unit through a vent. A large locking cap on the bottom keeps the replaceable filters in place.
Air purifiers are rarely decorative in and of themselves, but Wyze didn't go above and beyond with this model either. It's not ugly by any means, and I'd argue it looks better than many non-smart models on the market, but it has a utilitarian vibe that seems more appropriate for an office than a living room.
Aside from the unit and any included filters, the box only contains some basic documentation. Notably, the power cord is attached and non-removable, so you'll want to be extra cautious not to damage it because there's probably a no good way to replace it.
Display
On the front is a digital display with several status indicators and a readout of the particulates in the air detected by a laser sensor. The display is a little too bright for my liking, at least when there isn't much light in the room, and the constantly changing particulate measurements, which update about once per second, become a little distracting when the display is in view. Both of these issues can be resolved by putting the air purifier into sleep mode, which turns off the display and keeps the fan running at the lowest possible speed. However, I would have preferred the ability to dim the display and change the particulate readout so that it only updated with an average from the previous minute or so.
There is a single handle on the back, directly opposite the digital display, for carrying this slightly large tower. And, yes, if you pick it up, your brain will continue to insist on trying to grab the other side with your other hand, at which point you will be blocked by the display. Carrying it by one handle makes it slightly lopsided, but it's light enough that this shouldn't be an issue for most people.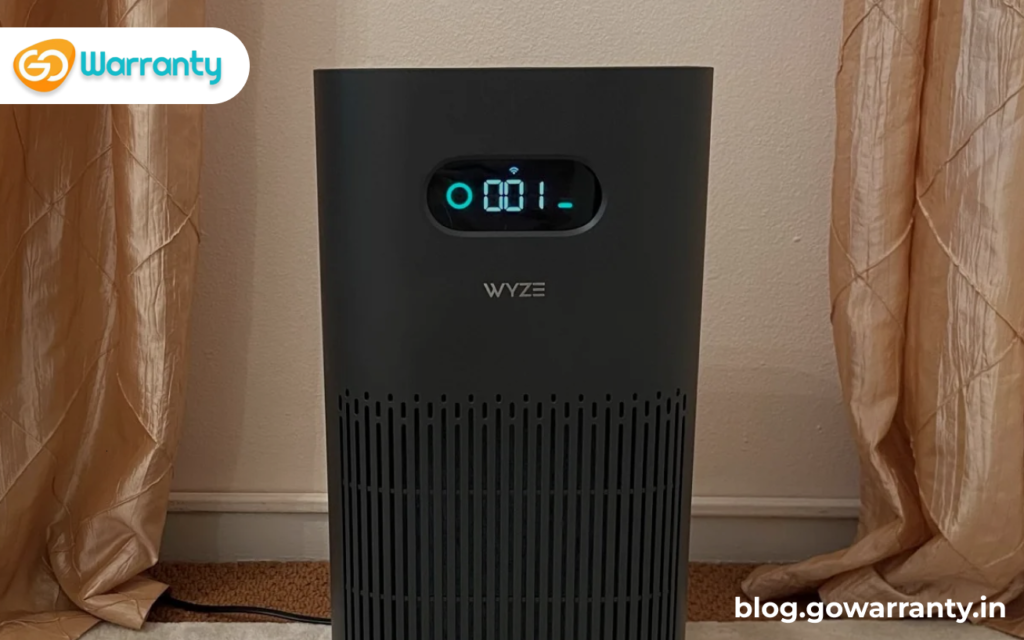 Software and Performance
The fan, which lives up to its promise of near-silent operation, is pretty quiet unless you're standing right next to it, but it produces enough airflow that you'll feel a faint breeze several feet away. Unless you manually adjust the fan speed, this is the level that auto mode should maintain most of the time unless your air is extremely contaminated.
However, there are three additional fan speeds that ramp up quickly. The second level can be heard from across the room but is quiet enough to be ignored. When the speed is increased to level three, the sound and airflow are not subtle, competing with most desk fans on a medium or high setting. The final step to level four is a full-fledged wind storm that can be felt from anywhere in the room and produces a lot of noise. Again, the fan should generally idle at the lowest setting, so you'll probably only use these speeds when absolutely necessary.
App
Aside from some potentially intrusive permissions and far too many screens to navigate, the app is fairly well-made, especially when compared to most of the smart home companion apps I've had the misfortune of using. It even includes some relatively useful features, such as home screen widgets that can be configured to provide direct shortcuts to individual device settings. You can also set up automatic rules, such as a schedule to start and stop the air purifier or geofences to start it up shortly before you arrive home. Of course, the app monitors air quality and categorises pollutants so you know what you're breathing.
The air purifier is extremely responsive once everything is set up, including any integrations with voice assistants. Changes from the app take effect immediately, and voice commands through Google Assistant are processed in less than a second. You can use voice commands to turn the unit on and off, change the fan speed, and put it to sleep.
Verdict
Probably, but only if you intend to use a connected Wyze Air Purifier. There are plenty of good air purifiers on the market that don't require the extra tech that comes with controlling them with apps and voice commands; and the majority of them are available at lower prices, with more power, or even more appealing designs. You may be able to avoid using proprietary filters entirely.
Leaving aside the direct value argument, we have a well-made product with numerous advantages on its own. You can extend the life of air filters by using schedules and geofencing, tracking features can be useful for evaluating the air you breathe, and voice commands are always useful if you don't want to fiddle with remote controls or walk over to mess with physical controls. Wyze made a legitimately good air purifier with useful features as well as all the smart home integration you'd expect for $175.