VU GLoled TV is one of the latest Televisions launched right now and the brand has claimed a lot of positive things about its display as if it is the best. I finished my 100-hour testing of a well-known and well-publicised television. In my style, I'll review VU GLoled TV. This is not a practice unit. This VU GLO LED 55-inch TV was purchased for testing and Reviewing. Finally, there is a surprise for you. We put the brand's big claims to the test in an unique way. In this TV MEMC is software-based (just like Hisense). Hisense is the manufacturer of all VU TVs, regardless of model. MEMC's performance is excellent. Keep MEMC turned off while watching a movie. Switch on MEMC in sports. When you activate cricket mode, MEMC is activated automatically. You can change MEMC to suit your needs.
Design and Display
It has a bezel-less design and appears high-end. On three sides, there are no bezels. The bezels on the fourth side are thin. Far-field microphones and their control are listed below the branding. All connectivity options are located on the back, including three HDMI ports (1 2.1 eARC port with ALLM & VRR 48Hz to 60Hz). It has Bluetooth 5.1 and dual-band wifi. You get a smart Bluetooth and infrared combination remote with hotkeys for Netflix, YouTube, Prime Video, and Disney Hotstar. Panel- It has an 8-bit FRC VA DLED panel with 400 nits of peak HDR brightness (as claimed by VU). It is compatible with HDR10, HDR10+, HLG, and Dolby Vision IQ. Dolby Vision IQ optimises image quality and brightness based on the lighting in your room (good). As this is a VA panel and brand, we expected good blacks with 10,00,000:1 contrast ratio.
The blacks were fantastic. They were the deepest blacks, and I had no complaints. All VA panels have good blacks and colour optimization. This panel's colour optimization is satisfactory. The blacks are good, but not as good as those of an OLED panel. They are deep blacks, similar to the VA panel. The AI picture quality engine achieves up to 94% NTSC colour gamut, resulting in exceptional colour performance. Let's see what happens. I like the colours because they are bright, vivid, and punchy. However, they are not natural. 100% NTSC or 94% NTSC does not imply 100% natural colours. I believe all three red, green, and blue colours are slightly oversaturated, particularly green and red. It's fine because we like this colour scheme.
Performance and Apps
In the grey uniformity test, it didn't perform well. It's not that uniform, so I'll give it a 7 out of 10. It is not bad for its price, 400 nits of brightness, and support for so many video formats. The Dolby Vision performance was satisfactory. Dolby Vision IQ works well and significantly improves picture quality. This TV's Dolby Vision content is fantastic. There were no issues with the 4K content. It comes pre-installed with Android 11 and built-in Chromecast support. All of the default Android apps are pre-installed.
Other apps can be obtained from the Playstore. It has a total storage capacity of 16 GB and a net storage capacity of 7.3 GB. We evaluated set-top box content. SD content upscaling is average.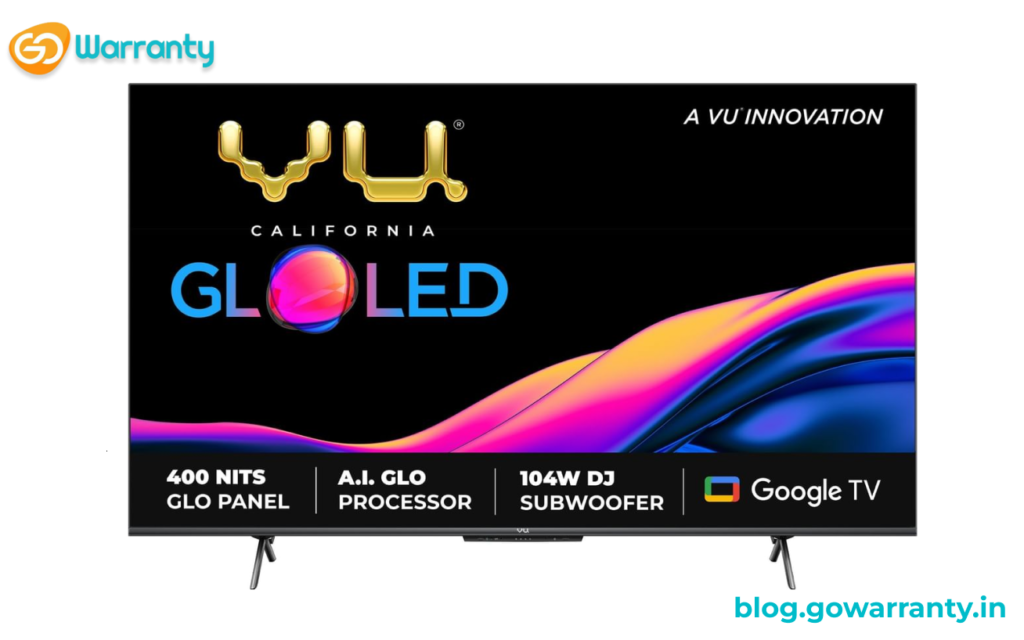 What effect does this have on HDR performance with HDR10+ and Dolby Vision IQ support?
We watched HDR10+ content on Prime but were disappointed by the bending. The sky's colour was not consistent, and there were patches. This is banding that can be seen in HDR10+ content. It supports HDR10+, but there is still bending, which is undesirable. We tested HDR10+ content on Prime and found that the colours were not noticeably sharper. This has nothing to do with Prime's content. If the app is launched, the content will play properly. This TV's HDR10+ content was not sharp.
Verdict
All 55-inch TVs in this price range perform similarly. However, the HD channel upscaling is fantastic. Let's look at USB upscaling. Although 720p content looks good, it lacks clarity. 1080p content is adequate, and 4K content is stunning. 4K is not upscaled; it is only available through USB and looks fantastic. Take a look at the audio quality; I can't play it any longer due to copyright issues. But it sounds incredible. The audio was fantastic and no soundbar was required, but there is a significant difference between TV's in this range.
VU is a VA panel television with average viewing angles. On the sides, you will notice a 30% loss in colour and brightness. This is unacceptable because, as technology advances, even VA panels show only 15% colour and brightness loss on extreme sides. However, this TV does not perform well in terms of viewing angles. This television cannot be seen from the sides. Choose an IPS panel TV such as the Sony X74K, LG UQ7500 (a better TV), Hisense Tornado (a better TV), or Hisense A6H. (better TV with slightly inferior audio quality).
Company Services and Extended Warranty Plan
Many people have inquired about the services offered by these brands. Well! VU, Hisense, Motorola, and other budget brands do not provide good services. It's because they don't have TV service centres. You will be met at your door. According to the pin codes, these brands have service partners and tie-ups. Check the number of service partnerships a brand has. You may proceed if these collaborations are satisfactory.
Second, make sure you purchase a good extended warranty to protect your television. Go Warranty's extended warranty plans come highly recommended by me. Many big YouTubers like Vineet Malhotra also recommend GoWarranty's Extended Warranty as they provide their services at a very fair price for most electronic appliances. You can get a great extended warranty plan for your VU GLoLed TV.
Enjoy your TV if you have it. Don't hold on to the negatives. It is not bad television. I did high-level testing because the claims surrounding it were quite big. It's a good TV, but it can't compete with the Sony X74K or any other OLED TV. Enjoy this one and keep it safe with the GoWarranty's Extended Warranty Plan.