ViewSonic's most recent home theatre projectors employ solid-state projection technology rather than the traditional lamp design. This extends their lifespan to up to 30,000 hours of consistent brightness and image quality. It also makes their projectors lighter and more durable, which is ideal for those who require a portable projector. We'll break down the ViewSonic X1 features in this review so you can decide if it's a good fit for your home and projector needs. While it won't fit in every room, its lightweight and low-maintenance design, combined with a quick, easy installation, ensures that it lives up to ViewSonic's reputation for portability. Let's get into the specifics.
Summary
The ViewSonic X1 is priced around $1,000. Not long ago, that would have been considered a steal for a full HD projector. However, as of this projector's release date in May 2022, there are 4K projectors for the same price or slightly more, and you can get a better 1080p projector from another brand for less.
That's not to say the ViewSonic X1 is a dud. While its low brightness is a letdown, its shorter throw, exceptional colour, and embedded Wi-Fi are all pluses. The thing is, you can find brighter 1080p projectors with the same features, and you won't have to pay much more for a 4K projector that can compete with them.
Space Versatility
At first glance, the ViewSonic X1 specs listed online can be misleading. It has a light output of 3,100 LED lumens. Divide the LED lumens by 2.4 to get the ANSI lumens, which gives the X1 an ANSI lumen rating of around 1,300. That's enough for a dedicated home theatre or other completely dark space, and while it might be able to handle a few lamps or other light sources, it won't be able to compete with even moderate amounts of ambient light.
While the ViewSonic X1 may be limited by the amount of light in your room, it is more adaptable to the size of your space. It has a shorter throw distance than most standard-throw projectors, allowing it to produce a 100-inch image with as little as 8.5 feet between the screen and lens, as opposed to the 10+ feet required by most standard-throw lamps. With a 10% vertical lens shift, 1.3x zoom, and 2D keystone correction, it also has good flexibility within that space.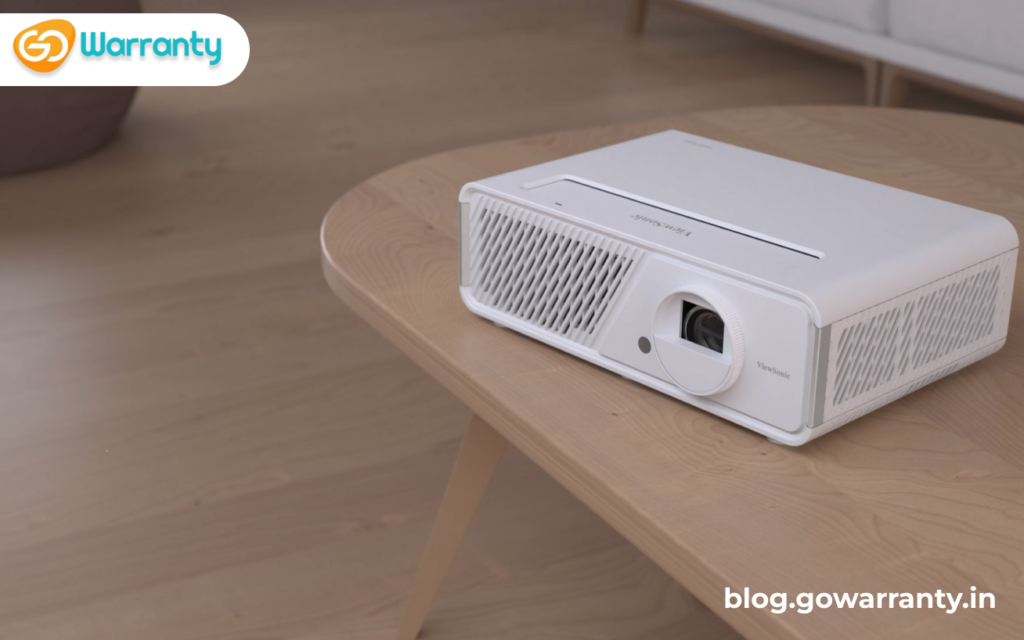 Image Quality
One advantage of using an LED light source is that they produce more realistic and nuanced colours on average. With its Cinema SuperColor technology, the ViewSonic X1 has a wide colour gamut that exceeds the Rec.709 spectrum. Its dynamic contrast and HDR10 support bring the same level of detail and richness to black areas. The only potential issue with the ViewSonic X1's image is its resolution. It has a native resolution of Full HD, and while it accepts 4K content, it is downscaled to 1080p.
Instant Power on to begin your presentations or watch your favourite shows
Tired of staring at a blank screen while waiting for the display to begin? The LED light source in the projector allows you to turn it on and project immediately, just like a regular TV. ​​
Easily Create Perfectly Shaped Images
Central positioning is no longer required. The projector's comprehensive H/V keystone, 4 corner adjustment, and auto V keystone capabilities allow it to deliver perfectly-shaped images from above, below, front, or side, making setup a breeze and allowing you to project from any angle you want. ​
What Is the Difference Between ANSI and LED Lumens?
Despite having the same measured ANSI lumen rating, LED-based light sources have higher perceptible brightness than lamp-based projectors. This is due to the fact that the human eye is more sensitive to specific wavelengths of light and more receptive to highly saturated coloured light. LED projectors produce more saturated colours that are concentrated in the wavelengths of light that the human eye is sensitive to than lamped-based models. As a result, LEDs will be perceived as brighter.
Connectivity
The ViewSonic X1 supports HDMI, USB-C, an audio out Mini Jack, and an RS232 port for networking. It also includes Wi-Fi connectivity for wirelessly streaming or mirroring content from another device. Unfortunately, there is no built-in interface for streaming content directly through the projector, so you will need to watch shows and movies using a streaming stick or another content source.
Plug & Play Multimedia Access Provides Versatile Multimedia Access The X1 offers a diverse range of connectivity options, including USB Type-C, two USB Type-A ports*, and two HDMI 2.0 / HDCP 2.2 ports for access to original 4K quality content. Furthermore, with 11GB of local storage, you can save your favourite content directly onto the projector. ​
Sound
The ViewSonic X1 is equipped with dual 6-watt Harman Kardon speakers. While they are not the most powerful speakers available, they have a relatively full sound for their size and outperform most projector speakers in terms of audio quality. They're loud enough to be heard in most rooms, and they mimic the immersive soundscape of a surround sound soundbar or system. You can also use Bluetooth to send audio directly to headphones or external speakers, giving users complete control over the sound.
Verdict
ViewSonic's first lamp-free high brightness smart projector for home or office use is the X1. The X1 replaces frequent lamp replacement as well as toxic mercury with immediate and immersive big-screen entertainment via instant on/off capability, cinematic colours covering 125% Rec.709, but also an impressive lifespan of 30,000 hours, powered by 3rd generation LED technology and 3,100 LED Lumens of brightness.
Harman Kardon-customised dual speakers provide powerful, room-filling sound for movie nights or music streamed directly from your smartphone, with both the option to connect Bluetooth headphones for personal entertainment. Embedded Wi-Fi connectivity allows smart device screen mirroring to the big screen, making content streaming easier than ever.