On July 18, Oppo Enco X2 TWS earbuds will go on sale in India. At a virtual launch event in February of this year, the truly wireless stereo (TWS) earbuds made their debut in markets throughout the world. The earbuds were introduced as the Oppo Enco X TWS earphones' replacement. For high-quality audio streaming, they have a SuperDBEE coaxial twin driver system and LHDC 4.0 codec support. Additionally, the earbuds have active noise cancellation (ANC) with a 45dB depth of noise suppression. In keeping with the company's design language, it also has a cobblestone pattern.
The TWS earphones, according to the manufacturer, also have a "broad band" of ANC with a 45dB noise cancelling depth. As was already noted, Oppo's flagship earbuds, the Enco X2, are the Enco X TWS's replacement. The cobblestone motif on these new earbuds is consistent with the company's current design aesthetic.
According to the manufacturer, the Oppo Enco X2 has Bluetooth 5.2 connection and is certified for wireless Hi Res Audio. Additionally, it supports the LHDC 4.0 codec for high-quality wireless audio transmission. According to the manufacturer, the Oppo Enco X2 is aimed at vloggers and content creators.
Oppo Enco X2 Price and Availability
Recall that the Oppo Enco X2 TWS earbuds had a virtual launch event in February of this year. The pricing of the earbuds was EUR 199. (roughly Rs. 15,900). They have Dolby Atmos binaural recording and were co-developed by Oppo and Dynaudio. A SuperDBEE coaxial dual-driver system is included with the TWS earphones. Additionally, the Oppo Enco X2 has quad magnet planar tweeters with 11mm dynamic drivers and a very thin diaphragm.
The Enco X2 TWS earbuds will go on sale in India on July 18 according to a tweet from the Chinese company. The earbuds' Flipkart landing page has already gone online, indicating that customers will be able to buy them there. Oppo has not yet disclosed the Enco X2 TWS earbuds' price.
Oppo Enco X2 Specifications
Design
The Oppo Enco X2 feels and looks like an advancement over the Enco X. You still receive rubber ear tips with an anti-germ coating that are in-ear in design. A pressure-sensitive region on the stems of the buds is employed to regulate media playing. To prevent you from unknowingly placing one in the wrong ear, each bud has the letters L and R on the inside. Enco X2 managed to form a sufficient seal and fit nicely in my ears. The only issue I have with the case is that it picks up lint in my pocket very brutally. The case seems sturdy and is nicely constructed.
The casing design is much the same as last year's model and is still composed of glossy plastic. Which is not an issue with our white model but will undoubtedly dirty up the instant you put your hands on the black colour option. On the top of the case lid, there is a little Oppo logo. Whereas, on the rear is a silver Dynaudio logo. A second LED for pairing is located beneath the case cover. Also, the battery charge indicator is located on the bottom of the case near the USB-C connector. Speaking about the lid, it's made well. It can hold the weight of the full case, and closes with a solid snap.
Features
In 2022, Oppo Enco X2 has nearly all the features you might ask for in a set of wireless earbuds. Due to the LHDC codec support, they are Hi-Res Audio certified and even get 900kbps audio transmission rate. If your device is not LHDC ready, legacy AAC as well as SBC codecs are also supported. The earbuds' Bluetooth 5.2 connection offers up to a 10-metre range for binaural low-latency Bluetooth transmission on both iOS and Android smartphones.
In comparison to the Enco X earbuds, Oppo claims that the Bluetooth connection is up to three times more reliable in LHDC mode. In my testing, I can confidently state that there were no connection dropouts. Also, the earbuds maintained a strong connection even as I moved about the office in opposite directions.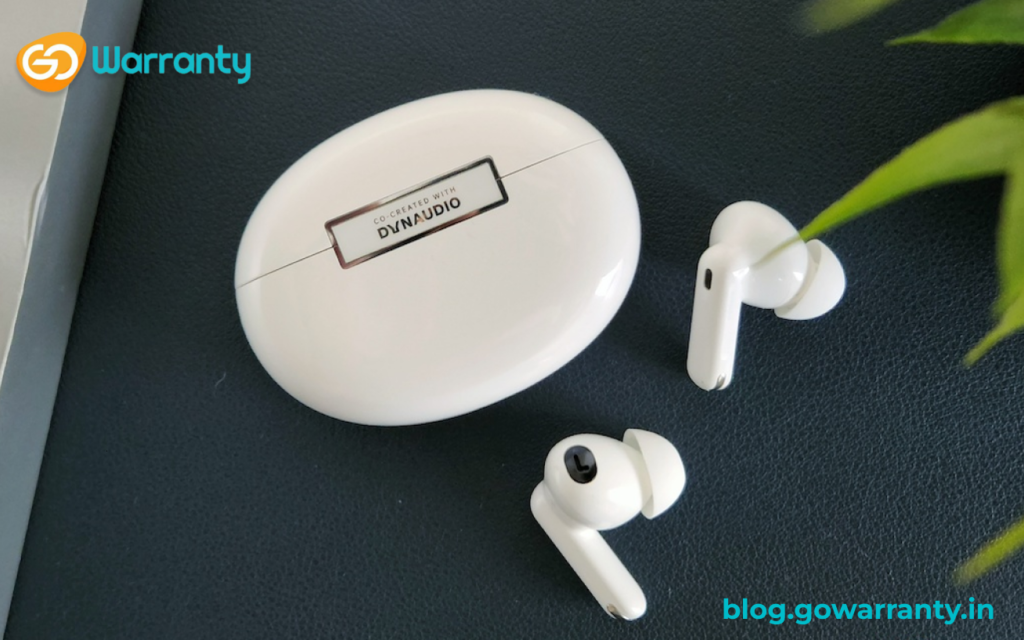 The AI noise cancellation with bone conduction on the Enco X2 is another novel feature that extrapolates your speech vibrations for calls that sound crisper. The bone conduction microphone is fairly intriguing since, in contrast to conventional microphones, it picks up vibrations from your lips, which could improve voice pickup in noisy circumstances.
Sound Quality and Fit
The Oppo Enco X2 features two coaxial speakers with 6mm and 11mm planar and dynamic drivers. In contrast to Enco X's 20 kHz maximum output, Oppo claims that Enco X2 has a frequency response from 20 Hz to 40 kHz. Despite being unable to evaluate the qualities of the two earphones, I must admit that I appreciate the way Oppo tuned the X2s.
Rich, well-balanced mids and treble are present, and the bass is there but not overbearing. At comparable volume settings, Samsung, Apple, and Realme earbuds undoubtedly sound louder, but Oppo's reduced volume output is not a deal-breaker. Although bass is there, it doesn't dominate or muddy the overall sound profile. Instruments and voices can be heard in all their grandeur with plenty of punch, and the mids are perfectly clear.
Three Dynaudio sound settings are available in Oppo's HeyMelody app, with Punchy acting as a bass booster, Real emphasising voices and treble, and Simple and Clear acting as a compromise between the two. In addition, there is a unique EQ option adjusted by Japanese composer Joe Hisashi, which I mostly utilised throughout my testing since it strikes the finest balance out of all the various EQ settings.
Battery Life
Oppo asserts Enco X2 has a battery life of up to 9.5 hours without ANC and 5.5 hours with it turned on. You may listen for up to 40 hours with ANC off and 22 hours with ANC on when used in conjunction with the charging case. Also, the battery in the case was 20% discharged after a week of intermittent use.
Enco X2 supports USB-C charging at up to 10W per second. The time it takes to fully charge the earbuds is one hour, and the time it takes to fully charge the case is 90 minutes. Depending on the charger, wireless charging takes longer.