Samsung has taken another step forward in innovation by including an NFT Platform in the marketplace of its new line of smart TVs. It allows consumers to partake in some of the Web3 craze from the comfort of their own homes. Samsung said in the first week of January that it was investing in non-fungible token (NFT) technology. Also, NFTs are going to be available on the company's televisions. It didn't reveal much information at the time. Other than the fact that it will be the first company to offer a smart television range with NFT capabilities.
Samsung Electronics announced cooperation with Nifty Gateway. A digital art auction platform that offers a broad variety of NFT works. On March 30 to create the world's "First-Ever Smart TV NFT Platform." This is the culmination of a project, initially hinted at earlier in the year.
Samsung's intuitive platform already supports Nifty Gateway in all models in the new 2022 NEO QLED and QLED range. According to Samsung's official news release, making it the first TV maker to incorporate an NFT platform into its lineup.
What Is an NFT?
An NFT is a digital asset that displays real-world components such as art, music, in-game commodities, and films. They're purchased and exchanged online, frequently using cryptocurrency, and are encrypted with the same software as most other cryptos. Regardless of the fact that they've been around since 2014. NFTs are quickly becoming a popular way to purchase and sell digital artwork. They have cost a whopping $174 million since November 2017.
NFTs are one-of-a-kind, or at least one of a very short run, with unique identifying numbers. "Essentially, NFTs create digital scarcity," argues Arry Yu, managing director of Yellow Umbrella Ventures and chair of the Cascadia Blockchain Council of the Washington Technology Industry Association. This is in stark contrast to the great majority of digital items, which are almost always in infinite supply. If a certain asset is in high demand, reducing its supply should potentially boost its value.
Samsung has the potential to boost the progress of the NFT market
Samsung has been a world leader in technology for more than 15 years. Producing not just high-end televisions but also screens, smartphones, and laptops. Also, encouraging the creation of apps to make its consumers' lives easier.
The business claims to have sold more than 60 million smart TVs throughout the world to date. This implies that, through its cooperation with Nifty Gateway.  Samsung is allowing a large number of people to trade NFTs, boosting the growth and acceptance of this new technology.
Customers may explore, display, and engage with NFTs from the comfort of their sofa. Thanks to Samsung and Nifty Gateway's technology, according to Nifty Gateway's statement. "Customers will also have access to over 6,000 art pieces by new and established artists such as Beeple, Daniel Arsham, Pak, and others."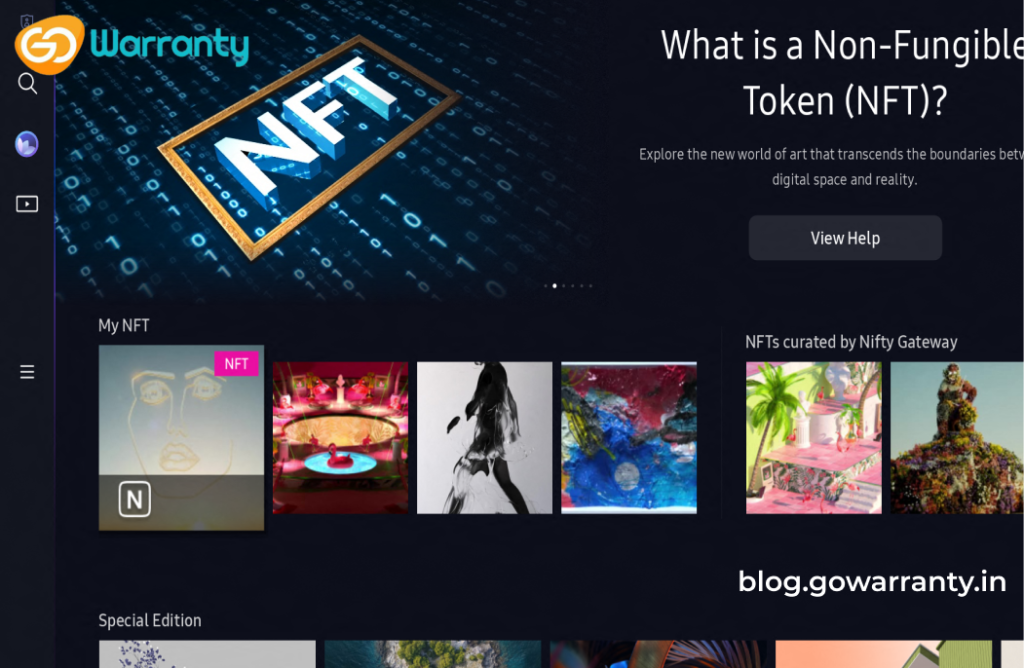 Duncan Cock Foster, the co-founder of Nifty Gateway, said the Nifty team is looking forward to collaborating with Samsung on creating a unique experience. It would allow them to reach billions of people across the world and promote the adoption of NFTs. A vision that Samsung may be able to assist them in realising.
"With that goal in mind, we're thrilled to be collaborating with Samsung to deliver a game-changing NFT collecting experience." Their focus on user experience and high-resolution screens perfectly matches our objective of letting anybody, wherever, interact with their favourite creators."
Samsung has picked the Winklevoss twins' marketplace over OpenSea
How simple it is to join up and begin trading, experts generally regard OpenSea to be the leader in NFT sales. It does not, however, provide the same variety of services as Nifty Gateway. On the other hand, OpenSea allows over 150 payment tokens on its own platform. Nifty Gateway, on the other hand, exclusively accepts fiat payments and tokens via the Gemini exchange platform.
Nifty Gateway has the benefit of providing NFT escrow services, which allows users to keep their NFTs in a safe Nifty Gateway Omnibus wallet rather than their own wallets, which many collectors may find useful.
As a result, Samsung's decision is not based on the platform's trading volume or a number of users, but rather on the security services which they provide to their consumers, which is critical given the number of NFT thefts and scams witnessed.
The Nifty Gateway CEO stated that they are committed to making NFTs more accessible and NFT purchases more smooth than ever before. The co-founder of the NFT marketplace went on to say: With our aim in mind, we're ecstatic to collaborate with Samsung on a game-changing NFT collecting experience. Their commitment to the user experience and emphasis on high-resolution screens perfectly complements our goal of allowing everyone, anytime, to connect with their favourite creators.