The most prevalent and cheapest form of TV technology is still LED-LCD. Also, Xiaomi wisely opted to focus its products on it during its early years of selling televisions in India. The business continues to sell a big number of its low-cost LED televisions. But it has also dabbled with luxury TVs, such as the Mi QLED TV 4K series. Which comes in a whopping 75-inch screen size and costs Rs. 1,39,999. First Xiaomi OLED Vision tv was launched in India as a result of this risky approach to high pricing categories.
The Xiaomi OLED Vision TV is available in a single 55-inch size and costs Rs. 89,999, making it the company's most costly TV of its size in India. Nonetheless, this television significantly undercuts the competition. Making it a compelling prospect for those who desire the benefits of OLED screen technology without paying the costly price. Xiaomi's OLED TV has been released at a price that is comparable to high-end quantum-dot LED TVs from Sony, Samsung, and OnePlus.
Support for Dolby Vision IQ as well as Dolby Atmos, 30W of sound output, and indeed the Ultra-HD OLED screen that lends this TV its name are just a few of the highlights.
Specifications
Because most 55-inch OLED televisions cost well over Rs. 1,00,000, the Xiaomi OLED Vision TV has a huge pricing advantage over the competition. This is by far the cheapest 55-inch OLED TV available in India (that I am aware of) right now, at Rs. 89,999. The advantages of the OLED display at this price make this an appealing prospect. Especially because the significantly higher cost of rival OLED TVs has hitherto been a deterrent to customers.
Despite the low price, Xiaomi has put a lot of effort into the design and specs of this TV. The OLED Vision TV is very thin at the sides, measuring only 4.6mm thick. While the central area of the rear of the TV. Which houses the electrical components and ports, is a little thicker. The bezel around the screen is equally thin on all sides, and the Xiaomi logo, indicator light, power switch, and switch for the far-field microphones are all housed in a module at the bottom.
The Xiaomi OLED Vision TV's connections and sockets are positioned well for a large display and seem to be easy to reach even when the TV is wall mounted. The RJ45 Ethernet port, Optical Audio-out (Toslink) port, RCA sockets, as well as Antenna socket are all located on the left side of the screen. While the three HDMI 2.1 connectors, two USB Type-A ports, and 3.5mm audio jack are all located on the right side. On one of the ports, HDMI ARC is available. The power connection was surprisingly short and was permanently attached to the TV to the right of the screen.
Remote and Features
Xiaomi's TV remote is one of those things that seldom changes. The Xiaomi OLED Vision TV comes with the company's basic, simplistic plastic Bluetooth remote, but with some minor alterations. Despite the TV's high price, batteries for the remote are not included in the package. Which is a long-standing issue of mine.
The remote itself is adequate, and new features such as rapid mute (click the volume-down button twice quickly), quick wake (tends to turn the TV on in 3-4 seconds from standby), as well as quick settings (long-press the PatchWall button) compensate for the lack of dedicated buttons for those operations. You can instantly switch between Xiaomi's PatchWall and the default Android TV user interface.
Netflix, Amazon Prime Video, Disney+ Hotstar, and the entire list of applications installed on the Xiaomi OLED Vision TV are all accessible via hotkeys. The remote also contains a microphone for voice commands and a Google Assistant button. However, the TV also has far-field microphones that can be programmed to always listen for the wake command to serve the same purpose.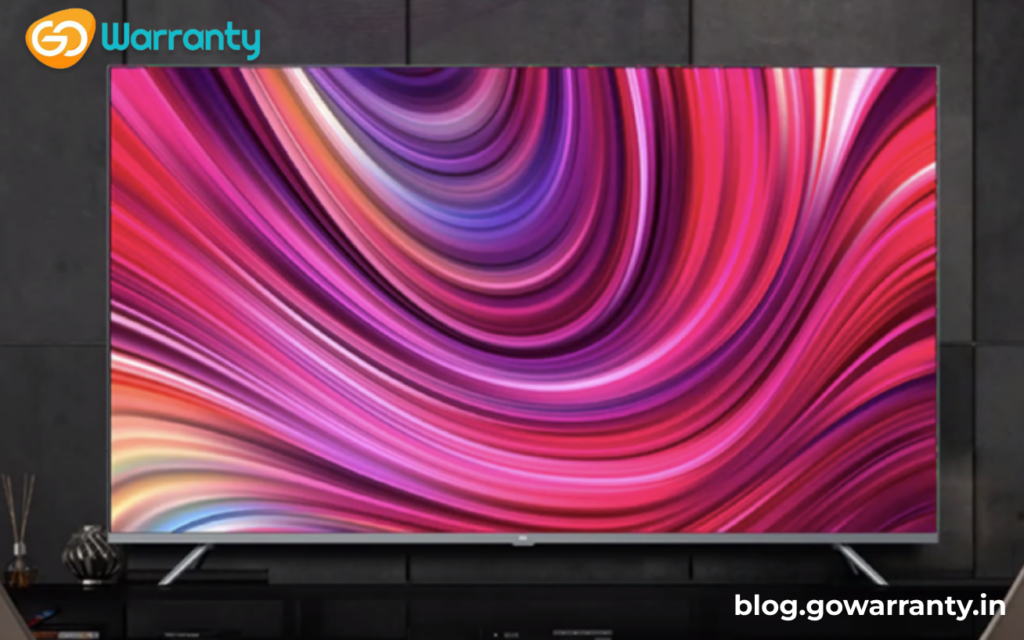 This worked wonderfully, with a simple 'OK Google' or 'Hey Google' command invoking Google Assistant even from across the room, followed by accurate comprehension of even sophisticated voice instructions. When this option is turned on, the microphones are constantly listening, so if this bothers you, turn it off.
Software and Interface
The Xiaomi OLED Vision TV is powered by Android TV 11, with PatchWall 4 as well as stock Android TV user interfaces on top, just like the rest of the company's TVs. Apps and games for Android TV may be downloaded through the Google Play store. Which currently contains over 5,000 apps, including major content streaming apps, social media apps, and other services.
PatchWall hasn't had any substantial updates since the Mi TV 5X, but it's still a content-focused UI with outstanding content curation, lists, and a beautiful look. Integration with IMDb, the Mi Home app for quick access to IoT devices in your home. Also, a plethora of compatible applications and services for curation round out the package.
Performance
A decent quantum-dot LED television, such as Sony's Triluminos series, Samsung's QLED range, and the OnePlus TV Q1 Pro, would normally be considered by customers seeking a 55-inch TV with a price of roughly Rs. 1,00,000. Given that OLED TVs are normally priced well above Rs. 1,000,000, the Xiaomi OLED Vision TV provides consumers the option of getting something with arguably better screen technology for the same price.
That's not to suggest the Xiaomi OLED Vision TV is on par with luxury OLED TVs like the LG CX series. But the benefits of OLED technology – notably the black levels – are visible and present on this TV. I watched a wide range of video on the TV, from Ultra-HD Dolby Vision to ordinary normal definition. Also, the TV indisputably gave the type of performance that can be anticipated at this price.
Even in daytime scenarios, the brightness levels didn't feel as intense as with Dolby Vision content. But the clarity and decent colour accuracy more than made up for it. While watching Better Call Saul, I did notice some motion interpolation difficulties and stuttering during moments with fast motions, notably in poorly light nighttime scenes. This was very annoying at times, and is a significant flaw in this television.
Verdict
Because of the high cost of purchasing an OLED TV, this is considered an ultra-premium category. Xiaomi's aggressive price strategy, on the other hand, has made its first OLED television more affordable. It competes with quantum-dot LED TVs from Sony and Samsung, but stands out with a clear and distinct advantage. If you have a budget of up to Rs. 1,00,000 for a 55-inch TV, this is one of my top suggestions to consider. Simply because it's an OLED TV with all of the technology's perks.