At WWDC 2022, Apple announced its newest M2 chipset, as well as the company's first two in-house laptops, the MacBook Air (2022) as well as the 13-inch MacBook Pro (2022). The new models come with the Apple Silicon chip. Which was unveiled at WWDC 2020 as the replacement to the first-generation Apple Silicon processor. The MacBook Air is the company's first MacBook Air notebook redesign since the M1-powered MacBook Air debuted in November 2020. It has the most significant update to the MacBook Air series in years and, like its predecessor, runs silently with a fan-less design.
The new 2022 model is built on the more powerful M2 CPU. It features a form that is more squared-off than the typical wedge shape, similar to the 14-inch MacBook Pro. MagSafe charging, two Thunderbolt USB 4 ports, and a headphone jack are all included. It measures 11mm thick and weighs 2.7 pounds. Silver, space grey, as well as new "starlight" gold and "midnight" blue hues will be offered. Each model comes with a braided MagSafe cable that matches the colour, which is a lovely touch.
Price and Availability
The cost of an Apple MacBook Air (2022) starts at $1,199. (roughly Rs. 93,300). Meanwhile, the Apple MacBook Pro (2022) starts at $1,299 and goes up from there (roughly Rs. 1,01,000). The previous MacBook Air with the M1 processor will continue to be sold for $999, according to Apple (roughly Rs. 77,500). The new MacBook Air model will be available in Midnight, Silver, Space Grey, as well as Starlight Gold colour options through the Apple Online Store, as well as configuration options on the Apple website.
The new MacBook models will be available in India starting next month. The 13-inch MacBook Pro with M2 starts at Rs. 1,29,900, while the MacBook with M2 starts at Rs. 1,19,900 (Rs. 1,09,900 for education) (Rs. 1,19,900 for education). The last-generation 13-inch MacBook Air model was released in 2020, with a starting price of Rs. 92,900 for the 256GB storage model and Rs. 1,17,900 for the 512GB storage model. In the United States, the prices were set at $999 (approximately Rs. 77,500) and $1,249 (about Rs. 96,900).
Specifications
With 20 billion transistors and a 10-core GPU, the recently unveiled Apple MacBook Air (2022) is equipped with an M2 chipset, which is an enhanced version of the first-generation M1 Apple Silicon processor that debuted on the MacBook Air (2020) model. The initial M1 chip, as you may recall, had four high-performance and four low-performance cores, as well as up to eight graphics processors.
According to Apple, the new chipset improves CPU and GPU performance by 18% and 35%, respectively, over its predecessor, and is 1.9 times faster (CPU) and 2.3 times quicker (GPU) than rival 10-core CPUs. The new processor also has a Secure Enclave, a media engine, and a cognitive engine, and users may connect an external display with up to 16 million pixels. Unlike the mini-LED variants seen in the 2021 MacBook Pro series, Apple has endowed the MacBook Air (2022) with a 13.6-inch Liquid Retina Display. In comparison to the MacBook Air (2020) model, the display is said to have a larger display size of 13.6 inches and smaller bezels. This suggests that, like the MacBook Pro models released in 2021, the MacBook Air (2022) will have a notch.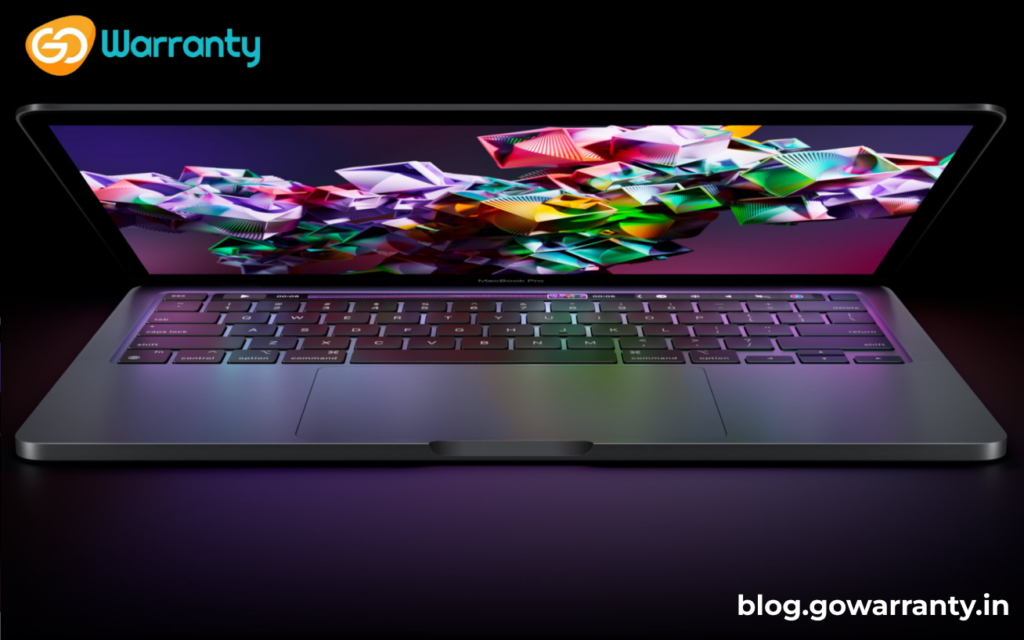 The Apple MacBook Air (2022) may be customised with up to 2TB of SSD storage and up to 24GB of unified memory. The laptop has a 1080p camera, which is an upgrade over the 2020 model's 720p camera. The new MacBook Air features two USB Type-C/Thunderbolt 4 connections, as well as MagSafe charging and a 3.5mm headphone jack. On a single charge, it is said to provide 18 hours of battery life while viewing movies, just like its predecessor. With an extra 67W USB Type-C power converter, the MacBook (2022) can be charged up to 50% in 30 minutes.
Design
With a weight of only 2.7 pounds (1.2 kilogrammes, down from 2.8 pounds/1.3 kilogrammes), the new MacBook Air stands true to its name. It's also 0.4 inches (11.3mm) thick, which is smaller than the MacBook Air M1's 0.6-inch (15mm) thickness. In reality, Apple claims that the MacBook Air has 20% less total space.
When you consider that this is a fanless design and also that Apple has raised the screen size to 13.6 inches, this is rather astounding. There's a notch at the top of the display, just as the MacBook Pro 14-inch. Silver, space grey, starlight, and midnight are the colours available for the MacBook. This gives Apple's lineup some much-needed diversity. MagSafe for charging, two USB-C ports, and a headphone jack are among the options available.
Apple's new M2 processor, which is a second-generation 5 nanometer semiconductor, powers the new MacBook Air M2. Apple claims that the CPU will be 18 percent quicker, the GPU will be 35 percent faster (now with 10 cores), and the neural engine will be 40 percent faster. So, what does this imply in terms of day-to-day performance? When it comes to adding picture filters and effects to images, Apple claims that it will be up to 20% quicker. For video editing, the M2 processor makes Final Cut Pro roughly 40% quicker.
Webcam and Audio
The new MacBook Air 2022 comes with a better 1080p camera that is a pleasant boost, as well as double the low-light performance. You don't need to spend a lot of money on a MacBook Pro to obtain a better camera. You could also utilise the new Continuity Camera functionality, which was also revealed at WWDC, to use your iPhone as a webcam.
The speaker and microphones are located between the keyboard and the display in terms of audio. A 3-mic array captures clear audio, and a more powerful 4-speaker sound system is available. The Air 2022 includes Dolby Atmos compatibility as well as support for Spatial Audio.
Although the new MacBook Air looks fantastic, its pricing is extremely similar to that of the $1,299 MacBook Pro 13-inch. As a result, we'll have to wait and see if customers are prepared to spend money on the new Air. However, the specifications and design appear to be a significant improvement.